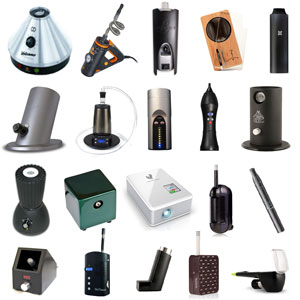 This video is an overview of the first 20 herbal vaporizers I reviewed – 10 of them are desktop (plug-in) models and 10 of them are portable (no cords). I give a brief summary of how each vape works and what I think about them, and I also show the vapor production from each unit when taking one full draw.
UPDATE DECEMBER 2014: I now have a newer overview video showing my first 50 vapes in 3 minutes, check it out:
If you're interested in learning more about any specific model I do have an individual review video for each vape, which you can get to from my main navigation menu or search box.
Stay up!
-Bud
Video transcription:
The
Silver Surfer
(or the SSV) is a mid-priced, whip-style vape where you hold a glass wand containing your material up against the heating element while you take your draw.
It's a simple device but it feels durable and well-made, and I consider the quality of vapor it produces to be above average.
You'll need to be a little careful with the glass parts, and it does require stirring for even vaporization of your material, but overall I consider this a great unit and few people have anything bad to say about it.
One other thing to consider is that the wand and tubing tend to build up residue fairly quickly, so there is some maintenance involved to keep it looking like new.
—
Next is the Da Buddha vaporizer, which is made by the same company as the SSV, called 7th Floor.
This model is a little less expensive than the Silver Surfer, but offers the same style of vaporizing and utilizes basically the same heating element.
Where this model differs is in the positioning of the heater cover, which is horizontal instead of angled down. There are also some cosmetic differences as the Da Buddha doesn't have custom glass parts like the SSV.
I think the performance of this vape is good but I do think it has a slight disadvantage not having the angled heating element, which just makes it a little easier to overheat your material or have it not vaporize evenly.
—
Next we have the viVape 2 by Vaporfection, which is a dual-mode unit, meaning it can used with a whip or with a balloon.
This model used to be high-priced, but is now mid-priced, which I think fits more in line with its build quality and performance.
It has the capability of producing pretty good vapor, but it has various design quirks that I personally find to be a little annoying.
Not everyone agrees with me on this, some people have told me that they're very happy with theirs, but it's not one I personally recommend often based on my own experiences with it.
—
Next is the mid-priced herbalAire 2.2, which they actually call a tri-function vape, but realistically it's just like other dual-mode units, you can either use it with a whip or with their bag system.
The unique thing about this vape is that it's one of the few models on the market that you are NOT supposed to grind your material with.
It actually works pretty well in whip mode, and if you make sure you pack a good amount in the chamber the vapor it produces is fairly potent and tasty, it's just a little on the hot side and the volume of vapor you get is not as much as some other models.
I found the balloon system to be a little cumbersome and weird, so I wouldn't personally buy it for that purpose, but some people have reported that they get decent results with the bags.
—
Next we have the Easy Vape, which is a low-priced whip-style unit that is actually kind of an imitation of a similar-looking model.
I personally don't think this is a good vaporizer, but a bunch of people have told me I'm crazy, so you'd have to decide for yourself who to believe.
The main thing that bothers me about it is the backwards-angled heating element. When you attach your wand after packing it the material usually falls all over the heater, which can cause uneven vaporization and in some cases even combustion.
There are upgraded aftermarket whips you can buy that hold your material in a better position, and there's also newer models of the Easy Vape available now, but this is still how the one I bought works out of the box.
—
Next is the low-priced Hot Box vaporizer, which is a whip-only unit that is actually a decent performer despite its simplicity.
This vape has only one on/off switch, there are no other knobs or dials to control.
I consider the vapor quality and performance to be average with this one, but because of its low price point I feel it's a good model for beginners or people who want to try out vaping without making a big investment.
Like the SSV and Da Buddha, the whip and tubing will build up residue fairly quickly, so there is some regular maintenance involved to keep it looking fresh.
—
Next we have the mid-priced Extreme-Q vaporizer, which is another dual-mode unit that comes with both a whip and a balloon system.
This model is very popular because it has a variety of functions, but I personally don't feel any of them are really that impressive.
The first draw you see me take here is with my material packed in the larger glass piece, and with no fan on. For me the vapor isn't that great like this so I usually pack inside the elbow screen and turn the fan on low when I draw, which is what I show in the second clip.
When I do this I get a larger volume of vapor, and it feels thicker.
So overall I consider this a decent well-rounded vape, but I don't consider it one of my favorites.
—
Next is the VapeXhale Cloud, which is near the top of the price scale and is unique because it's half vaporizer, half water-pipe.
The base of the unit has an all-glass air pathway and it heats your material through a stainless steel herb chamber before traveling through the water in the HydraTube.
Most people who have this vape report that they like it, and I think it's a cool unit if you're into this style of vaping.
It's a little on the fragile side for my liking though, and there's a few other things with it I'm not crazy about, so I don't find myself choosing to use it over other models very often.
—
Next we have the mid-priced Plenty vaporizer by Storz & Bickel, the same German company that makes the Volcano.
If you're lookin for an excellent whip-style vape, this is one I highly recommend you check out.
It feels well-made, it's easy to use, and it stays very clean. It also produces very strong vapor, which is kept smooth and comfortable with that crazy lookin cooling coil.
The herb chamber is large with this vape, which means you can pack a lot of material and use it with a group of up to 4 people or so, but you can also pack it only about 1/3 full and use it by yourself comfortably.
This vape is one of my favorites and I recommend it all the time.
—
The final desktop unit we have here is the Volcano by Storz & Bickel, which is a balloon-only vaporizer near the top of the price scale.
I'm showing you the Classic model here and they have another model also with a digital temperature readout.
This vape is currently my favorite overall and I've been using mine regularly for 4 years now. It gets the most use out of the 20 vapes I show in this video.
The balloon system this vape has is the best I've seen by far, and it really makes for an enjoyable vaping experience.
You'll notice how I only need to take a 2-second draw from the bag to get a large volume of vapor, it's basically like having the vapor on tap since you don't have to take a long pull and wait for your material to vaporize.
This wasn't my first vape and I don't expect it to be yours either, but when I get asked what's the best of the best this is the one I point to.
—
So now we're moving on to the portable models and the first one I have here is the iolite. This is a mid-priced unit that runs on butane instead of a rechargeable battery.
This is unique because there's only a few vapes out there powered by butane, and the main advantage that gives it is the non-reliance on electricity, so I usually say a vape like this is good for people who go on long trips and things like that where you don't have access to electrical outlets.
I would consider the performance of this vape to be average because the vapor it produces is on the lighter side and tends to be a little too warm.
Something else to consider with this one is that I've received a lot of complaints from people who say their units have been unreliable and have stopped working after short periods of time.
—
Next we have the WISPR which is made by the same company as the iolite, it's just at a slightly higher price point.
This is basically the same thing as the iolite but with a different shell on the outside and different ignition switch, and it also has a little viewing window to see how much gas you have left.
To me they both perform the same way, and they both run on the same kind of butane, so the differences are mainly cosmetic.
I've received just as many complaints about this vape as I have for the iolite, so I'm guessing whichever parts are malfunctioning are the same in both models.
—
Next is the low-priced NO2 vape, which is physically the largest of all the portable models I've reviewed so far.
Despite its size I do find it to be comfortable to hold and easy to use, it's just not a vape you can really stick in your pocket or purse.
Overall I think the performance is pretty decent with this one, if you pack your material fairly tight in the chamber you can get good vapor production, I just find it to be a little on the warm side.
—
Next we have the DaVinci vaporizer, which I think is a decent mid-priced portable unit.
It's fairly small and easy to use, but I just wasn't too impressed with its performance.
Like the NO2 it has minimal draw resistance, but I find the vapor it produces to be a little hot and harsh, so I don't find myself choosing to use this one very often.
Not everyone agrees with me though, I have received some comments from people saying they like theirs, so my opinion may be different because I have some other models to compare it to.
—
Next is the low-priced PUFFiT vape, which is the one that looks like an inhaler.
This is a tricky one because I personally don't like it much, but many people have sent me comments saying I'm crazy and they like theirs.
My issues with it are that I'm really not impressed with its performance, and I don't really think it's a good thing to model a vaporizer after a medical device, I don't feel that helps the credibility of this industry.
What I think I've noticed is that people who have experience with vapes tend to agree with me, and people who bought this as their first vape tend to disagree with me.
—
Next we have the AtmosRAW, a mid-priced pen-style vape that is actually more of an electronic pipe.
Basically the story with this one is that it burns or combusts dry material, even though they call it an herbal vaporizer.
There are now various screen pieces available to use inside the heating chamber to stop the combustion, but I tried a few different solutions and wasn't really satisfied with any of them.
So I think it's a nifty device but I don't consider it a good vaporizer. An off-label use that is popular with this one is using it with concentrates instead of dried herbs.
—
Next is the low-priced Palm vaporizer, made by the VaporBlunt company.
This one is very similar to the Magic-Flight Launch Box that I'm going to show you next, and basically it's a simple, small vape that is powered by a single AA rechargeable battery.
One of the benefits of a vape like this is the quick heatup time, because you can literally be vaping within 5 seconds if it's already packed, but the downside is there's no temperature control so you sort of just develop feel for how long to heat your material.
I think this model is ok, but I was turned off by how similar it is to the original Launch Box, it seems like too much of an imitation to me, and an inferior one.
—
Next is the low-priced Launch Box vaporizer made by Magic-Flight. This vape is fairly simple but it's well-made and once you get the hang of using it I found it to be pretty useful.
I actually still use mine sometimes even with all the other models I have to choose from.
The style of vaping I think it's best for is when you only want to take a few draws at a time, and you want to spread out your usage over a long period of time.
For example sometimes I like to keep mine packed on my desk so that I can take a quick draw or two whenever I feel like it over the course of a day.
Most people who buy this report that they like it, just please keep in mind it does require very dry and very finely ground up material for best performance.
—
Next we have the mid-priced Solo vaporizer, made by the same company as the Extreme-Q.
This vape is cool because it does a really good job of vaporizing your material and it keeps the taste pretty fresh.
The base unit itself isn't very big, but it's kind of heavy and bulky, and the glass stem that sticks out makes it feel a little on the large side.
Because of the glass involved and the slightly bulky design it's not exactly a vape you can carry around in your pocket, but overall I do consider it one of the best performing portables.
Something to keep in mind with this one is that it does have a fairly strong draw resistance, which means when you take a draw it feels like pulling a really thick smoothie through a straw.
—
Last but not least we have the Pax vaporizer by Ploom, which is priced on the high-end but in my personal opinion definitely worth the investment.
I currently rate this model the highest overall out of the portables I've reviewed so far, and I find myself using mine quite often.
This vape is very small, it's super easy to use, and I consider the vapor quality above average for a portable.
There is some maintenance involved to keep this vape working at peak performance, and it does have a little bit of draw resistance, but for me it really has been the most convenient and most enjoyable model to use when I'm away from home.