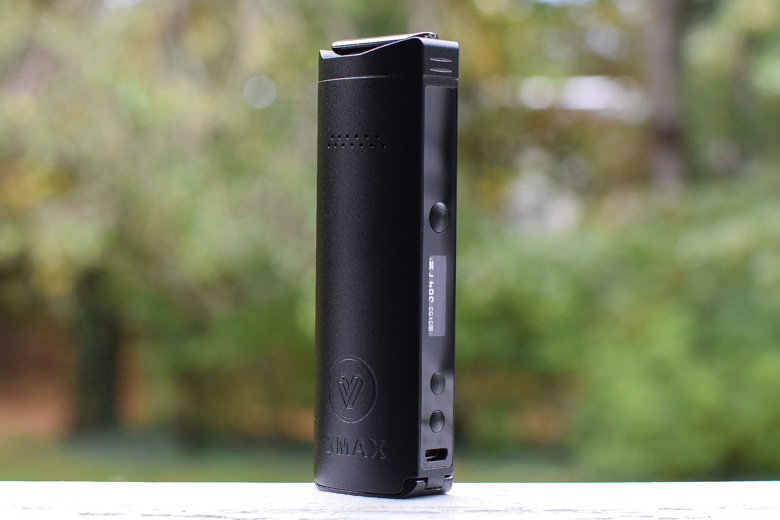 Below is my full review video of the X Max Starry vaporizer from Planet of the Vapes. Watch my review for all the details on this one or continue reading my video transcription:
This vape is the X Max Starry (POTV Edition). It's a portable vaporizer for dry herb that's cheap, simple to use, and it does the job. $120 $100 for a good performing herbal vaporizer – a portable one.
The shape of this one is pretty cool. It fits in your hand good, it's not big, it fits in your pocket. I like the top part here, the mouthpiece, it's magnetic. The magnet seems to be a good strength, it doesn't come off in your pocket and it's not too much of a pain to get off.
I like that it has the mouth piece that swivels out when you want to use it, and then for storage it swivels back in. Then you've got the display screen on the side with three buttons, and the largest one is the power button. Hold it down for a few seconds and the vape will turn on (Welcome!). The other two buttons are the plus and minus buttons for the temperature, and then you also have your little micro-USB charging port.
On that topic let me turn it off really quick by holding it down again for a few seconds.
It has a removable 18650 battery which is a feature a lot of people like, I like it too, it's cool. I think the one it comes with is actually a different one than the one I'm showing you, but they're pretty much all the same thing. One full battery charge will last you a good 60 to 80 minutes depending on what temperatures you like.
It does heat up pretty fast, you're looking at like 30 seconds. It might be a little longer before you really start to get big clouds from it.
Now to get this kind of vapor though, this kind of performance, I did have to do a few things. I ground up my herb very fine. Well maybe not very fine, but fine. I used a fine grinder. Then I packed the chamber full and pretty tight, I tamped it down a good amount. Then I set the temperature kind of high. I set it in the upper 300's close to 400, at about 390F.
That's how I'm getting these clouds. Now if you set it lower that's when you'll get the max battery life, you'll get maybe a little more flavor not quite as much vapor. You could maybe even get two sessions out of it that way. I know a lot of people ask me about that with a vape like this, a session vape, if you can vape a little bit stop it and then vape the rest later.
Normally I don't recommend that for the best performance overall, like taste and vapor quality, but you could do it with vapes like this if your first session is a lower temp.
I'm going to say that a full packing of this is about ~.25g maybe ~.3g if you really grind fine and stuff it in. When you do pack it full you should get 15 draws from it, 10 to 15 big draws like you see me getting. Maybe 10 big ones, and then five medium ones, a couple of small ones, you know? So it's a typical quarter-of-a-gram session vape where depending on your temperature & draw duration you'll get anywhere from 10 to 20 draws per session.
A typical full session with a vape like this in my opinion is normally like 10-12 minutes. The vape has an automatic shut off timer set for five minutes. So that's actually not bad, that's pretty typical now. Basically, that means halfway through the session it's going to shut off the heat. So, you have to be mindful of that because if you do want to continue vaping you're going to have to turn it back on to get that heat back up.
Loading and unloading it is pretty easy actually. It has a nice kind of funneled top part, it makes getting herb into the oven simple. Not too much is going to get stuck to the top mouthpiece part and if it does it's easy to brush off. And then unloading it, just use a pick tool and it will all come right out.
The mouthpiece on this one is actually ceramic zirconia like the DaVinci IQ, which is kind of cool. So, you pretty much have a ceramic oven and then a ceramic zirconia mouthpiece.
It's pretty good – flavor's decent, vapor quality's decent, vapor production's decent. Everything is decent or slightly above average, and it's not very inexpensive. I did get this one sent to me for free from Planet of the Vapes but I've been dealing with them for a while, I liked that store, I send people here all the time.
I would recommend something like this as a great beginner vape – somebody getting into vaping, somebody new who doesn't want to spend a lot. Or maybe somebody who wants a back-up vape that takes replaceable batteries, it's always useful. I like that it performs at least decently because up until very recently in this price range I have not really been that impressed. But now it' getting there, it's kind of a cool vape, worth it.
Stay up!
-Bud