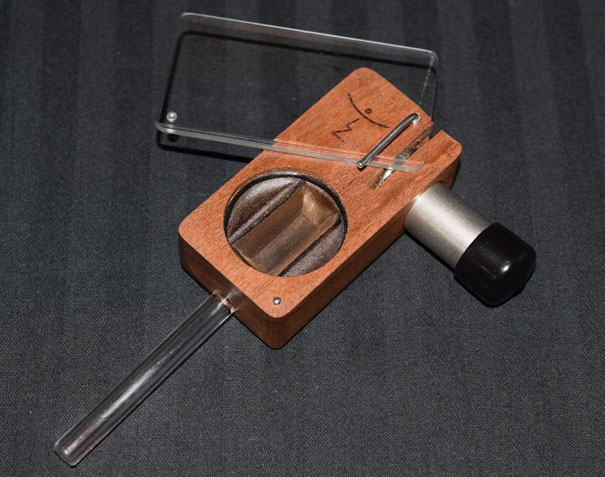 This is the Magic-Flight Launch Box, a portable herbal vaporizer made in the USA, and it's quite unique. This model is for use with dry herb, but Magic-Flight also makes a similar-looking box called the Muad-Dib that's specifically made for concentrates.
This was my second vape purchase ever (first was the Volcano) and to this day I still consider it one of the best portables I've reviewed.
Design / Build Quality
So it's basically just a wooden box and there are three main wood types to choose from: Maple, Cherry and Walnut.
Carved into the box is a trench (herb chamber), draw hole, air intake hole, and battery port. There's a stainless steel mesh screen inside the trench area connected to two metal rods, and those make contact with the battery when you press it in which heats up the chamber.
I has an acrylic lid attached that you slide open and closed over the herb chamber, and an acrylic stem or mouthpiece is also included that you insert into the draw hole on the front.
What's pretty unique about this one is that you use a single AA rechargeable battery to power it. The base kit includes two batteries and a charging dock, as well as rubber caps for the ends of the batteries and a good quality cleaning brush.
Even though this thing is really simple it does feel like a well-made product, and it definitely took a lot of hard thinking to make a vaporizer with no electrical components vaporize so effectively.
It's a fairly inexpensive vape, but it doesn't feel cheap or cheesy, and I think for the price it's well worth the investment. It's also still one of the smallest, lightest and quickest vapes I've ever reviewed.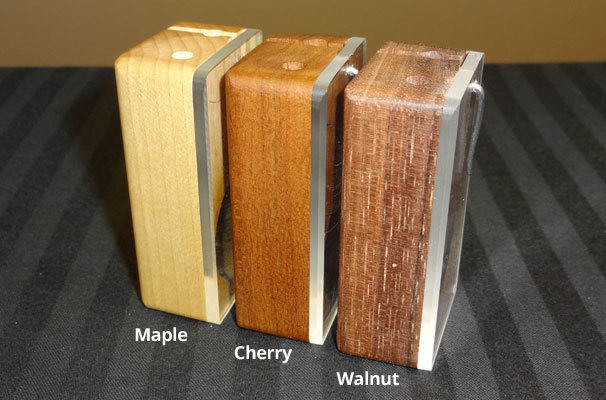 Performance / Usage Tips
The Launch Box does require some technique to get the best results from it, but after just a few uses you'll get used to it and it'll become second nature.
Very important: You need to grind your herb super fine for the best performance. Grinding fine increases the surface area of your herb which helps this vape do a better job of producing vapor.
This vape is very efficient, and it works great with amounts as low as 0.1g (just a pinch). The idea is that you can control and custom tailor your vaping experience by how long you heat your herb for and how quickly you draw from it.
The two main ways I use mine are by either taking one long draw or by taking a bunch of small pulls in a row.
For a single draw you basically just engage the battery and then very slowly pull from the mouthpiece for 5-10 seconds. If your material overheats you didn't draw fast enough, and if you get no vapor at all you may be drawing too quickly.
The other method is to engage the battery and take small "sips" from the mouthpiece every few seconds, letting vapor build up inside the trench between each draw.
Vapor quality is good from this one but isn't really what I would consider top-shelf, it's just about average. More specifically, the taste and smoothness might not be as good as some other vapes, but it's still actually potent which proves how effective it really is.
What's also very important with this vape is that you need to mix your material up in between draws, or at least every other draw. They include a nice brush that you can use the back end of to gently mix your herb up, or you can keep the lid closed and give your box a shake to mix it all around. If you do this just make sure you get all your herb back down into the center trench before vaping again.
When using just a pinch of herb (~0.1g) you should be able to get roughly 5-8 draws from it, but it does depend on how you use it.
Bottom Line
Yes there are better vapes out there, and yes this thing looks stupidly simple for the price, but believe me when I tell you it works like a champ.
I personally feel it works best as a quick vape for taking just a handful of light draws at a time, but many people use this in a variety of scenarios and are extremely satisfied with it.
This is one of those vapes that everybody needs in their collection because of how unique it is.
Stay up!
-Bud
My original video review that I made many many years ago can be found here, and below is a transcription of that video:
Video transcription:
What's up, guys? This is my short review of the Magic-Flight Launch Box Vaporizer. I have a few other videos about how to clean this thing if you're interested, if you want to check those out, but right now I'm just going to tell you about what I like and don't like about it.I love it. It's a really good product. It's really well made as far as vaporizers go for the price. I think now it's $119. You're not going to find anything better for even $200 or $300. I think this beats the $300 vaporizers. That's just my opinion. I also have a Volcano, which is obviously my first choice. That is, bar none, the best vaporizer out there.
It's really expensive, but it's worth every penny if you can get your hands on it. But this is my number two choice, because this thing is fantastic and it's super easy. I'm not going to go through all the details now and show you how to use it because it comes with directions and hopefully you already know how to use the thing.
I will tell you that I've had it for about six months, and the thing I like about it the most is how quick it is. You take this battery, put it in and in ten seconds you're vaping. That's pretty quick. Even with the Volcano you've got to wait 30 seconds or a minute or whatever it is for it to heat up first before you could use it. So, this thing is pretty much instant. You can carry it anywhere. It's pretty tiny.
I've got big hands, but it's really small. It fits in your pocket. It's awesome. The other thing is that you can use it if it's windy somewhere, which you can't do with any other kind of piece or anything. You could use this thing in a wind tunnel and it will still work and that's kind of cool.
Now, there's probably some other things, too, that I love about it, but they are obvious things. What I don't like about it is this thing. All right, now I don't know, it might just be me. I'm sure other people are going to agree with me. It comes with this rubber type gasket looking thing inside this hole here where you're supposed to put the battery.
It comes in there when you first buy this, and it's pretty much in there so that when you stick the battery in, no matter how far you push it, if the battery is just in there and if you're not putting pressure on it, it's not going to engage the heating element. It's sort of like a safety thing, I guess, but I found it incredibly annoying how hard it was to keep it pushed in.
Especially because of how often I use this thing and I just started to get a mark in my hand from how hard I had to hold it down, so I just went in there with a pair of needle nose pliers and I pulled this little thing out. The way I use mine now is if you just stick the battery in, it will engage and you don't have to hold it.
Now, this is awesome and super easy, but you've got to be careful because you can't forget about it in there or otherwise the battery could obviously overheat and who knows what could happen if it's in there for a really long time. So, you've got to be really careful. You can't zone out if you're going to do this little modification. You've got to pay attention.
The only other thing that kind of bothers me a little bit about this is the herbs that you put in the trench area here. It really only works super good if the herbs are ground up like really fine. It's kind of hard to do that. Even the grinder that they give you, the one that comes with the Launch Box when you first buy it, it doesn't really even grind the herbs up small enough for this thing to vape it to its maximum capability.
If you put in big little chunks and stuff, it doesn't really work at all. It's going to take you a long time. You're not going to get a lot of vapor. It's not going to be strong hits or anything. I've just found that the finer you can grind up your stuff, even if it's on a little bit of the drier side it might even work better. It seems to not like really moist stuff too much.
Even with these small flaws, this thing really is still amazing. So, I highly recommend it. If you don't have one, you should definitely grab one as soon as you can. It's pretty cheap. When you do decide to buy one, go to launchbox.info and it will redirect you right to where I buy all my stuff. It's a really great store. I talk about it in all my videos because it's a great place for multiple reasons.
So, check it out and also, like I said in the beginning of this video, if you want to see how to clean this thing after you've had it for a few months, I have a few tutorials on how to do that, too. All right guys. So I hope this helps, and take it easy.