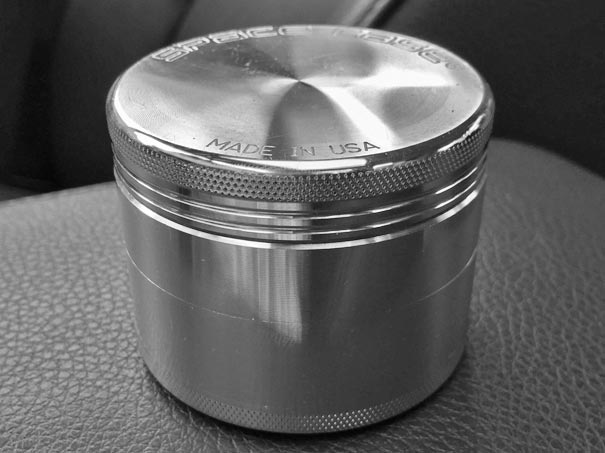 Space Case grinders are the cream of the crop – top-shelf buttery goodness.
They're the original players here and they've been making these things for over a decade now. Not much has changed over the years, the quality and craftsmanship is still top tier and they really do grind like butta.
The model I personally use is the medium 2.5″ 4-piece version, and that's what's shown in most of the pics on this page. They also make small (2.0″) and large (3.5″) sizes and they have two finish options: Silver and Titanium (Black). My previous daily driver for a few years was the small 2.0″ 4-piece model. They also make 2-piece versions which grind just as well, there's just no storage compartment inside and they don't collect the "pollen" at the bottom.
You'll find a bunch of other herb grinders out there that look very similar, but trust me when I tell you that they are not the same quality, especially if they're a fraction of the price.
The 4-piece grinders that you see sold for $10-$25 will absolutely work and do the job at hand, but they are not precision engineered of the same high quality materials and the action when using them does not feel as smooth and luxurious. It really comes down to personal preference and how much you want to spend, but I truly feel this is a wise investment.
Stay up!
IMPORTANT: There are a lot of counterfeit Space Case grinders sold online, especially on ebay, don't fall for the trap! They usually sell them for 1/3 the price of a genuine one. Here's how you tell the difference between a real and a fake: link
More pics of the real thing: