The G Pen from Grenco Science is an oldie but goodie. Well, I mean "old" in the sense that it's been around for a while, but the vape itself has gone through some changes over time and has improved.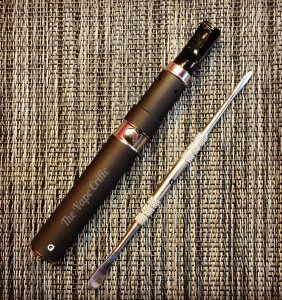 This review is of a unit I picked up in the Fall of 2014. It's considered a pen vape and is designed for use with wax and oil concentrates, not dry herbs. They do make a "herbal" version of this pen (and one branded Snoop Dogg) but these tend to combust your herb or produce very wispy vapor, so I normally don't recommend those.
You have 3 main parts to this thing: the battery, the coil (atomizer), and the mouthpiece. Almost all vape pens are comprised of these three components. They all vary a tiny bit though, and these small variations are what makes each pen slightly unique.
Battery
The battery has a nice soft feel to it like most pens, but the power button is different from many others. It has the same polished look as the surrounding part of the battery, and it has a nice elegant feel to it when you press it in. When you do press it down you'll see a faint blue light behind the button, and the tip of the battery will also glow the same faint blue.
I don't particularly like vape pens that light up when you use them, but the intensity of the light with this one is pretty low so I don't think it's that bad.
The battery also has the typical 5-click locking feature, which will lock and unlock the power button when you press it down quickly 5 times in a row. This helps prevent the vape from powering up while it's in your pocket or wherever.
G Coil Atomizer
The coil or the atomizer part is where you actually load your concentrate. Basically it's a small ceramic chamber with a tiny coil-wrapped wick at the bottom. The coil is pretty deep or far down with the G Pen, and only the bottom part with the wick is ceramic, the top half of it is most likely stainless steel.
I don't normally like atomizers where the coil is deep down because they're usually harder to load, but it wasn't really a hassle at all with this one. Not quite as easy as shallow coils, but not difficult either.
It comes with a cool tool (heh) that you can use to load your wax or concentrate, and basically the goal is to get your material into the bottom of the chamber and onto the coil. You need to be pretty careful though, the wick and coil are fragile and if you're not delicate when you load it you could easily damage it.
Depending on how often you use it and what kind of concentrate you use the coil will eventually burn out and stop heating up. This is true for pretty much all pen vaporizers with atomizers, and the normal life span is somewhere between 4-8 weeks. If you like the vape and use it often it's a good idea to buy a bunch at a time to lower your cost per coil.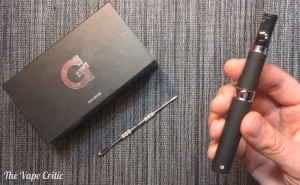 Mouthpiece
There's not too much to say about the mouthpiece, the shape and feel of the very tip is similar to some other pens, but it does have a fairly unique feature – there's a screen on the bottom part where it screws into the atomizer. Since you're not vaping dry herbs in it you really don't need a screen in there, but it doesn't hinder performance at all and it does make it different. Some people say this screen can clog over time and require some cleaning, so if this happens to you they do include a few alcohol-soaked q-tips you can use to clean it off. You can also use these to clean the atomizer a little but don't get too close to the coil.
Vapor Quality
At the time of this review I have about a dozen other pen vapes to compare this one to, and as far as vapor quality I would rate the G Pen in the top 5. Sometimes it's hard to tell the difference because these pens all share very similar components, but there's somethin a little unique that makes this one better than many others. The taste is clean and the vapor is smooth and comfortable, it's not too hot or harsh. It also seems pretty efficient and will produce a handful of draws from just a tiny bit of concentrate.
Stay up!
-Bud