You wanna know what the best vape temp is?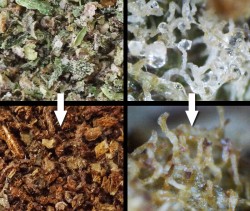 It's right around 365-375°F (185-190°C)
This is for dry herb vapes, and this is a good temperature range with any of my top picks for best portable vaporizer.
With some models the ideal temp is a little higher, and with others it's a little lower, they're all made differently.
Not getting enough vapor? Try bumping up the heat (but rarely over 400°F). Vapor too harsh? try lowering it to ~350°F-ish.
To make things complicated there are a whole bunch of factors that will affect the best temp to vaporize at, some of which include:
– Which vaporizer you're using
– How moist your herb is
– How fine your grind is
– The desired effects you want
– If you're vaping through water
– How dense you want the vapor
Generally you want to set your vape at a temperature that allows your material to be thoroughly and completely vaporized. You want it to be a nice even brown color when it's done, and it should look something like this: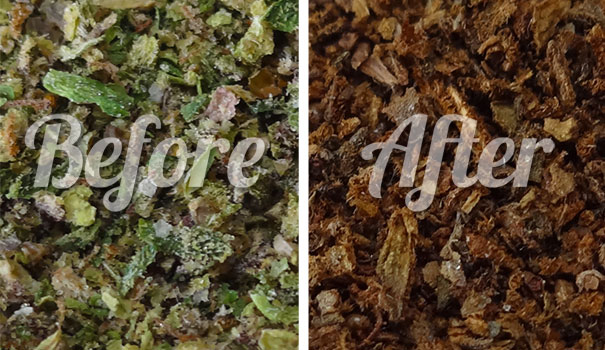 Stay up!
-Bud
---
Hey, check out one of the first videos I ever made where I talk about vape temps. The quality is pretty rough, but there's some pretty decent info in there!
Video transcription:
Hey, what's up? In this video I want to talk about what the best vaporizer temperature is, or more appropriately, what the best range to be in is.
To keep it interesting and to add some science behind what I'm saying, I went out and I bought one of these USB microscopes and this let me take close-up magnified pictures of the herbs after they're vaped with four of the top-rated vaporizers. Those pics are coming up shortly in this video. There are just a few things I wanted to mention first.
I get asked a lot what the best temperature is. If you take a look around the Internet, you'll notice there are a lot of opinions on that. I first made a post about the best vaporizer temperature over two years ago and that post has received over 150 comments from people that both agreed and disagreed with what I thought. This is my opinion. To get right down to it, I think that the ideal temperature is just about 365 degrees Fahrenheit, but it's better if you think of it as range of somewhere between 350 and about 385. If you need to know what that is in Celsius, I'm pretty sure it's roughly 180 to 195.
The reason I say to think of it as a range is because there are a lot of factors that determine what the best temperature for you is. Mainly, it's which vaporizer you're using because each vaporizer is made differently. They all heat up the herbs differently and they all require their own specific temperature to get the optimal vapor.
I'm going to tell you what I think the best temperature is for the Volcano Vaporizer, the Extreme Q vaporizer and NO2 vaporizer. I'm also going to show you some pictures I took from herbs used in the launch box but I can't tell you the temperature for the launch box because there is no setting for that. The launch box is more just you develop a feel for how long to hold the battery in and how quickly to draw.
After taking all the pictures with the different vapes, I found the Extreme Q pics really give a good visualization of what's going on. I'm going to show you those first. Even though I think the Volcano is the number one vape, I'm just going to show the Extreme Q pics first and then you can compare them to the rest.
What I did with the Extreme Q was I keep it set at 392, and for this experiment I was packing the herbs inside the elbow. If you're not sure what that means, check out my other video because I have a clip about that. These next pictures you're going to see are from the Extreme Q at 392 degrees with the herbs packed in the elbow. The reason I set it so high with the Extreme Q is because the way that one is designed, up where the herbs actually get vaped the temperature is slightly lower than what the core temperature is that is displayed on the screen. 392 works well for me. 383, the next lowest setting, also works pretty well. So either one of those, 383 or 392. Now I'll shut up and we'll get into the pics.
First, what you're seeing here is the control specimen. This is what it looked like before any vaping was done. This first picture is after one 20- second draw. This next picture is after the second draw. This is after the third draw. After the forth draw. And this is after the fifth and final draw. Make a mental note of this picture because I want you to compare it to the other ones later on.
It's pretty crazy right? That stuff looks pretty weird up close. The Extreme Q is a good vape in my opinion. It's pretty efficient at vaping the herbs. Just keep in mind with the Extreme Q that if you used it the way that it's supposed to be used, or the way they tell you in the manual where you put your herbs inside the main glass chamber, not in the elbow, I think the vaping is a little less intense so you'll probably get more draws then five.
Next we'll talk about the Volcano. I have the Volcano Classic, the one that has the dial on it. Up until very recently, I would tell people to keep it set on number 6 or roughly 374 degrees Fahrenheit, and that's what I did, too. But over the years I've received a lot of comments from people saying that that temperature was too low and that if you vape at that temp, you're leaving a lot leftover at the end, there's a lot that goes unvaped. I personally enjoyed it a lot set at 6 so I didn't think too much into it, but after I got this scope and I took pictures of what the herb looked like after it was vaped on number 6, I came to the conclusion that these people were right.
You'll see that even after the last picture, or last balloon, that was vaped with the Volcano set at 6, the herbs don't look completely spent yet. So I've changed my opinion recently about the optimal temperature for the Volcano to starting off at 6 for the first balloon, and then for each balloon after that, bumping it up a little bit, and the last balloon I sometimes end somewhere between 7 1/2 and 8. The first balloon I'll start at 6. I'll bump it up a little for each one after that, and by time I'm done, the dial might be at 7 1/2 or 8.
You don't have to do it like this. A lot of it is really personal preference. For a really long time, I just kept it at 6 for all the balloons and I was perfectly happy. But I know a lot of people do increase it, like I just mentioned, so you might want to try that, you might like it better.
We'll get into the pictures now. This first picture is the control or the herbs before being vaped. This is after the first balloon. And remember, each balloon filling is about 30 seconds being vaped. This is after the second balloon. This is after the third balloon. After the fourth. You'll notice it's not changing too much like the Extreme Q pics. This is after the fifth. After the sixth balloon. And this was after the seventh balloon set at number 6. You'll see that is looks like they could still be vaped more.
If you think back to the last Extreme Q picture that I told you to make a mental note of, that one looked a lot different than the last Volcano picture, didn't it? It's really interesting to learn how each vape does what it does differently. Just as a side note, in case you're confused why I rate the Volcano number one even though it seems like it didn't fully vape the herbs, regardless of what these pictures show, the quality of the vapor from the Volcano and just the whole experience that you have while you're vaping is really superior to the other vaporizers that I've tried. That's why I continue to rate it number one, and that's why it's still my favorite vape. Regardless of what the spent herbs looked like afterwards in the pictures, it's still what I would recommend if you're looking for the best of the best.
Moving on, we'll go to the NO2 vape. The NO2 is a handheld portable vape that, from my experiment, seem to run a little hot so it's the opposite of the Extreme Que. I actually set the NO2, when I use it, at 350, maybe 355. Even though that sounds low, I found that if I set it much higher than that, my herbs were being heated too much and I started to get a little bit of a funky taste. I dropped it down to about 350, taking 15 to 20-second draws, and here are the pics.
This is the before pic. This is after one draw. This is after two draws. After three draws. After four. After five draws. And this was after the sixth and final draw.
The next vape that I'm going to show you pictures from is the Magic Flight Launch Box, which like I mentioned earlier, doesn't have a temperature setting. It uses rechargeable batteries to heat the heating element so it's all about developing a feel for it. What I did for these pictures was roughly 10 to 20-second draws, or that's how long I held the battery down for, and I used the quick draw technique.
This is the before picture. This is after the first draw. After the second draw. After the third draw. After the fourth draw. And this was after the fifth and final draw. You'll notice this picture looks like the final picture from the Extreme Q because the herbs look extremely vaped.
What I want you to do now is leave me a comment and let me know what your favorite vaporizer temperature is, because it really is personal preference and what people like is all across the board. I've had people tell me they like 250 and I've had people tell me they like in the 400s. It's really about what you like. My advice, if you're first starting out, is to start off a little bit on the low side, somewhere around 350, and then adjust up or down from there to suit your taste.
If you want to see some extra pics that I didn't show you, some bonus material, go to my website, VapeCritic.com, click on the link at the top that says "Free Updates", sign up for the email list and it's going to automatically email you a link to the page.
That's going to wrap it up. Thanks for watching, and I'll see you soon.