What's up! This is the VapCap vaporizer from Dynavap, made for use with dry herbs and concentrates. This vape is different than a lot of the other ones I review, but it's awesome. This one is powered by a butane torch, so there are no batteries, and you don't plug it in.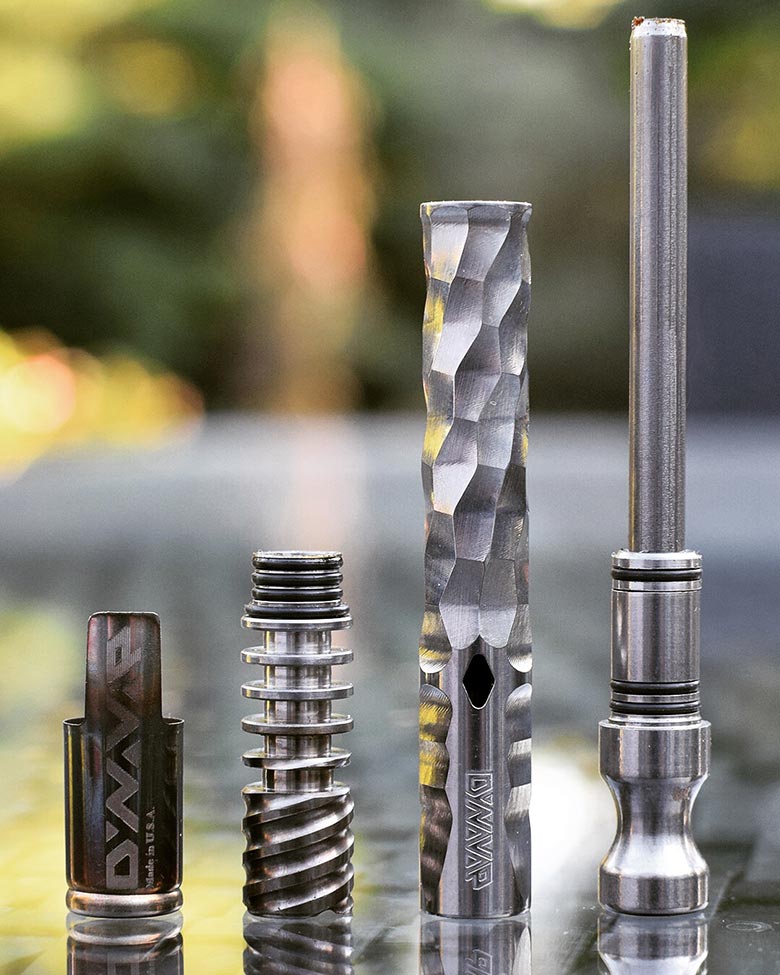 VapCap Variations
You heat it with a torch, and there are different types of torches which I'll get into, but there's also a bunch of variations of the VapCap. I have 5 different ones here to show you:
The newest one I just bought is this one, the OmniVap XL. (see review video above) They also make the same one a little bit smaller than the regular. This is actually the smaller version of this vape, but an older model. This one is cool too, but I'm really digging the new one a lot, and I like the XL length for my hands, it just fits better, it's easier for me to use, I really like it.
This one is the most expensive one you can get. (see pic at top of page) This is $185, but then they also make one that's $40. This is called the "M", the Dynavap M. It's not quite as luxurious, and it's not all titanium, it doesn't have as many parts either, but it's pretty cool. If you like the concept, and you want to get in for 60 bucks, it's not bad at all. I do like the Omni, and I think it's worth the extra cost because of how nice it is, but that's your choice. They also make a few other models that have wooden parts.
So the two wooden ones I have here (see video), this is the Ti-Woody S. It's got the wood midsection, and the spinning mouthpiece comes apart into a bunch of pieces. So this one was the Ti-Woody S, and this one's right around $100 now. I bought these two, I bought my OmniVap XL, and I bought the NonaVong, but then Dynavap, (because they're so cool), they sent me some cool stuff. They sent me this one. (see video) This is one that has wood parts, but you can use it with a water piece with a rig. It also has some flat edges so it doesn't roll too.
How They Work
They're very different than all other vapes, even the other butane vapes. The way they work is not exactly the same, the way you've got to use it, and the way you have to heat it differently. So this is a very unique piece of machinery here, or a unique piece of metal. It seems simple, it is simple, but very well thought out. Really high-quality materials, that's why this one was so expensive.
Let me show you what I mean by it being different, as far as how it works. All models of the Dynavap vaporizer, all 5 of these, have the same cap. The cap part of the VapCap, is this, this is the cap. (see video) That's a very important part. This is your heat source, not the lighters. Your heat source, the lighter, heats the cap, then the cap heats your herb.
What I'm saying is that it's not the lighter heating your herb, like when you smoke or anything, or with some other butane vapes. So in essence, the lighter does heat, but in this one, you're using the lighter to heat the cap, and you're packing your herb inside the tip here. It's a pretty small chamber.
You know the cool thing, is that it works with a loose pack, or a full pack that's tight, so you can go maybe 0.1g, probably even less than 0.1g in here if you wanted – 0.05g would work up to 0.15g. I'm going to say that's a good range for this one.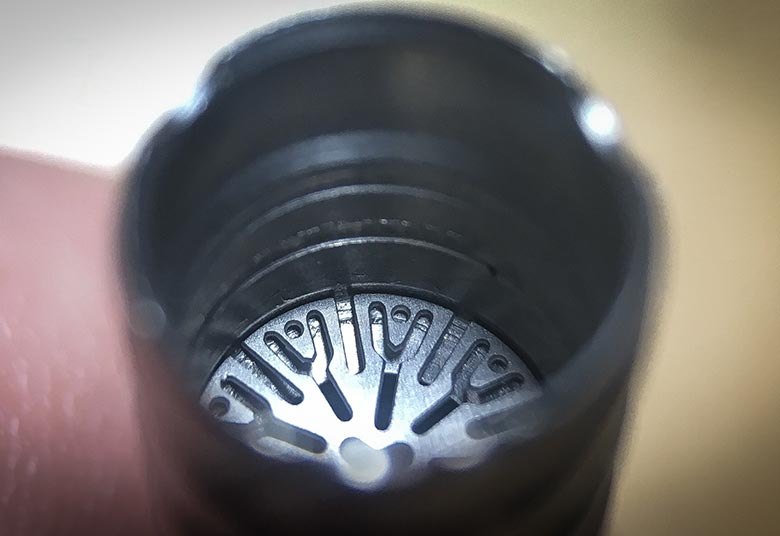 Now I'm going to take some finely ground herb, because I do find that the vapor production is better, and stronger with a fine grind. It does work with medium and kind of coarse ground as well, and some people just put in a nugget, they don't even grind at all. That works too. There are a lot of different ways you can use this one. I'm going to use some finely ground herb and I won't pack it tight. I'm going to pack it full but loose, and then put the cap on.
This is the lighter part. So I have three different lighters here to show you: Single flame, Dual flame, and Triple flame. These are all butane torch lighters, by the way, you don't use a regular lighter like a big torch lighter.
Heating & Temperatures
So each one of these will affect, I guess how you use it, how long you have to heat for, how quickly it's going to heat up, and what kind of chances you have of overheating. It's going to be different with each lighter, so let's start with what I think is the easiest to not make mistakes, for beginners, which believe it or not is the Triple flame torch. You would think maybe it would be the single, but the single is kind of like a little bit more advanced, just a little. They're all easy, but I wouldn't consider the single the easiest one.
What's important to know, is the way to heat it and when to stop heating, and then go to reheat it, very very important, because if you do it wrong, if you don't do it at the right time, you're going to burn your herb, or just get no vapor, but you could also combust/burn it, and it kind of sucks. If that happens then you gotta clean the whole thing out to get rid of the taste, but it's ok because I'm going to show you how not to do that. So to start with the triple flame, when you're heating this one, always spin it. You want to heat the cap, holding it like this is kind of ideal. (see video)
It'll kind of work in any direction, but holding it angled up like this gives it a nice even heating, the flame you want about half inch to inch long. I'd consider that like a half-inch flame tops, and when you hold it up to the cap, the very tip of the flame can touch it, but I even keep it a little farther away than that. So when you're using the triple flame lighter, the cap is going to heat up quickly.
When it reaches the optimal temperature, or when it reaches the temperature when you're supposed to stop heating it, it's going to click. Now the saying is "respect the click", and it's right, because it's specially designed to click at the perfect time to vaporize your herb. If you keep heating, you're going to combust it. So what I'm going to do, is I'm going to heat it and listen for the click. I'm just going to heat it in the middle for now. I'll tell you a little more about that.
Now the other thing to talk about, which is I guess more applicable to the one or two flame lighters (because with the three flame, it kind of covers the whole cap), but if you heat towards the tip of the cap, it's a slightly lower temperature than heating towards the bottom of the cap.
There's a carb on the side. Start with the carb closed and then you can open it. There are many methods to using it though. You need to really close the carbs, especially in the beginning, to get that real vapor production, for the heat from the cap to really get through your herb and vape it.
So what I started doing in the beginning, when I first started getting really good results from it, was I sort of (I don't know what to call it; I'm going to call it squeezing), I started squeezing the vapor out, that's what it feels like. So when you work the carb, you can almost squeeze the vapor out. I'm going to try to do it so that you can hear it through the microphone. I'm going to start with the carb closed and I'm going to very slightly open it, and then close it again, very slowly, opening it, close it. And that's sort of how you get the vapor production without sucking with a super hard pull the whole time, because obviously the draw resistance is really high when you plug the carb. It only feels free-flowing when you let go, so it's interesting. It took me a little while at first to get the hang of it, but man is it cool when you do.
It can hit with the best of them. The only thing that I actually keep making mistakes doing, even after all like my practice with it, I keep occasionally combusting, and I'll tell you why, it's because sometimes I guess I'm either not paying attention enough, or for some reason I just don't hear it, but the cool down click, or the click telling you when it's cooled down enough to reheat, I don't always hear it.
So sometimes I assume that it clicked and I can reheat it, like I'll take a hit and then I'll sit here for a few seconds, and then I'll be like alright, I want another one, but it actually didn't click yet. I wasn't listening carefully enough so I just go and I start to reheat again, but now it's going to get too hot, and it's never gonna click again.
So that's how you combust, because you just start heating again, and you're like oh, okay, and then like ten seconds go by and you're like, what the hell, because smoke starts coming out, and it's not good. So that's really all you have to pay attention to to avoid the combusting. Don't heat again before you get that second click, and don't heat past the first click.
So I toasted what was in there in a few hits, but there was not a lot in there at all. That was not a lot, that was 0.1g or a tiny bit less. But that was a huge rip, and I had those few small ones before. It's definitely super efficient and tons of people love this one. The people who like it, really like it and use it all the time, and it's super cool how there are so many variations of it, so many different ways to use it, I like it.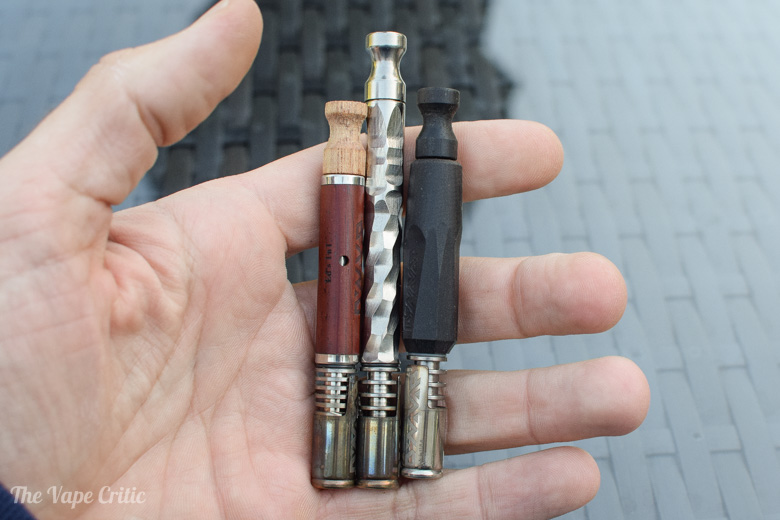 Let me show you one of these other ones I guess. Let's try the Woody, it's going to work the same way. Before I packed it full but loose, maybe this one I'll pack a little tighter, alright? So this one is only a little tighter, there's probably a little over 0.1g in here. It's something between 0.1g and 0.15g.
You saw the triple lighter, right now I'll go to the other extreme, and I'll show you the single. What happens with the single, is it's going to take significantly longer for the cap to click, and it's going to take longer for it to heat up, obviously, it's one flame versus three.
So I'm going up and down the whole cap with the flame, just to try to evenly heat it, and I spin it all around. (see video) Here's the thing, when I tried bringing this out with me, you know, most of the time I find it's more convenient to use the triple because of how quickly you can heat it.
I found that sometimes it's not quite as convenient for me to sit there with the single flame and wait. You know, that extra whatever 10 seconds for it to fully heat. Sometimes when I'm not home, that's not exactly super convenient, so I like the single one at home, and when I go out I bring the triple, which is cool.
With a single flame, you can see it more if you hold it up at the tip. It's going to heat it to a lower temperature, going to click at a lower temp than if I heat it down lower. (see video)
Alright, so I tried to go over all the close-ups, and show you all the parts of the vape during that video while I was talking and stuff. Hopefully, you got all the info you need about it. If you have any questions or comments, please check out the Vape Life Forum.
Stay up!
-Bud
Check Out the Current VapCap Collections From: