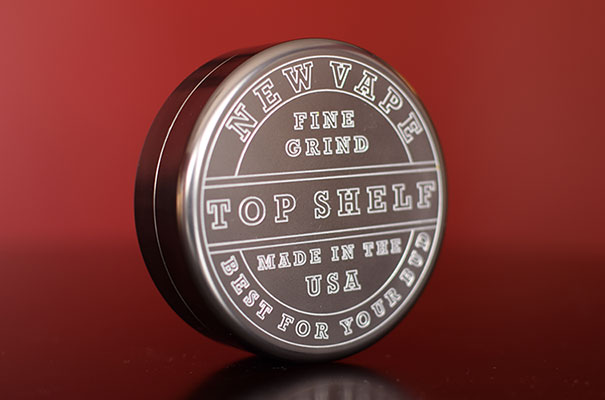 To get maximum vapor production from most vaporizers you need to grind your dry herb pretty fine, finer than most common grinders can get it. Knowing how to pack your vape properly is half the battle, preparing your material the right way beforehand is the other half. Grinding your herb to the perfect consistency for vaping has many advantages including smoother, denser and stronger vapor.
The NewVape Fine Grinder is a 2-piece unit with a 3″ diameter, and the inside area where you put your herb is about 2″ across. It's made from 6061 medical grade aluminum (the good stuff) and the anodized titanium finish is smooth like butta.
It also has an "undercut" on the inner ring so it doesn't get jammed up with gunk like other grinders (I recommended that and they did it – it really helps).
Stay up!
-Bud
More pics:
---
The video below I created years ago and I talk about a bunch of different grinders in it:
Video transcription:
Grinders! So if you plan on vaporizing with just about every vaporizer on the market you're going to have to grind up your material before you put it into the chamber.
So what I'm going to do in this video is give you a brief overview of some popular grinder models. And what I have here is the Space Case 4-Piece grinder, a Space Case 2-Piece, the Mendo Mulcher four piece, the Santa Cruz Shredder 4-Piece, a Magic Flight Nano, a Magic Flight Finishing and a Storz & Bickel plastic grinder, the one that comes with the Volcano or the Plenty Vaporizers.
So in addition to talking about all these models, what I'm going to do, is I'm going to take some of my organic Chamomile that I have laying around and I'm going to actually grind it up in each one of these grinders, just so you could see how it works and what the end result looks like.
So, first I'll talk about the Space Case four piece grinder. This is the small size – they do make this in a few different sizes. And the four pieces are, the top piece. That's the second piece there. This is the chamber where the material falls into, after you grind it up. And then the bottom piece is the pollen catcher.
So I think this is a great grinder. This is the one I end up using most often and you know, like I said, I've been using mine for a while. At least a few years I've had a Space Case.
Alright, so what I'd like to do with four piece grinders usually, is I like to actually put the material in the top part first. I found that that usually gives the best, you know, grind consistency in the end. So what I'm going to do is I'm just going to put a bunch of material up here.
Again, this is Chamomile that I have here, but you know, obviously this is just for demonstration purposes. Alright, alright, it's going all over the place. So roughly, that's what I did with the top. Okay, then I'm just going to put it on, going to grind up, Okay?
Open the top, you'll see there's like a little, sometimes I give it a little tap to get the rest through the hole. Okay. And then you screw off the second piece and there is your material.
So, as you can see, one of the benefits of a four piece grinder is that it holds your material inside after it's ground up, which just makes it convenient to pour it into, whatever you need to pour it into, like a chamber on a vaporizer or whatever.
Alright, so now I'll show you the Space Case two piece grinder. And, just like the name suggests, it's only two pieces. There is no chamber inside to hold the ground up material. So with a grinder like this, you know, you kind of need something to dump the material into after it's ground up. And you know, it's really just a personal preference, as far as which one would be better for you, because I think they're both good.
Okay, so I put the material in like that. I'm going to put this piece on, just grind up for a few seconds. And then if you separate the two pieces, there's your material. So what I like to do, you know, if I'm going to use a two piece grinder, is I like to keep some kind of tray handy and then I'll dump the material into the tray, like that, alright?
So now, we'll move on to the Mendo Mulcher 4-piece, which is this one right here. Alright, so this I believe is their medium size model, and Mendo Mulchers work a little differently than a grinder like a Space Case. Because if you'll notice the second piece, it actually screws into the inside of the chamber, the threads are on the inside or whatever. It's just a little bit of a different design. Alright so, I'll take the top piece and I'll put some material in there. Alright, lay a bit on top, Okay. Same deal, just give it a few taps to get the rest of the material through. Unscrew the top and then there you go, there's your ground up herbs.
And like I mentioned, since this is a four piece, like the first Space Case I showed you, it does have the extra pollen catcher piece at the bottom. So now I'm just going to quickly close this one up.
Alright, so the next one that I have down here is the Santa Cruz Shredder. So this is a four piece grinder, this is their small size. Actually, they might even consider this mini, I think, or something like that. But, regardless, it's the smallest four piece I believe they sell. So this one's a little bit different than the few that you've seen already. Because you'll notice, if you could see that the teeth inside are actually kind of like rectangular, instead of diamond shaped. And then in this piece here, you know, you got some more teeth and then you got the holes over there.
Alright, so I'm going to put a little material in the top piece like that. Just going to lay it on top, grind up for a few seconds. Give it a little tap, tap the rest through, screw off the second piece and then there's your ground up material. Then, just like the other four piece grinders, it has the pollen catcher piece on the bottom. Alright, put this guy back together.
Now the next one I have here, this one is made by Magic-Flight, which is the company that makes the Launch Box Vaporizer, if you're not familiar. So they made these two grinders specifically for the Launch Box, but, you know, I found they actually work good regardless of what you're using it for, they're pretty good.
Let me show you how this one works. This is a 2-piece and they call it the Nano because it's very small. You'll notice that it's the smallest one that I have here. Alright, so sometimes this one is a little funky to use, like a little difficult to use because it is so small, but I still think it's pretty good.
So what you got to do with this one is just put a little material in here. You know, it doesn't have a high capacity but you know, it's not really a big deal. With most vapes, you don't need a lot of material in there, so this works pretty well. And I'll put this piece right on and I'll grind up.
Okay, here's the ground up material and just like the two piece Space Case, you know, you're going to need something to dump it into. Unless, you're going to just dump this straight into your launch box, then you don't need a tray or anything. But in this case, I'm just going to dump this into the tray, like that.
Alright, so the other Magic-Flight Grinder, that's right next to this guy, is the Finishing Grinder. And you know what, it's getting a little messy here, so let me clean this up real quick. Shazam!
Alright, so the Magic Flight finishing grinder right here. So, the cool thing about this one, this one's unique, it doesn't look like any of the other ones, it actually works differently. This one almost works like a cheese grater or something like that. You see how it's just like a metal piece at the bottom with some holes in it, and then this is wooden over here. So you put your material in and then it sort of just presses it against that screen and you know, kind of like, grates it, actually, instead of grinding.
What I found with this one though is that even though it works pretty well, I've actually found that it works better as like a secondary grinder, to grind like a second time, to get your material extra fine. Because what I've noticed is that if you try using this as your primary grinder and you put your clumps of material in here and then try to grind it up it gums up very quickly, like the residue builds up on all the wooden parts very quickly and then it doesn't move so well.
So, you know, even though I like this one and I do recommend it, I think it works better as something that like, after you grind your material in your Space Case, if you're going to use a vape like the Launch Box for instance, that you know, works better with very fine material, you can take your material from here, put it in here and re-grind it, to get it down to almost like a powder. And then you won't have to worry too much about this getting gummed up or not working so well, because it stays cleaner that way.
But for this demonstration, I'm just going to put the Chamomile right in here, so we'll see what happens. Not going to put too much, I'll put a little bit, like that. Now, when you grind with this one, the material is going to come just right out the bottom, alright? So, I'm actually going to grind up over a tray. So I'm going to put the tray right here, and then just going to grind it like this back and forth.
Now if you could see, see how it's starting to come out the bottom? Sometimes I give it a couple of taps, that helps to get the material through. Alright, just keep grating it up, couple of more taps, some more grating.
Now one of the other cool things about this grinder is that it will trap some of the stems and the really hard pieces, that shouldn't even you know, come out – that you don't really want. So that's kind of cool. Because after you're done grinding, you can take whatever is left over and just you know, dump it out and just get rid of that stuff separately. So that all you're left with here is just very fine ground up material, you know, with few other things mixed in.
So, let me just clean this up here real quick.
Alright, so the last one that I have here to show you is just a plastic grinder – it's made of like a hard plastic material and if you can see, it has like diamond shaped teeth inside. So like I said, this one comes with the Volcano or the Plenty but there are a variety of models out there that are similar to this one, that look the same or are made of the same material. It's a pretty cheap grinder, but it gets the job done. So this specific one is a two piece and then it does have an extra little chamber at the top if you want it to store some material in there, which is kind of cool, I guess.
So to use this one, just like the other two piece grinders, you just put your material in one side. Alright, so something like that. Then again, you're going to need a tray or something, to dump into, probably. So I'm just going to take this tray here. Put the other piece on top, grind it up for a few seconds, give it a tap, and then dump the material out.
Alright, so that's basically all there is to it. You know, obviously, there is a bunch of other grinder models out there can you can buy. The main difference between everything you see on a market is just, you know, how well they're made or how well they're machined, like you know, with how much precision it's done and stuff like that.
Some of them are smoother than others, some of them are just designed a little differently. But basically it really doesn't matter what kind of grinder you have, pretty much all of them will get the job done. These that I'm showing you here, in my opinion just happen to be some of the better ones.
And if I had to narrow this down even further, I would say that these would be my three favorites. The Space Case 4-piece, the Santa Cruz Shredder – you know, I basically consider these about equal. They're roughly the same price, perform pretty similarly. I like them both.
And then, like I said, I use this one sometimes. You know, if I'm going to use a vape like my Launch Box or anything where, you know, it works best with really finely ground up material like, even finer than these two can get it.
So, that's where this one comes into play and just to reiterate, I do think it's good, but I don't think you should get this as like your only grinder, because I think you might run into some issues with it gumming up quickly and stuff like that. But, you know, it's not a big deal. It's just, this one's a little harder to clean because it is wood.
You can't really use rubbing alcohol on it, you might ruin the wood or stain it, as opposed to a grinder like this where, if it gets gummed up, you could just clean it with some rubbing alcohol and basically get it back to like new.
So that's just something to keep in mind. But these three are my personal favorites. So if you're looking to get one, if you need a good grinder, if you don't have one, go to BestGrinder.info, and what that's going to do is actually land you on the Space Case page at my favorite vape store, where I get all my stuff from.
And then if you want to get one of these other ones, just check out the grinder menu, they sell all of these, so you could pick any of these out.
If you're interested in watching some reviews about vaporizers, check out my website at VapeCritic.com.
And as always, I really appreciate you taking the time to watch my stuff, and stay up!