In this post you'll learn how to get the best performance from your PAX vaporizer and also how to use it with a very small amount of herb (like 0.15g).
This is the PAX 2 on the far left and both shiny vapes on the right are the PAX 3, and everything I'm about to show you applies to both models.
Click here to buy the PAX from the authorized dealer I recommend.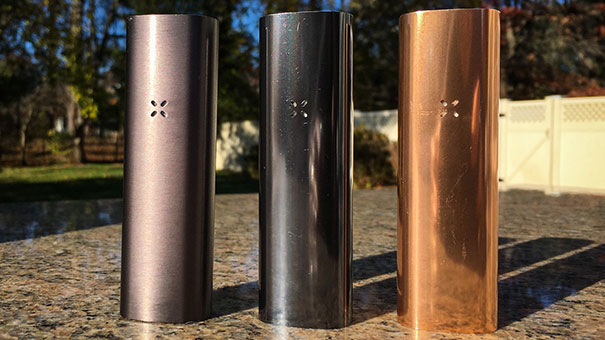 Question: I'm not getting enough vapor, how do I get better results?
Answer: Grind finer and pack tighter!
The main things that affect how much vapor you get are how fine you grind your herb and how tight you pack the oven. If you're not getting the performance you want then this is the first area to look.
The grind consistency that everyone is used to from a common 4-piece grinder will work with most vaporizers, but if you really want maximum performance you need to grind your herb even finer than that.
I really can't stress this point enough – I can almost guarantee that grinding finer will get you better results if you're not doing it already, especially with a vape like the PAX.
If you don't want to buy a new grinder there are a couple of things you could try with what you have. First thing to keep in mind is that you'll get a finer grind and more vapor if your herb is fully dried out with very little moisture left in it. After you initially grind your material you can try spreading it out on a sheet of paper for a short while to dry even more, then you can try vaping as-is or re-grinding again to break it down a little more.
With a 4-piece grinder one thing you could try is holding it upside-down when you grind, this will mimic the action of a 2-piece model which can usually help get your herb a little finer.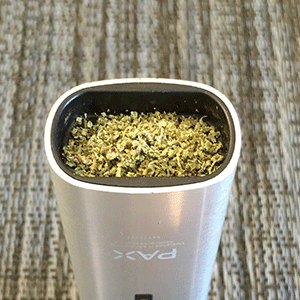 It is also very important to pack your herb tight inside the oven, you don't want it loose in there at all. What I usually do is pour enough ground up herb into the oven to overfill it so that there's some extra on top, then I take the loading tool and pack the herb back down into the chamber until it's even with the top edge.
The animation on the right shows me packing my PAX 2, notice how fine the herb is and how tight I pack it down.
Loose material in the oven and not grinding fine enough are the leading causes of poor vapor production and disappointing results.
Question: How much material do I need to use with this vape?
Answer: A minimum of 0.15g and a maximum of ~0.35g
The recommended way to use this vape for maximum vapor production is with a fully packed oven. Depending on how fine your herb is ground up the amount needed to fill the chamber ranges from 0.3g to 0.4g. When you fully pack it you can expect roughly 20 full draws before your herb is spent.
There is also a way to use the PAX with less herb, like as little as 0.15g. Using the method I'm about to describe you can get away with only packing the oven half full and still get great performance and vapor production.
The first thing you do is load your oven with about 0.15g and then pack it down so it looks like this:
DIY OVEN REDUCER
You can easily make your own oven spacer with any small pipe screen, the ones that are the size of a nickel are just about a perfect fit.
What you want to do is bend up the edges of the screen so that it creates somewhat of a U shape – you can try bending it around a pencil to keep the curve uniform. Then, depending on the size of the screen you use, you'll probably need to trim off the edges so that it will fit inside the oven properly, which you should be able to do easily with scissors.
Next you take the screen and with the bottom of the U facing down place it on top of your material in the oven. The screen's job is to take up the extra space in the chamber while keeping some pressure on your material so that it stays pressed against the base and walls of the oven.
Here's what the screen should roughly look like:
You may need to trim the screen a few times to get it to fit perfectly – you basically want the top edges of it to just reach the top of the oven. It's important that the oven cover still closes completely with the screen in there so just make sure it's not sticking up at all after you put it on.
Click here to buy the PAX from the authorized dealer I recommend.
Stay up
---
The comments section is now closed on this page – please visit the forum if you have any questions or need advice!
---
Previous comments: