UPDATE: Atmos has a new version of this pen now called the R2, check out my full review video above. The R2 is kinda similar to the original AtmosRAW but it's also pretty different in more ways than one.
It's definitely a bit larger, almost too big to be considered a normal vape pen in my opinion. It has a very similar snake-like coil at the bottom of the heating chamber but the chamber itself is different, they call it "anodized" and it has a polished look to it as opposed to the ceramic lining of the Rx. It's also freakishly bright for a vaporizer, I would almost consider it a mini flashlight.
Stay up!
-Bud
---

---
Below is my original review of the first version of this vape: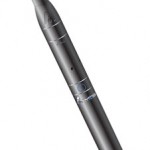 Ok so the situation with the AtmosRAW is a little more complex than the other vapes I've reviewed.
Originally, Atmos shipped these out to everybody with it combusting herbs and performing like an electronic pipe, not a vaporizer.
Then after receiving complaints, they started offering a glass honeycomb screen piece to anyone who asked for it, to insert into the heating chamber in an effort to prevent combustion.
I had them send me one to try, but unfortunately this glass screen did not work very well and I wasn't satisfied with the results. I also tried taking out the spring inside the heating chamber to see if it would help, but unfortunately it didn't.
*Update: Atmos started providing a newer glass screen piece that is very similar to the honeycomb screen I show in my video, just with fewer holes in it. I tried the new piece but experienced very similar results, so my stance on this product is still the same. It's a cool device, just not for true vaporizing.
*Update 2: I also tried using it with two of those glass screens, which Atmos started recommending, but it didn't help the situation. Using 2 filters helps avoid combustion but also prevents any vapor from being produced, so it's sort of pointless. And just as a side note, those tiny glass pieces are extremely easy to lose when you're emptying your chamber.
Most people who get this vape use it with concentrates, as it's actually pretty convenient for that and it works well with it. As I mentioned earlier it works good as an electronic pipe but I do not recommend getting this if you're looking to truly vaporize your material.
Video transcription:
Sup guys, this is my updated review of the Atmos Raw vaporizer, and I'm making this second video because there's been some new developments with this product and there were a few questions left unanswered after the first one.
So if you're thinking about buying one of these there's a few things you need to know.
The manufacturer of the Atmos Raw kind of messed up in my opinion when they released this device and ended up causing a lot of confusion for everybody.
Basically, the way that Atmos ships these units out, you will combust your herbs and smoke will be coming out if you use it the way it comes and follow their directions. They will plainly admit that they do not include a screen inside the chamber, if you have one with a screen it was added by someone else.
Note: this is true as of the time I'm making this video, but I expect them to produce and include a proper chamber screen sometime in the near future if they know what's good for them.
So, you are told to fill this heating chamber with your herbs, screw in this chamber connector piece, and then press the power button to engage the heating coil located at the bottom of the heating chamber.
Doing this basically makes your device perform like an electronic pipe, even though they call it a vaporizer.
To actually get the AtmosRaw to produce vapor, you need to add parts to the heating chamber that are not included in the retail packaging.
Now this is where things get even more confusing…
I have contacted Atmos about this issue, and what they did was mail me this glass honeycomb screen piece to put in the bottom of the chamber… this little piece was their solution to the problem, and they will admit that this piece was not normally included (at least when I bought mine it wasn't).
After testing this new piece they gave me to put in my heating chamber, to try and stop the herbs from combusting, I am still not satisfied with the way this thing performs as a vaporizer.
I was able to get a tiny bit of vapor with this piece installed, but my draws would go from very light vapor to straight smoke in a matter of a second, I still got combustion just by following the directions they gave me. If you hold down the power button for too short a time, you only get extremely light vapor, but then if you hold it down too long you get combustion. It is very difficult to find a happy medium.
It's also not a very practical solution, because it is very tiny and can be lost very easily. Every time you empty your chamber this piece will fall out.
Now to show you that it did in fact combust, even with this glass screen piece installed, this is a magnified view of the spent herbs.
In case you are not familiar with what vaped herbs normally look like, this was a picture taken from herbs in the Volcano, this one's from the Extreme-Q, this one's from the NO2, this one is from the Launch Box… and again this is what came out of the Atmos Raw, with the screen piece installed that Atmos themselves told me would work.
Now what is happening is some stores are realizing that this thing is not a true vaporizer out-of-the-box, and they started installing screens inside the heating chambers themselves before they sell somebody one.
That's why you may have seen some people saying that they did receive theirs with a screen installed and that they do get vapor when they take draws.
They are actually using modified devices to get the desired performance, which is why it is very weird that Atmos would call this device a vaporizer and release it to the public performing the way that it does.
Now I still haven't figured out exactly what kind of screen actually works, or what kind of screen is being modified to fit in this thing, but I can show you one other thing that I tried.
Even though I wasn't thrilled about ghetto-rigging my device, I went ahead and modified a few screens I had laying around to try to see what kind of vapor I could get this thing to produce.
The best I could do with the parts I had was this thing, and while my herbs did not combust with this screen installed in the chamber I also could not get it to produce any worthwhile vapor… I'm guessing this one doesn't go down far enough or isn't flat enough on the bottom or somethin…
I also didn't want to try and force this screen farther down cus you could damage the chamber if you're not really careful, it's ceramic inside there, and you could see that my edges started to chip a little bit when I was trying to get this to fit.
I know that some people have screens that fit better than this one and go farther down the chamber and I've seen them get decent vapor from this, so I'm going to keep trying different parts until I find something that works better.
I'm sure that sometime soon an official screen piece will be offered that will fit in here properly, it just hasn't happened yet as of the time I made this video, and this device came out months ago. So hopefully Atmos gets their act together.
Now in case you haven't seen my first video, I actually like using this thing anyway, the way that it comes, and find it very handy, but that's because I don't vape 100% of the time.
Most people looking to buy this are looking for a good portable vaporizer, and as The Vape Critic I am supposed to be reporting on actual vaporizers, so I hope you understand my thoughts on this device given my position.
I think it is a really cool product, and it has the potential to produce actual vapor with modifications, but you really shouldn't have to modify your device or get extra parts for it after you buy it… if they're going to call it a vaporizer it needs to produce vapor for everybody right out of the box.
So despite the complex situation with this one, the reasons I like it are that it's nice and small, it's very easy to use, and the battery lasts a very long time. I've been getting 60+ draws off each charge.
If you are someone like me who doesn't vaporize 100% of the time, I think that you would probably enjoy this and get good use out of it.
If you really like how this thing looks and you're willing to put in some work to get it to produce real vapor, or you're confident they'll come out with a perfect-fitting screen soon, it might be worth grabbing one.
If you do decide to get one I put in the link in the description to the store I recommend you go to, there's some great guys over there that are very helpful and customer-oriented, so check them out.
Otherwise if you wanna learn some more about other vapes and watch a few more videos, check out my website VapeCritic.com.
Aight so that's gonna wrap it up, thanks for watchin and stay up.
This is my original, original review:

Video transcription:
In this video I'm going to show you about the Atmos RAW Vaporizer, including everything I like and don't like about it. Generally I think this is a pretty cool device. I actually really like it, but unfortunately it has one major flaw, and that is that it's not really a vaporizer. I'm going to show you exactly what I mean and explain why.
First, let me explain what's cool about this thing and why you might like it. I think that it looks pretty cool. It's pretty sleek, it's not very heavy, and it feels good to hold. It's not tiny but it's definitely not that large. This is what it looks like compared to the Magic Flight Launch Box.
The next thing that I like is that it's super-easy to use. Once you get it packed and ready to go, all you have to do is hold down the power button right on the front here and the blue light on the tip goes on. The way that you're supposed use this thing is you first hold down the button, and the manual recommends to hold it down for about two seconds and I found that works pretty well. Hold it down for about two to three seconds. Start taking your draw while you still hold the button down, and then after about five seconds you can let the button go. Not only is it simple and easy to use but it is also very quick, meaning that it heats up and cools down in a couple of seconds.
Those are those things that are cool about it. It's definitely a cool little device if you're looking for something to carry around with you or just stick in your pocket. One more thing I want to mention about it is that the battery life is pretty good. You can get quite a few draws off of a full charge.
The major thing that's wrong with this device, like I mentioned in the beginning, is that it's not really a true vaporizer because it combusts the herbs. The reason it combusts the herbs is because you're actually supposed to pack them directly on top of the metal heating element or the coils at the bottom of the chamber. If you're not familiar with vaporizing, the whole idea is to heat your herbs with the hot air only and to avoid any direct contact with the heating elements so that there is no combustion and it doesn't burn the herbs. But with the way this thing comes out of the box, there's really no way to avoid your stuff getting burned. I'm going to take it apart to show why.
This thing can come apart into a few pieces. The big piece in the front here, this is the battery, this is the part that you put into the charger to plug into the wall to charge up. It says to charge it for six hours when you first get it just to train the battery, and then two hours should give you a full charge after that.
This next piece is the ceramic heating chamber and this is the main piece that you put your herbs in. I'm going to unscrew it. This is where things get interesting. In this heating chamber, you can't see it too well with the camera, on the inside it's lined with ceramic. But then at the bottom of the chamber there's a metal coil. That's the heating element that gets hot when you engage the battery.
To show you exactly what I'm talking about I actually just screwed the battery back on real fast so that I can engage the heating element and show you how it starts glowing down there. That's the heating element that you put your herbs right on top of. They don't include any part or anything to suspend the herbs away from the coil so that it doesn't touch it.
In this next piece here, the chamber connector, it has this spring sticking out. You are technically supposed to put this right into your herbs after you pack it, push it in and screw it closed. It's a little weird. It threw me off at first because I really didn't expect to actually stick the spring right into the herbs, and it seemed a little weird. If you read through the manual it does say that you can take this spring out, use it without the spring. I tried it but I didn't really see any difference because the herbs still combusted, they still got burned because there's really no way to avoid them getting down there.
One of the ways that I think they could have made this better, and I don't know, if someone there comes across this video, maybe this is something you guys could make for us, but it seems like there needs to be an extra part here to help suspend the herbs at least a few millimeters above the coils so that there's not direct contact. I couldn't find anything I had that would exactly do, this but this thing seems pretty close.
This is a screen from an Extreme Q Vaporizer. It's definitely not the perfect size and it doesn't fit in there, it's a little too large, but the idea of this would work in here. Maybe if there was a piece like this, a screen, that could slide into here and fit in and not go all the way down to the bottom, it would sit a few millimeters above the coils, it would create a little bit of space for the hot air to transfer over and vape the herbs instead of burning them or combusting them. I think something like this might work.
Unfortunately, there isn't a piece like this as of the time I'm making this video, so I can't really recommend this to you guys as a true vaporizer. Don't get me wrong. I still think it's cool and I like it and I'm going to use it, but I know for some people they can't have their herbs combusting at all and they definitely need it to vaporize only, so this thing wouldn't be for you, at least for the time being.
There's actually one more piece, the chamber connector piece. It actually pulls apart from the mouthpiece. The mouthpiece is rubber and it has a little ceramic insert. Just be careful, because inside the chamber connector there's a little tiny screen. It's actually a pretty important piece because it's what prevents your herbs from going up and contacting the ceramic mouthpiece. This little screen in here can easily fall out. It's not held in by anything so just make sure you don't lose it because it does only come with one.
So these are all the parts to this thing. I'm going to put it back together because there are a few more things I want to mention. The chamber itself is not tiny but it's really not that big, either. For me, packing it about three-quarters of the way full, I was able to consistently get between three and six decent draws per packing, which isn't bad, but it's really only enough for one person.
I'm not going to totally knock this thing because it is kind of cool. Like I said, I do like it. It is very convenient and I really like how fast it is, but obviously if they could come out with some kind of fix, at least, or something to turn it into an actually vaporizer, that would make it even better.
If you think you might be interested in getting one of these, in the description I put a link to the store that I got mine from, which is definitely where I recommend you go if you want to buy vapes online. It's a really safe store. They're an authorized dealer for all the vapes they sell and the customer service is awesome. If you considering buying any vape stuff online, definitely check them out. Thanks for watching, stay up, and I'll see you soon.