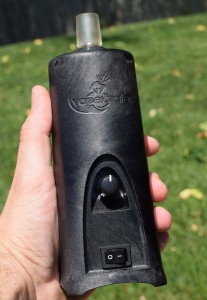 This is the VapeXhale EVO vaporizer, a top-tier desktop unit with an all-glass air path that produces excellent quality vapor, and a ton of it. A huge advantage this model has is that the performance is superb with both dry herb and concentrates.
It's at the top of its class in terms of the volume of vapor it can produce, you can get humongous clouds with this thing. It'll work perfectly fine taking shorter draws too if you're just looking for something light – another one of its strong points is its versatility.
You can use this unit with your own water tool, or you can get it with one of their matching HydraTubes that fit on top. These glass pieces hold a little bit of water and allow you to further cool and condition the vapor to make it as comfortable as possible.
You'll see it used both ways in my video review, with my own water piece as well as with a few different HydraTubes. You have to see this thing in action!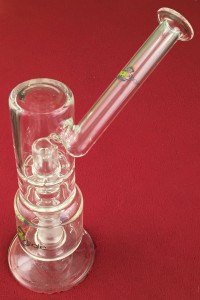 Efficiency is really good with dry herb, and it's amazingly efficient with concentrate. When using it with herb you can pack the chamber with as little as .1g or as much as ~.5g. The more you pack the more draws you can take, just don't pack it too tight and don't pack it more than about 80% full so airflow doesn't get restricted.
With wax and oil concentrates you would put a tiny bit at the bottom of your VapeXNail and then place it inside the heater. When vapor begins to form you place your HydraTube on top and take a nice long draw. This vape is designed for one draw at a time with concentrates, it's like a torch-free safer way to dab.
I've owned my specific unit for quite a while now with no issues, it still works and looks like new. They also bumped up the warranty on the electrical components from 1 year up to 3 years, which I was really happy to see.
Stay up!
Video transcription:
This is the VapeXhale EVO. This is a desktop vaporizer, it works with dry herbs and concentrates and now it's been over a year, year and a half that I've owned this specific one right here and I've had no problems whatsoever. It is still performing just as it did when it was new. It still looks like it did when it was new. The warranty was extended to three years for the electronic components, the heating element, all that stuff so I'm really happy to see that. I'm happy with this company, they're proving to be a real contender.The biggest advantage or feature of the Cloud EVO is the huge draws, big clouds of vapor you can get from it. But not only do you get a lot of vapor, the vapor is extremely high quality. Now the way this vape is designed, the vapor path or the air path, is completely glass. There's basically a glass tube that goes down the middle of the vape from the bottom all the way to the top. The air just pretty much has a straight path up the middle of the glass tube and the heating element inside is actually wrapped around the outside of the glass so the air never passes through any of the electrical components or anything except glass up until it gets to the easy load bowl or ELB they call it, or the herb chamber where you're actually going to put your material.
This little chamber is stainless steel, and it's a high grade stainless steel. Pretty much every vape has a screen in it. The vapor is very pure that it produces, the taste is very clean. It's really strong. This vape does a really good job of fully extracting everything from your material. At the end of a session, your herbs are going to be really evenly vaped. They're gonna be thoroughly vaped, especially if you're on a higher temperature. I'll get to that in a second, but it really is a very efficient, very high-performing vaporizer. It is delicate because of all the glass and I'm not gonna lie, I've already broken one of my HydraTubes and needed to get a new one. But if you're not a klutz, it's really cool.
Now on the topic of the HydraTubes, this vape is actually designed to be used with a glass piece that goes on top, almost looks like a water pipe. But the bottom is just designed to fit the joint at the top of the unit. You do put a little bit of water in most of the HydraTubes except for the dry mouthpiece and that little bit of water actually further conditions and filters the vapor a little and makes it really comfortable. You don't wanna use too much water because I did find that the more water you use, sort of like the more flavor gets filtered out. Kinda makes the vapor a little blander, I guess but it's not really a huge difference. There is a tiny difference but because it makes it a little smoother, it kind of evens out.
Now you don't have to get the HydraTube with this vape. It is kind of an expensive vape so if you wanted to just get the base unit, it is the standard 18mm connection on the end. It's got a male connection sticking out so if you have your own piece, your own water tool you can use this vape with that and it will work perfectly fine. This vape works upside down, sideways, it works in any direction when you're using it with dry herbs. That is the least expensive way to use this one and it will still perform just as well as having a HydraTube on top. The HydraTube is just a little maybe more convenient, a little sexier, something different.
Now they do also offer some adapters and stuff if you have a smaller piece or connection. They also offer like a cool base thing to hold the HydraTubes. Now this vape can also be used with concentrates, wax, oils, stuff like that so to use those in this though you would use their glass nail which they call the VapeXNail and this thing is used in place of the stainless steel ELB. This is actually a truly 100% glass vaping experience because now not only is the entire air path glass, so is the chamber where your material. This is basically the torch-less, much safer way to dab, I would say. It's basically like the same experience. It's one draw at a time is basically how it works with the VapeXNail. You can pack a tiny bit and get a little light draw, but you can pack a good amount and get a humongous draw and it's gonna be super strong, it's gonna taste really good, really clean. Super duper efficient. You can use just a tiny, tiny little piece and get good vapor from this. I really like that about it. Like I said, it is pretty expensive but with the amount of material you're gonna save using it, it really isn't gonna seem that expensive after a little while.
What's cool at the top here where the ELB goes, it actually doesn't get super hot, the stainless steel chamber. You can pull it out at any point. Every once in a while it'll be a little warm, but it only lasts a couple seconds. It's very convenient and easy to unload, load, take out to stir, which you might want to do every once in a while. I really like that about it, it makes it real easy to work with. The other thing that's cool is that you don't really have to grind super fine for it to work really well. The grind consistency from a normal 4 piece grinder will work very well. You can basically pack as little or as much as you want, but it is recommended to not pack it more than 80 percent full just so you don't block too much of the air flow. It will also work with like a .1 in there, just a pinch. That's what's really cool about it. You can use it for one draw or ten draws.
The base unit itself stays very clean. You'll very rarely have to clean anything, even the connection at the top here. The ELBs can be brushed out, scraped out after each session and then after every few sessions you can soak them in rubbing alcohol overnight, gets them basically like new. The HydraTubes will build up a little bit of residue from the vapor after a few sessions. Those can also be rinsed out with some isopropyl alcohol or just some hot water to clean them up real quick.
Let's talk about the temperature control or setting the heat level because with this vape, all it has is a dial, an analog dial on the front. There's no digital screen. You're not setting your temperature with a button. You're just kinda setting the intensity of the heat with the dial. A good place to start is roughly the 12 o'clock position. This normally will produce kind of like a light vapor. It's not gonna fully vape your material, so if you do vape an entire session at 12 o'clock, save your stuff because you can re-vape it at 3 o'clock and get more out of it. Vaping at a setting like 3 o'clock for instance, the intensity is a bit more and you're gonna get a lot more vapor out of it. It's gonna be more intense.
Now I would say that one of the downsides to it or the drawbacks to this vape is that the temperature isn't very precise or you can't set it to a specific temperature and with other desktop units that are at this level, top tier, those have more control. That would be nice, maybe on future versions or something. Now the power cord that goes into the back, it is removable which is nice and convenient. I kind of feel that it's a little bulky, it's a little big. It's like the same size as like a power cord for a computer. The vape itself is actually pretty light. The cord for it just feels like a little too heavy duty. If it had a thinner cord coming out, I feel like it would be a little more appropriate.
The other thing that you probably noticed is this sleeve on the outside, this neoprene sleeve. This is to protect from the heat this thing produces because without the sleeve, like if you just have the base unit bare as it comes, and you have it turned on for at least 10, 15 minutes and you're at any temperature at 12 o'clock or beyond, the outside of the unit's gonna get pretty hot to the touch. It's really not gonna be comfortable to pick up and hold so you kinda have to use the sleeve if you don't want to risk getting burned or be picking up a hot thing.
Overall, it's a very, very good vape. I'm very happy with the performance. The build quality is good now, it's stabilized. The company is good, they're here to stay. I definitely recommend it. It is on the expensive side but the vapor quality is top shelf. It's pretty hard to beat. The strength of the vapor is top shelf. You do have to be a little delicate with it if you're gonna have friends use it or people who haven't vaped before use it, you're gonna wanna coach them a little bit, show them what to do, show them to be careful with it. But otherwise, if you haven't tried one of these yet, you're kinda missing out. Check out my link in the description if you're looking to maybe buy one, I do appreciate you watching and stay up!