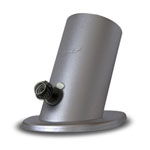 This is the Silver Surfer, a great desktop vaporizer made by a company called 7th Floor out of Colorado. 7th Floor also makes the Life Saber and Da Buddha vapes, and the SSV is a slightly more enhanced version.
Overall I think this is a high quality unit that performs very well. It's very durable (aside from the glass) and it does come with a good warranty (3 years on electrical components).
The main benefit of this vape in my opinion is the vapor quality, because once you dial in the best heat setting you can expect nice potent vapor that also has a pleasant taste. The SSV utilizes a ceramic heating element and glass parts which help provide a nice clean flavor from your herbs.
Because of the glass parts and silicone whip you do need to clean this vape semi-regularly to keep it looking like new, but it's pretty easy to do this with some rubbing alcohol.
I do think that this vape is built better than a vape like the Extreme-Q, but a vape like the Plenty gets a slightly higher rating because it's a little easier to use, produces even stronger vapor, and stays cleaner.
Stay up!
-Bud
Video transcription:
This is the Silver Surfer Vaporizer, the SSV, made by a company called 7th Floor out of Colorado. Now, overall, I think this is a high quality vape. It's really sturdy. It feels really well made. The outside shell of it and the base here are both like a durable metal material. It has the glass on the front for the temperature knob, and it has the glass for the heater cover inside. The heater itself is a ceramic heater. Now, 7th Floor itself does offer a pretty good warranty on the electrical components in this vape. They have the three year warranty on those parts, but the glass is more fragile. It can be broken very easily, so just be careful with the glass parts because those only have a 30 day warranty.
Now, the Silver Surfer, just so you're aware, feels like a higher quality unit and a sturdier unit than say the Extreme Q. Now, in case you didn't know, this is a home unit; this is a home vape. It's got a nice big long cord. You plug it in, you pick a spot for it and then you leave it there. When you're actually vaping, the part that you'll be using is the whip or the wand. I'll talk more about the wand in a minute, but first I just wanted to mention that the temperature range on the SSV is really good in my opinion; meaning that the vape works really well in a wide range of temperatures. Now, this isn't a vape though that has actual temperature settings. There's no screen on here to tell you what temperature it's set at or anything. This is the type of vape where it's sort of just a heater with a knob that will change the intensity of the heat. So what you're supposed to do, when you first get it, is experiment on your own and figure out at what point on the dial you're most comfortable with the vapor that's being produced.
Now, in addition to the position of your dial on the front, the actual temperature of the heat that will end up reaching your herbs is also influenced by your draw rate or your draw speed, how fast you pull on it when you're using the whip. So what you would do with this one is when you first get it, you would plug it in and turn it all the way up to the max heat setting. Then, since this is the first time you're using it, you'll let it just stay on for like 10 or 20 minutes to burn off any factory oils or anything. This is normal process; it's not a big deal. But after your first use, the procedure is kind of the same. Turn it up to the max setting, except let it heat up for only two minutes and while it's heating up you'll see a bright orange glow coming from the ceramic heating element
— and that's normal. So then after it's had about two minutes to heat itself up, that's when you'll back off the temperature a little bit into the range that you're comfortable in and then start taking your draws.
Now what I found for my testing is that a good place to start for most people would be to back off to about the 12:00 position, or when the little piece of glass on the front here is pointing straight up. So this is a good starting point to take your first few draws on to see if you want to go up or down from there. For me, this is kind of on the low side so usually I'll favor a little higher setting. Somewhere between 1:00, 2:00, or 3:00, is like the max. So, generally, the range I recommend is between 12:00 and 3:00 on the dial, but the ideal position for you will be unique —
everybody is going to be different, so just experiment on your own and you'll find the range that you like the best.
One little tip I can give you is that if you're someone who takes faster draws, you'll probably like a higher heat setting, and if you're somebody who takes nice long slow draws, you'll probably do well at a slightly lower heater setting. Once you do find the range that you like, I think that you'll find that the vapor produced by the SSV is good, it's potent, and it's strong. It's fairly dense most of the time and the benefit of the ceramic and glass parts is that it does have a nice taste, also. So, overall I would say that the vapor quality from this one is excellent.
Now, next I'll talk about the wand because with the Silver Surfer there actually are a few different options for the wand piece. I got the version called the standard glass. Right now I think they currently offer three options. They offer the standard glass, they offer ground glass, and then they offer spherical ground glass. So what standard glass means, or the one that I got, is that when you're using it, one hand you'll be holding the mouth piece with and then the other hand what you'll do is you'll hold it up to the heater cover while you're taking your draw. Then when you're done taking your draw, you'll pull it away and then you'll set it down or just hold on to it.
Now with the ground glass version, the wand piece and the heater cover piece will actually connect to each other so that you can let go of this hand. So technically while you're vaping or taking your draw, you'll only have to hold the mouthpiece and you won't have to hold this piece here. Now, that might sound better but there are actually pros and cons to both of these. Now one of the benefits of the standard grass is that, while you're taking your draw — and remember that the wand piece up here is where your herbs go at the tip here. So, while you're taking your draw with the standard glass, you could actually slowly rotate the wand a little bit on the heater cover while you're taking your draw which would ensure more even vapage where the herbs are inside the chamber.
One of the down sides of the ground glass version or the hands-free version, where it just stays in there and you don't have to hold on to it, is that it does have a tendency to only vape a portion of the herbs at a time, depending on what position they're actually stuck together. So, even though you don't technically have to hold it while you are taking your draw, you'll end up disconnecting it, and stirring the herbs and reconnecting it, at least, a few times during your session anyway. So I really think that any of the options is fine. It's a really personal preference, but I chose to go with the standard. I know that these options might be a little confusing so, if you have any questions, please let me know.
The vape comes with a few other accessories, too. One of them being this pick or the stirring tool and then the other thing being the case or the bag that it comes with, which is actually kind of cool. So I just wanted to show you guys the vape up close and show you the different parts. In the front here; this is the temperature knob I was talking about. So when it's off, it looks like that. You turn it on and you'll hear a click. You raise the temperature all the way to the max, right? And then, when you do that — I just had it on for a minute so it's already heated up — but you'll see that the ceramic heating element in there will grow bright orange when it's hot. All right, once it's heated up and it's on max for about two minutes, then you would turn it down a little bit to about three quarters or so, a half to three quarters. This is what the wand looks like up close that I was talking about.
Like I said, I have the standard glass wand with the standard heater cover here. So, when you're using this, what you'll do is you'll pack your herbs in this portion here. There's a little metal screen towards the tip of the wand. So you'll pack your herbs in here; the manufacturer recommends no more than about a quarter inch full. Then once it's packed, you'll just hold the wand up against the heater cover, start taking your draw and then, if you do get the standard version, while you're taking your draw, you can slowly rotate the wand to more evenly vape the entire chamber. Then after you've finished taking your draw, just take it off and you can set it to the side for a minute or pass it to somebody else; it's relatively simply to use. So that's about it.
All right. So this vape also does have a few negatives. They're really not a big deal, but I should mention them. The first one I'll mention is the cleaning or the maintenance that's required because, as with most vapes that have glass parts or the plastic tubing, it does tend to build up residue fairly quickly which means it will need to be cleaned more often. Now this isn't too big of a deal because it is fairly easy to clean. The wand does come off from the tubing and if you wanted to, you could take off the mouth piece also, and then all these parts could all be cleaned with some rubbing alcohol or some warm soapy water or something. So, cleaning isn't too big of a deal, but if you want it to look good you will be doing the cleaning kind of frequently.
Now you know how I showed you that the wand disconnects from the tubing fairly easily? This is actually another one of the things that kind of got a little annoying after a while, because the tubing itself has inadvertently disconnected from the wand, at least, a few times on me so far while I've been using it. And, it's not a big deal because you can just pop it right in, but it could get slightly annoying. There's also no brush that comes with it for some reason. So, even though it does come with a really cool pick with a stirring tool which does help to stir it or to get any big pieces out or anything, I did find that after emptying the herbs after a session, there are some little pieces still stuck in there. So, for the time being, I've been using my volcano brush to help get it all clean in here after each session. So I do think that maybe, including some kind of little brush might have been kind of useful.
Now no matter which kind of whip you get, just remember that it is going to be glass. The wand part, the mouth piece and the heater cover in here are all glass parts and they are delicate. They are fairly easily breakable, so you don't want to be banging these parts around. Once you yourself get the hang of using the vape, you're probably not going to break them or bang them around anywhere but especially be careful if you let friends use it or you let someone else use it that's never really used this vape before; because, like I said, they are delicate parts and they are only covered for a month under the warranty.
And speaking about vaping with friends — that's the last thing I want to talk about here that I would consider a little bit of a negative. When I was trying to use this with my girlfriend and then a couple friends I had over, it got a little awkward and weird because we all had to bunch together close because you have to be within holding distance of the vape to actually use it. So you can't be that far away. It's manageable though, it's not a huge deal. It's just that a vape like the Plenty, for instance, that is handheld and you could just pass it around. That might have a benefit over this one in that area if you're doing group vaping or doing group sessions. That's a situation where accidents are more likely to happen also with the glass parts and stuff, when you have multiple people vaping at the same time.
Other than that I think that, if you want a good vape for home use, either for yourself or maybe yourself and one other person, I definitely think that you should seriously consider this one. I think that it's a great vape, and while I don't think it's the best, I do consider it a top contender. If you're looking to buy one of these online, I did put a link in the description to the store that I got mine from and the store I recommend you shop at. I do want to just mention that, with the Silver Surfer, you should avoid buying it on eBay or Amazon or any place like that because the manufacturer will not honor the warranty, if you buy it from there. They actually tell you that right on their website, also. Also, if you want peace of mind, the safest place to buy it from is from an authorized dealer. So if you're thinking about buying it online, definitely just check out that link I put in the description. If you want to see some more of my reviews, you can check out my website, vapecritic.com. Thanks for taking the time to watch and stay up.
This video is a full vape session with the SSV: