UPDATE: This vape now comes with the new KISS cartridge, which is more similar to other pens (wick and coil atomizer). However, the coil in the kiss cartridge is wrapped around a ceramic rod instead of a wick. I'll be updating this review shortly to reflect the change, the new one is really nice!
So listen I normally review herbal vaporizers because that's what I'm really into and know a lot about, but I get asked about oil vapes so often that I figured I'd give one a try.
I wanted to make sure I got a good one so I did a little research and ended up buying the Omicron v2.5 by Delta 9.
It comes in a pretty cool case and here's what it looks like when you open it up: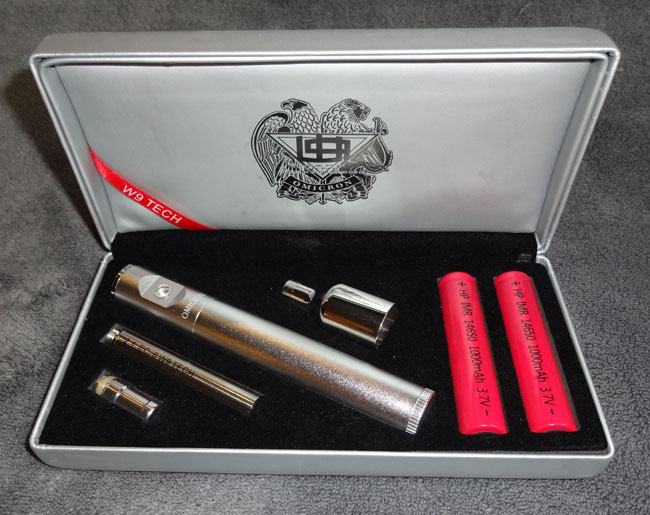 I'm gonna spare you most of the mind-numbing technical details for now, if you have any specific questions after reading this review just let me know and I'll def do my best to help you out.
Basically this vape is designed for use with concentrates, not dried herbs. More specifically, it works well with oils and waxes – almost anything that will fully melt and doesn't contain any plant matter.

The Omicron feels well-made and it seems like they used high quality materials during manufacturing. Just to have something to compare it to, I also bought one of those generic e-cig type pen vapes and those are of noticeably lower quality.
As you saw in the first picture all the pieces of this vape can be separated for filling/cleaning purposes and also to insert/remove the battery.
Unlike many other pen vaporizers the actual battery itself is removable from the Omicron, and it comes with a wall charger to fit them in when you need to recharge.
Here's what all the parts look like separated: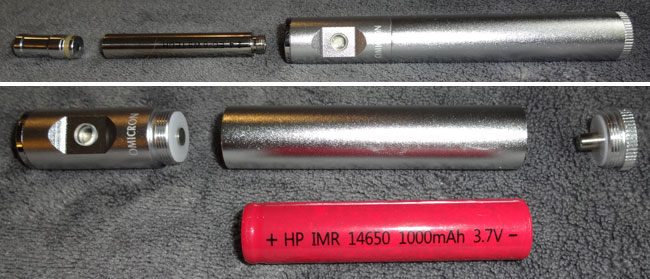 So I'd say that the trickiest part about using this vape, and the part that some people might complain about, is actually getting your concentrate inside the cartridge.
The way it works is the cartridges come empty (some places sell them pre-filled) and then you have to use the included filling tool to get your oil in there.
It's a little tricky the first time you try it but it only took me two attempts to get it goin. As I show in the image below, you fit the filling tool on top of the cartridge, then you put in your oil and slowly heat the bottom half.
There are various ways you can heat it, but you want to be careful not to overheat it, cus that could ruin your oil, so make sure you do it slowly. As the metal warms up the oil should run down into the cartridge.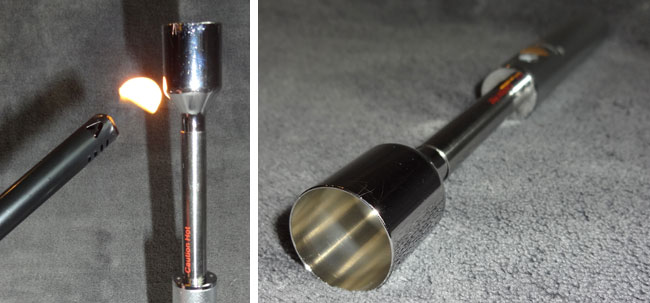 The listed capacity is 1.0g of oil but they suggest only putting in about 0.5g to 0.6g for best results and to minimize the chances of it leaking out.
A good tip for knowing how much is in there is to weigh the empty cartridge before you start filling it, and then you'll be able to calculate the rest with that number.
For best results, like most vapes, you'll want to take a slow, fairly long draw to get a good amount of vapor.
The manufacturer claims the battery will last about 200 button presses on a full charge, and that you should be able to get roughly 300-400 draws per 1.0g of concentrate.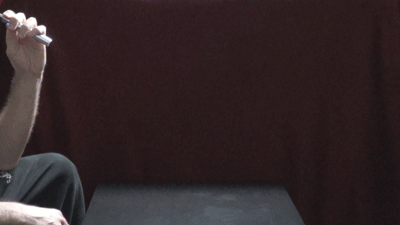 I can't say that I had too many complaints about this vape, it does seem to perform well and like I mentioned earlier seems to be a well-made device.
Since the cartridge isn't sealed between uses I don't really know if I would throw this vape in my pocket or anything like that, unless I knew for sure that it was gonna stay right-side up, cus leakage could potentially be an issue if it's not (really depends on how runny the oil is).
The cartridge that it comes with (2.4 ohm) is the most user-friendly and should be all that most people need. If, however, you find that you want stronger draws and more vapor, they do also make a 1.5 ohm cartridge you can buy separately. That one uses more power and gets hotter, so it'll vaporize your oil faster which in turn will give you stronger pulls, but it's really recommended for more advanced users who already have experience with this vape.
Stay up!
---
18 comments: