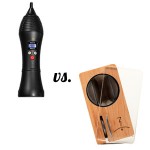 The Vapir NO2 and the Magic-Flight Launch Box vaporizers may both be portable, and they may be somewhat within the same price range, but they work very differently. The MFLB is small enough to fit in the palm of your hand, but the NO2 is more of a handful (eh, maybe two). The Magic-Flight uses rechargeable AA batteries as its power source, and the Vapir has an internal lithium ion rechargeable battery. I think both of these vapes are good just in different ways.
The main advantage of the Launch Box is that it truly is super portable. It literally fits in your pocket, comfortably. It comes with two AA batteries that when fully charged will last you at least two chamber-fulls each. Almost everybody who owns this absolutely loves it, and it's hard to find a bad review. The other cool feature is that it's super quick – you can be vaping in under 10 seconds with this thing.
The NO2 is definitely larger than the Launch Box, so it's not quite as portable, but its ergonomic design makes it very comfortable to hold and easy to use while doing other things. It also takes the guesswork out of how long to heat your herbs before vaping because once you set the desired temperature and the unit heats up you just take draws at your leisure. Now the NO2 isn't quite as fast as the MFLB, but at a warm-up time of 60-90 seconds it's not bad at all.
Stay up!
-Bud
Video transcription:
What's up, guys? This video is going to be a quick comparison of the Magic- Flight Launch Box and the Vapir NO2. Now, these are both portable vaporizers and they're not too different in price. The Launch Box is $119 and the NO2 is $179, but they do work very differently.
The Launch Box is really small. I'm pretty sure it's the smallest vaporizer that you can get. It fits in the palm of your hand. It easily fits in your pocket. You can bring this thing anywhere. All right, this thing is tiny.
The NO2, as you can see, is a little bigger. It's probably four times the size of the Launch Box, but it's a handful and then a little more. Some of its off the camera here but the only thing up here is this little tube part and this part actually could come off but it's recommended to keep it on. So, this is the whole thing.
The way that these are powered is a little different, also. The way the Launch Box works, is it uses a double AA battery, like this, a rechargeable one. This is a little cap that you can put on it when you're not using it. It just looks like this. So, after you put your herbs in the chamber and you want to start vaping with the Launch Box, you just take your charged battery out. You put it in here, you put it in all the way and you should be able to see in there, the red light that goes on to indicate it's starting to heat up and then you start vaping. So, it's really quick, it's within five seconds, you're vaping with the Launch Box. It's amazingly fast.
Now, with the NO2 it's a little different. It has an internal rechargeable battery and it comes with a wall charger. There's the little jack there. So you've got to plug it in and it takes a few hours to fully charge the battery but then once it's charged, what you could do is, the on-off switch is on the side, you could turn it on, you set your heat, which for this vape I set at 350 degrees.
In my other review video of this vape, I talk more about why I set it at 350. So, once you set your temperature to 350, you turn on the heat with that button. Then, you've got to wait about 60 to 90 seconds with this one, and when it's fully heated up to the temperature that you set, this red light will turn green and that means you can start vaping.
So, as far as how long they last on a charge, with the Magic-Flight I noticed that each fully charged battery will get you, at least, two packings of the chamber before it starts to die out a little bit. And it's not going to be as powerful as when you first started using it. But if you really wanted to, you could probably squeeze, maybe, four chambers out of one battery. Generally, I do about two. It does come with two batteries though, so technically you can get four chambers out of two batteries.
Now with the NO2, I found that a full charge will last me about an hour, which was about four 15 minute sessions for me. That was kind of cool because that's kind of a long time. The NO2 is also designed pretty well because it's really comfortable to hold and once it's heated up and you have your herbs in the chamber, you can totally multi-task with this thing because this is all you need to do and then you inhale from the tube and that's it. You're good to go.
And speaking of how simple it is, this vape is basically just two parts once you get it together. This is the top chamber. This is where you put your herbs, in that piece there. There is a little screen down in the bottom of the chamber there. There's also this screen on the top here. So, this vape has two little screens. It comes with a bunch of them when you first buy it, so it'll last you a good few months, at least.
Once it's heated up to the temperature that you set, mine's smoking a little bit from whatever residue was in there, but once it's heated up and you put your herbs in, you just take the top and screw it back on like that. Then you start taking pulls out of it and that's it.
Then, you basically keep taking draws until it's spent, and then you can turn off the heat and that's it. Now, this vape is cool because it also has an automatic shutoff so if you turn the heat on and you put it down and you forget about it or whatever, you don't have to worry too much because it will just shut itself off after 20 minutes. So, that's kind of cool.
One of the other things that I really like about both of these vapes is that they are totally silent when you're using them. They don't make any noise from the second you turn it on, through the whole vaping session, to when you turn it off, you won't hear anything. And that's also why I think these might be better than some of the other portable handheld vaporizers that are out there. Because I heard that some of those make some noise when they're heating up or whatever, like the butane ones.
These are pretty cool. They're really, really well made. The brand that makes this one has been around for years and years and years. They make really good stuff and it's very affordable, which is cool. The company that makes this, I'm guessing this is their only product as of now, but they really put a lot of thought into it. Even though there's no mechanics in this thing. There are no electrical circuit boards or anything, it's just basically wood and some metal rods and some acrylic, but they really put a lot of thought into it. It's really made well and it does the job. It's definitely a good product.
Now as far as which one I think is better, I actually gave both of these roughly the same rating, these vapes, because I think that between the two of them, their pros and their cons kind of even out and it really just come down to your personal preference and what you're looking for. If you're just looking for something that's extremely portable and you want to take it everywhere with you, go with the Launch Box. That's what you want because like I said, this thing's tiny. I have the mouthpiece, the stem, in here now, but you don't even need this in here.
If you really want to make it small, you could leave this part at home and just take it like this. Just take this and your battery in your pocket and that's it. Both of these fit in the palm of your hand so it's kind of cool because you can literally take this anywhere with you. The NO2 is obviously a little bigger so it's not as portable, but you can still do other stuff while you're using this. It has no cords, obviously, and it fits really comfortably in your hand.
There are pluses and minuses to both of these, but when you weigh everything out it's really just what you're looking for. I think that they are both great products and I use them both. If you want to see my full reviews of two vapes, there will be links right here for the Launch Box and the NO2. To see my full reviews, there will also be links below and a description.
If you're looking to buy either one of these and you want to just go right to the store, go to launchbox.info to go to the Launch Box page and go to no2vape.info to go right to the NO2 page. And if you already own either one of these, let me know in the comments below, what you thing about it. Do you agree with me, do you not? What do you think? Which one do you like better? You'll also help people out who haven't bought it yet to decide which one is right for them.
Thanks for watching, guys. I really appreciate you taking the time to watch my stuff and I'll see you soon.