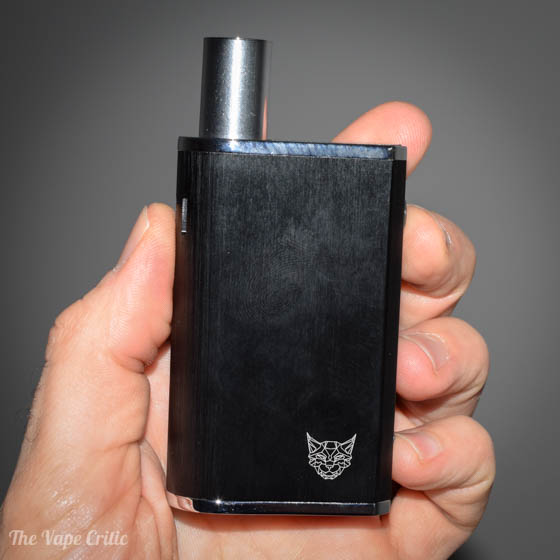 This is the Linx GAIA portable vaporizer for dry herb, and it has something unique that I haven't seen before. I'm pronouncing it 'guy-uh' in my head so hopefully that's right ;)
Linx Vapor first hit the market with their Hypnos wax pen and later released the Hypnos Zero, one of the first really well made coil-less vape pens I reviewed (it has a ceramic plate atomizer), and currently one of my personal top picks.
The Gaia is their first foray into dry herb vapes, and I have to tell you these guys really pay attention to detail in their products.
Their wax pens are top-shelf in terms of build quality and elegance and so is this herb vape, it has one of the nicest looking and feeling exteriors of any portable vaporizer I've reviewed.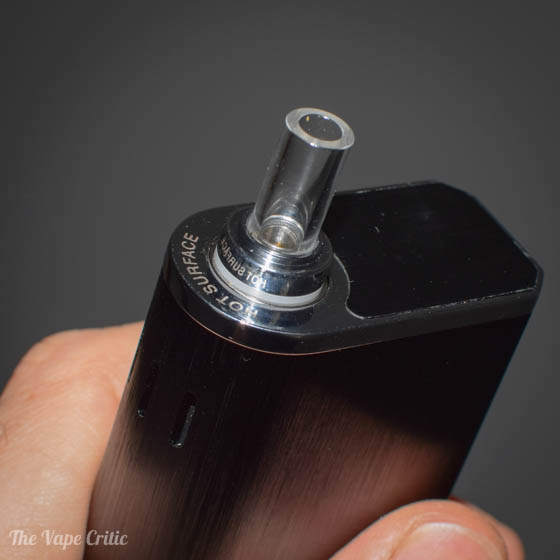 I like the crisp, clean edges and the really cool texture on the brushed aluminum finish. The chrome accents are nice also, although a little difficult to photograph ;-)
It's got some weight to it so it feels solid and pretty durable, it doesn't feel like something that's cheaply made.
There's an LCD display on the side along with a power button and two small temperature adjustment buttons. The screen looks great and the buttons have smooth action, so I really have nothing critical to say about this area.
That cap on top of the vape is magnetic and you pull it off to access the mouthpiece, then the mouthpiece unscrews so you can access the oven.
Truly The First Quartz Herb Chamber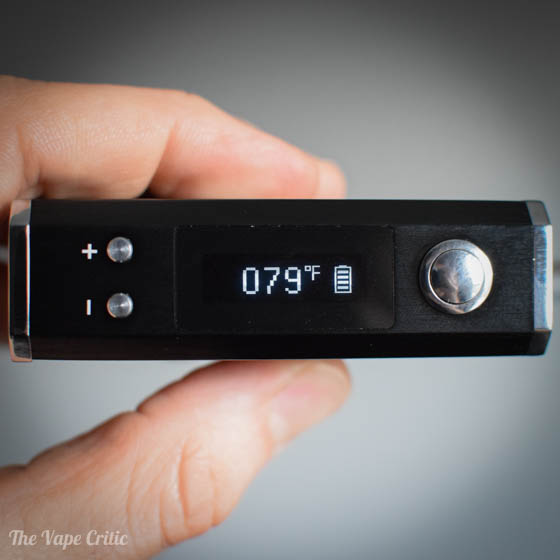 Many companies like to say that they're the "world's first" of a lot of things, but Linx is honestly the first company I know of to release a dry herb vape that has a quartz chamber.
Stainless steel and ceramic are the two materials that virtually all other portable vaporizers use in their ovens, however there are many vape pens made for wax concentrates that utilize quartz in their chambers.
The Gaia is a hybrid of conduction & convection heating and the primary way your herb gets vaporized is by heat radiated through the quartz oven walls. The heating element surrounds the outside of the chamber, and since the walls are transparent you can actually see the element through it.
Capacity-wise the oven is slightly smaller than average, you can fit about ~0.25g in there max if you grind fine and pack tight. From this amount you can expect anywhere from ~10-20 draws during a session depending on how long and hard you pull for.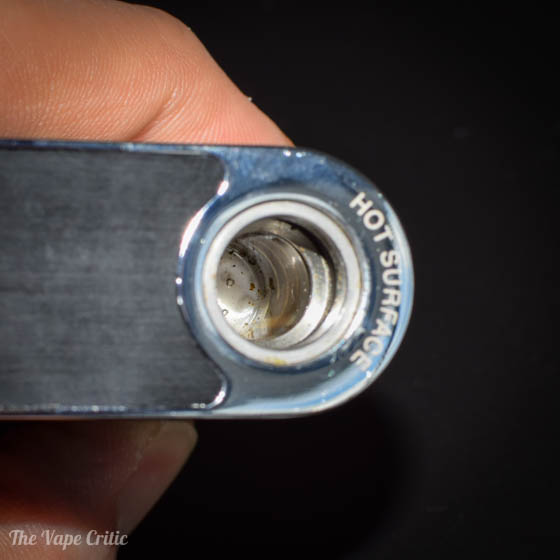 Where Things Get Dicey…
I got all excited by the awesome feel and build quality of this one and I really expected the performance to be just as impressive, especially with the quartz chamber.
However, unfortunately, I wasn't blown away. If I close my eyes and pretend I don't know what vape is in my hand I don't think I can say I fully enjoy the vapor from it.
When reading through customer reviews of this one I kept seeing flavor and taste being mentioned over and over again in a positive light. Being that I thoroughly enjoy the taste from a nice quartz wax pen I was expecting the same reaction here.
But for whatever reasons that I'm still trying to figure out I don't feel that the vapor tastes particularly good from this one nor do I think it's better than other top rated conduction vapes with steel and/or ceramic chambers (IQ, PAX, etc).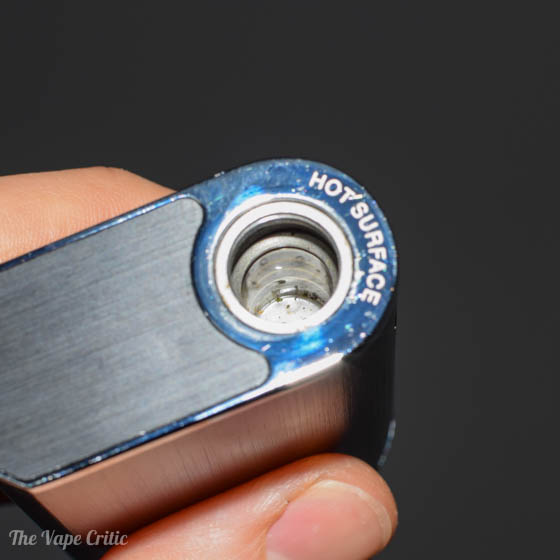 There is something "un-mellow" about the vapor it produces, it feels a little too raw to me. In this department it's what I would consider average on my rating scale, but at least when paired with the above-average build quality you have a pretty nice vape overall for the price.
Vapor production is pretty average here as well and you should expect light to medium clouds from this one at most tempertures within the normal vaping range (~355°F-380°F). If you want bigger clouds just raise the temp above 400°F but expect the vapor to be a little harsher and not as comfortable.
I only have one other complaint about the Gaia and it's about the mouthpiece and how it attaches to the chamber. Once again I was impressed by the quality of the piece, it seems precision-made, but unfortunately after a few sessions it started to get a little debris on the threads and it began getting harder to unscrew.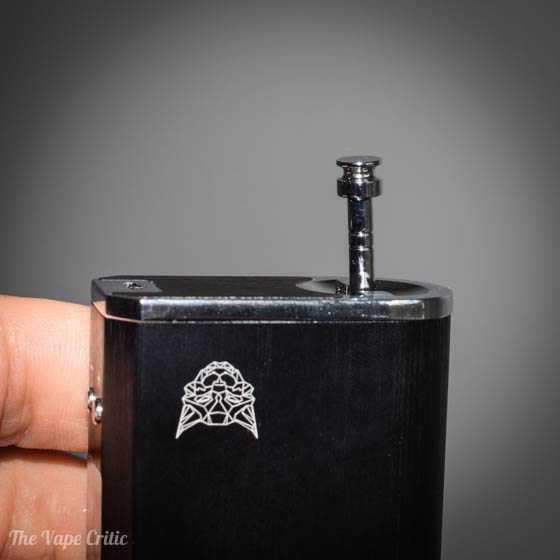 Encountering some resistance when you go to take the mouthpiece off can be a tad annoying, so what you can do is put a few drops of e-liquid (PG) on the threads and it'll act as a non-toxic lubricant. You can also simply wipe the threads with some ISO after every few uses to keep it clean.
Actuallly I lied, there's one more thing that irks me, it's the built-in pick or tool that they put on the bottom. It's a great idea, having a pick handy to clean out your chamber after a session is very convenient, but once you take the thing out I've found it to be a PITA to get back in sometimes. It seems to only fully retract inside when the tool is aligned a certain way, so when it doesn't slip in you have to spin it until it does :(
It's a Pretty Solid Tier 2 Vape
Overall I'd say you definitely get your money's worth with this one (currently $160).
I wasn't blown away by the performance but I'm definitely impressed with the design and build quality, it's clean and elegant.
Click here to buy one from the official Linx Vapor store. Linx does compensate me if you buy through my link and I truly appreciate your support!
Stay up!
-Bud
Check out the video clip below for a mini-session with the Gaia: