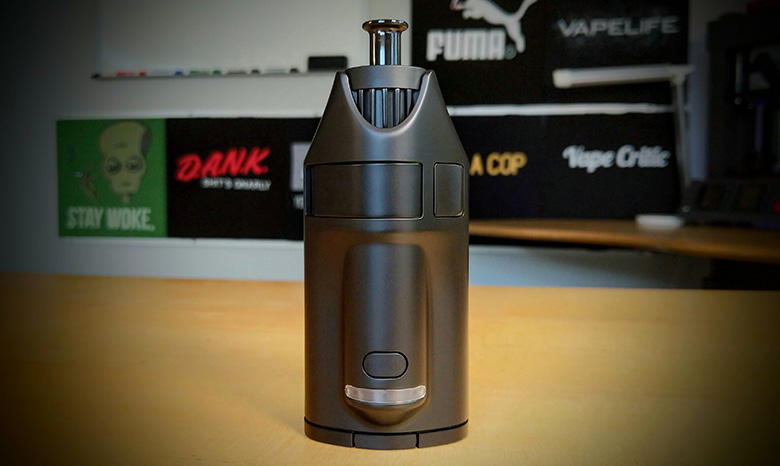 This is the MV1 Vaporizer from Ghost Vapes, and it's a very impressive portable vape designed for use with both dry herb and concentrates.
You get on-demand convection heating with this one, which means it heats your material solely with super hot air, and you heat it up for just one draw at a time for max efficiency.
Its metal alloy body feels very solid & durable, and it has a bit of weight to it. It's one of the sexiest and most elegant vaporizers I own, it makes you want to keep it out on the table as a statement piece. It is also extremely ergonomic and fits your hand like a glove, it feels great.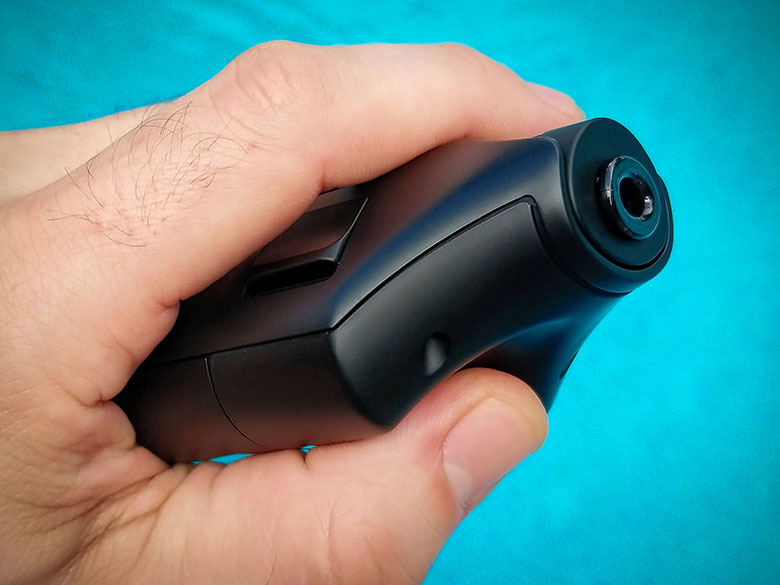 It has a retractable mouthpiece, a ceramic herb chamber that is removable, a long-lasting battery pack that is removable, and all of the internals can quickly be accessed for easy cleaning.
The flavor, smoothness, and potency of the vapor it produces is extremely impressive, even for me who owns over 200 vapes. Vapor this cool and comfortable is not something you typically see in a portable vaporizer, it's usually reserved for top-tier desktop units. This is not by accident either, that heat sink assembly at the top is very effective at reducing the temperature of the vapor before it hits your lips, which in turn makes the taste incredible.
As for efficiency, you can't get much better. Your herb use will drastically be reduced with this vape, you only load about 0.1g to 0.15g at a time but the effects from that amount are way stronger than average. You typically need to double that amount to feel the same effects with most other vaporizers.
Stay up!
-Bud
---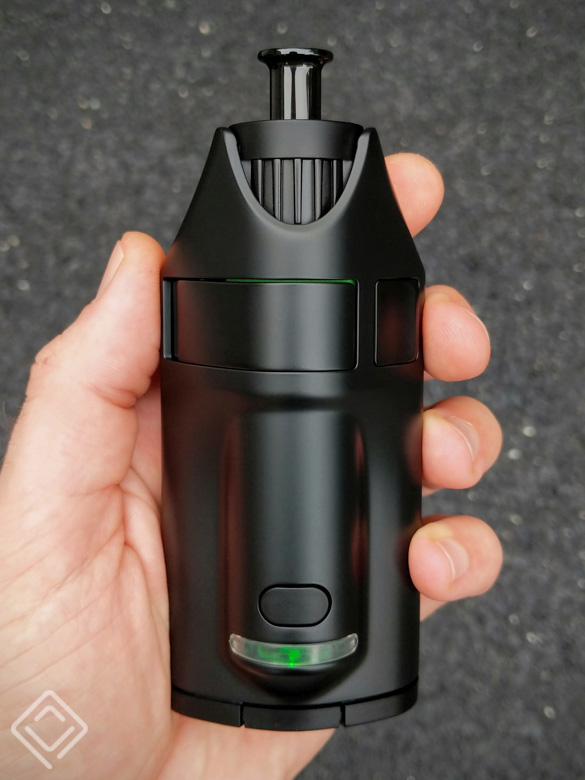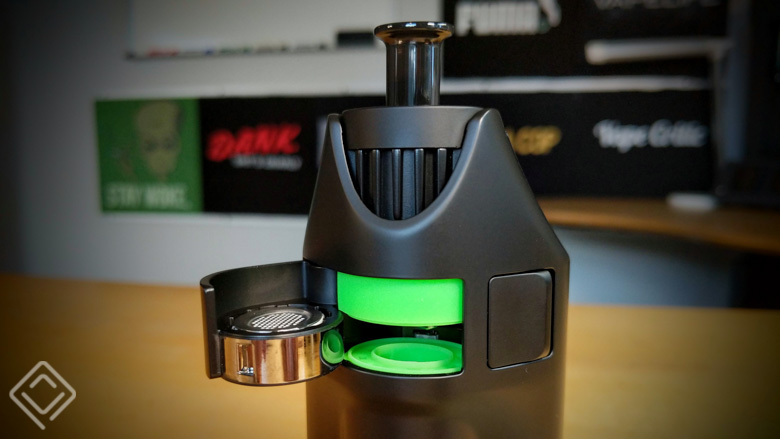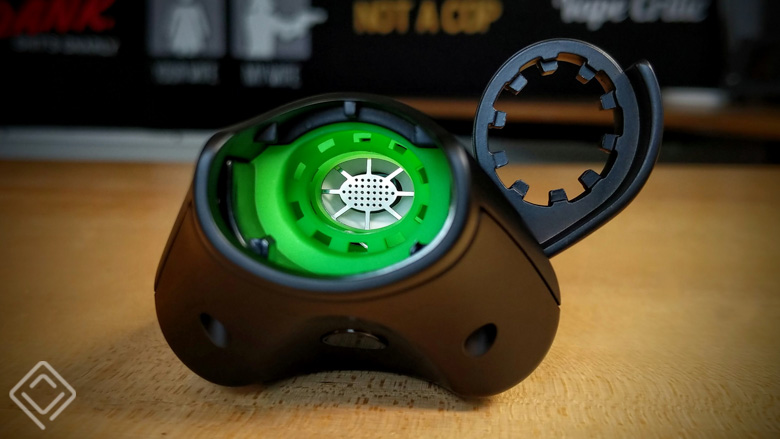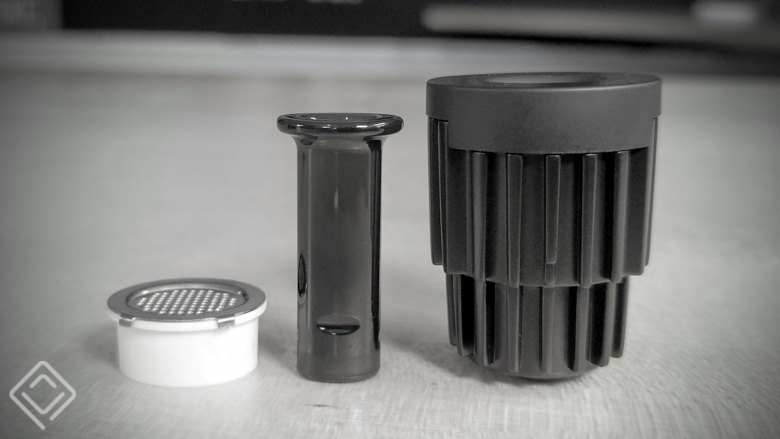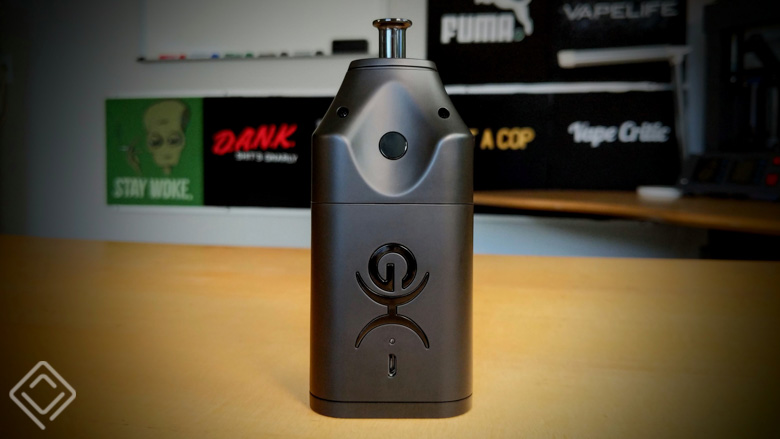 ---
Here's my original full review video of the MV1:
---
UPDATE 2018 – The new Crucible Dispenser is awesome, I highly recommend adding one if you get this vape: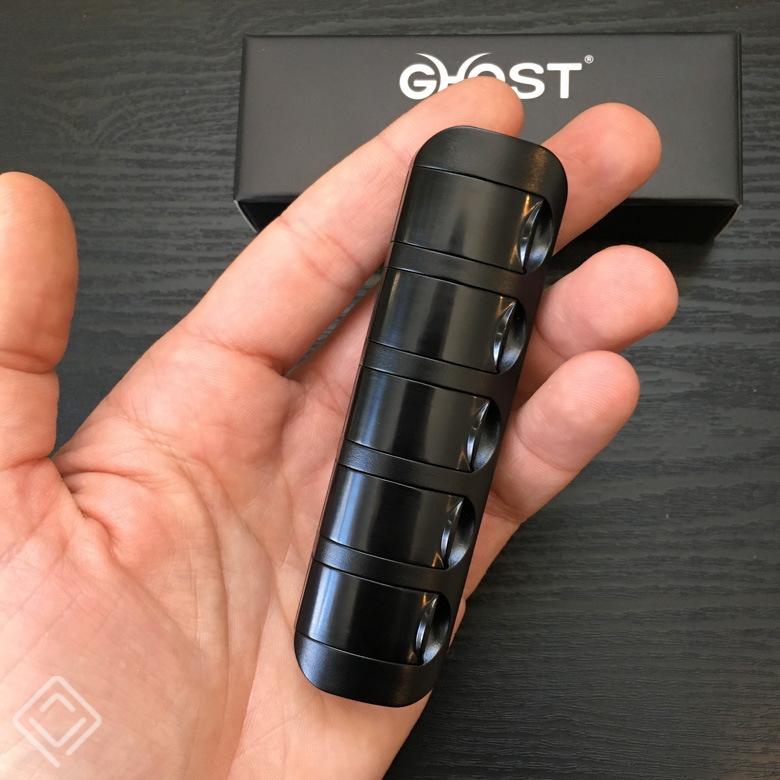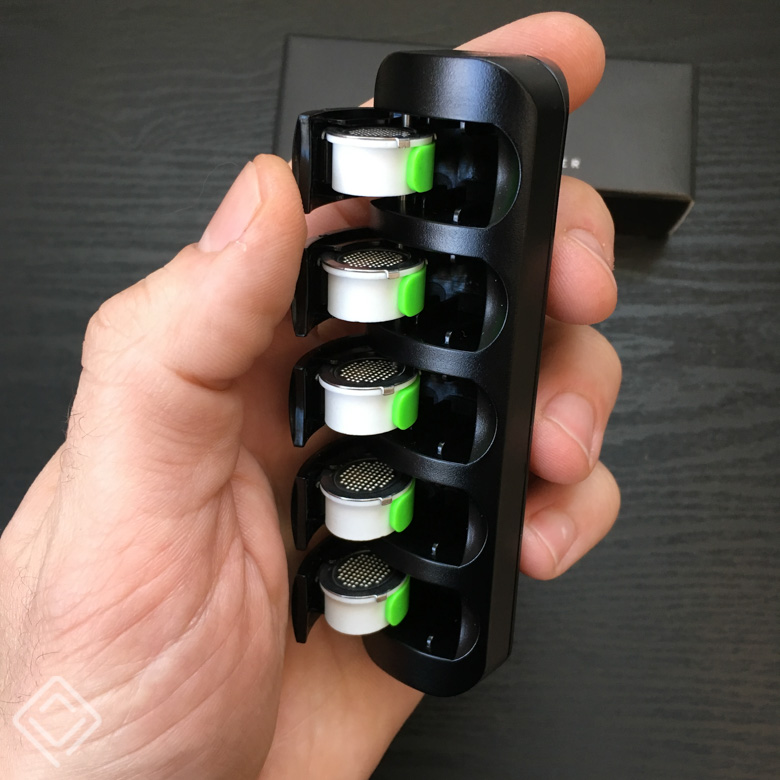 This is a quick size and weight comparison with some other popular vapes: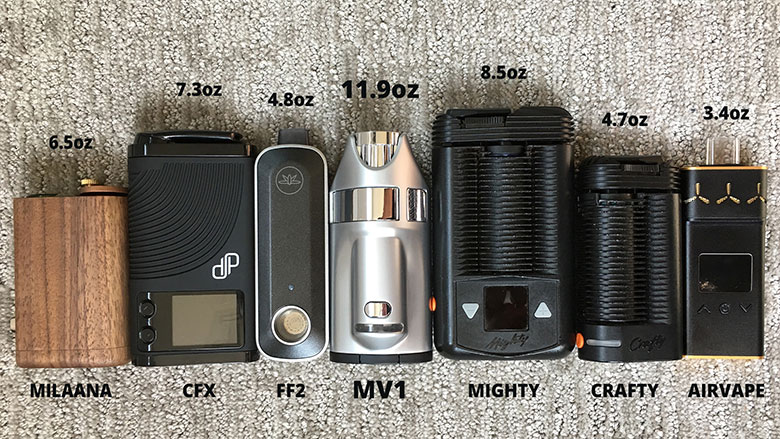 ---
These are the other finishes the MV1 comes in – Black Chrome, Satin Silver, Nickel & Rose Gold: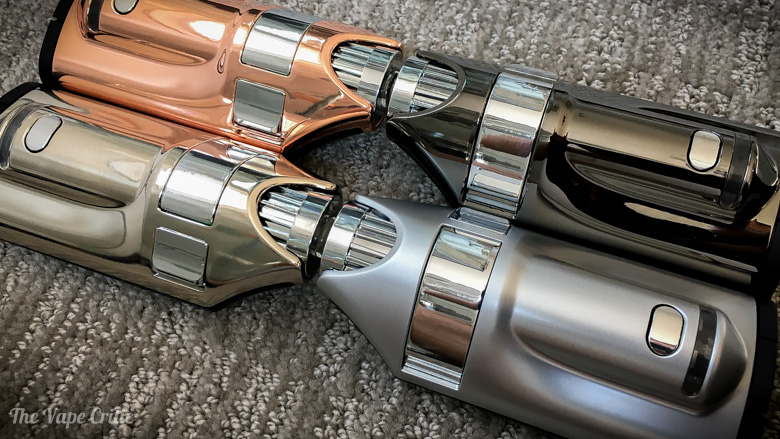 ---
The following review was written by @acstorfer from the VapeLife Forum:
"Monsters are real, and Ghosts are real too. They live inside us, and sometimes, they win." -Stephen King
In this world, monsters and ghosts really are among us. Usually they haunt our dreams. When it comes to the Ghost MV1 it doesn't haunt my dreams, it is my dream.
(Spoiler Alert: I love this vaporizer)
When the MV1 made its release, just like most things that are new there were some bugs. Things happen and just like the Ghost, the company had a learning curve to overcome. With excellent customer service they blew through the learning curve and now they have a vaporizer that lives up to the hype!
Upon first inspection, well just by looking at the packaging I got pretty excited. The sleek package was only outdone by the vaporizer itself. I bought my MV1 used, but it was still exciting to take it all in. Unfortunately when I first used it there was an issue with the door. It didn't close properly so I had to physically push down on it so it would work. Then there was the 35 hours of "does this thing work?", "did I just get a hit?", and "did I just waste my money?" Then at hour 36 it all came together. At 36 hours I knew I made the right choice. I learned my biggest problem was not inhaling long enough. Soon after, I had issues with the batteries. Eventually they took their toll, and my vape was dead. Wait! Can a ghost die? Is it a zombie or a hell spawn? Well in my case it just died without any murderous repercussions. So messed up door, messed up batteries, dead unit, one would think I hate this thing. Nope! I missed it immediately, and I replaced it quite quickly. Even with the issues it rocked! Even with the issues it hit hard. Even with the issues the MV1 hit as hard as the ghost of Muhammad Ali! Some people have issue with the crucibles. At first I wasn't a fan. Now that I'm use to them I actually prefer the crucibles. I keep a couple nearby so I don't have to get up to repack. I use my Ghost all around my condo so this really does make things easier.
I ordered my new Ghost MV1 and when it arrived, I saw the packaging, and I was as excited as I was when I got the first one. I told my seller to surprise me when it came to the color. To my delight I got nickel, which actually looks more like chrome. Even as a guitarist I've always had problems naming inanimate objects. Damn if I didn't want to name my guitars, but I just felt so dang stupid doing so. Well when I got my MV1 I named it. I named it, and it's perfect. I named it Green Eye. I named it after a dysfunctional Cylon from the original Battlestar Galactica series. The Cylon's name was actually Red Eye, but the Ghost goes back and forth with a green light.
So did the updated vape address all the issues? Hell yeah, and then some! Door, fixed. Battery, fixed. Then there were issues I didn't even know about with my first Ghost. The power levels works so much better! I use to have to heat on setting 4 or 5, and I just accepted that as the norm. With my new MV1 I can actually use it at level 1, but I usually stay at level 2 and 3. It just works perfectly now. There is also a function that lets me supercharge or even undercharge the default and custom heat settings.
So what about the unit itself? It is a perfect blend of form and function. It sits perfectly in the hand. It has a perfect weight. While it feels substantial, I wouldn't say it feels heavy. It just feels really good. It's damn comfy. After using my MV1 I kind of cringe at picking up my other vaporizers. I love my Mighty. I really just love the heck out of it. Unfortunately after using my Ghost, I just hate the feeling of my Mighty in my hand. The Ghost feels like a perfectly balanced sword, or in my case a light-saber (I really want them to make a lightsaber edition). It feels like it's always been there. I know it sounds irrelevant, but the ergonomics on this thing absolutely deserves high praise.
Nothing medicates me like my MV1. It is powerful. IT IS NOT A SESSION VAPORIZER! This thing gets you there quick. It rips the chemicals off the plant. It isn't a gentle removal of in my case the THC. It also doesn't combust. It provides smooth hit after smooth hit. It does take a long draw for it to be effective though. There is a moment at about the 12 second mark when I feel like my lungs are about to explode. It's the same feeling as taking too big of a hit from a water pipe and knowing I'm going to cough for 20 minutes. Here's the thing. It is an exceptionally smooth and cool hit and there is little to no coughing. After taking a hit all I can do is shake my head approvingly, while staring at my Ghost and saying "f*ck yeah".
Cleaning and maintenance couldn't be easier. I have plenty of crucibles so I rotate them through an isopropyl alcohol wash. When I take my morning shower I throw the heat sink in the ipa for a cleaning as well. The other stuff is a q-tip and warm water deal, but rarely needed. It takes seconds of effort. I know it can go much longer without cleaning, but I'm anal retentive and I hate smelly vaporizers.
What makes the Ghost MV1 different than all of the less expensive (and even more expensive) vapes? Well there are several things. First off, it's an on-demand convection vaporizer. That means I can take as little as one hit, save the rest of the bowl for hours, and the rest tastes as good as new. How is this impossible thing that I speak of possible? Simple really, while conduction vaporizers work by heating the material directly, convection vaporizers work by heating the air around the material depending on the user to pull the hot air through the material with the intake. It doesn't burn the flower. This is what keeps the chamber tasting fresh. The user-replaceable batteries, temperature control, and optional quick charger also brings the MV1 to the upper echelon of portable vaporizers. The thing that is most important to me though is the draw resistance (or lack there of). I had a Firefly 2 that I really liked but what killed it for me was the draw resistance. The Ghost is just an effortless delivery system.
I already answered this, but it really is the only question worth asking. If anything happened to my Ghost MV1 would I replace it? Yes! Hell yes! F*ck yes! Even at the near $300.00 price, to me it is a must have.
-By @acstorfer