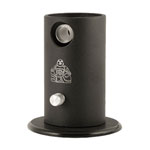 This is the Da Buddha vaporizer made by a company called 7th Floor, the same people who make the Silver Surfer (SSV) and Life Saber (LSV).
It's a little cheaper than the SSV but it utilizes similar (if not the same) parts, namely the heating element, which makes it a good performer.
There are a few things about it that I'm not really thrilled with, one of them being the horizontal placement of the herb chamber. It's a little annoying to keep your material flat and even with a chamber design like this, so it makes the angled heating element of the Silver Surfer a bit more appealing in my opinion.
Overall I think this is a good vape, especially for the low price point. If you can rummage up a few extra bucks I do feel that the SSV is a better vape overall though, it's basically a souped-up version of the Da Buddha, with some very practical enhancements.
Stay up!
-Bud
Video transcription:
This video is about the Da Buddha vaporizer. It's made by 7th Floor, which is the same company that makes the Silver Surfer vaporizer, which is this guy right here. Now this is a whip style vape, whip only. It's a pretty simple device. All it has is an on and off switch basically. This switch is also the temperature dial.So, to use this one you would turn it on, and it's recommended to first turn it all the way up to the max temperature while it warms up. Give it about two or three minutes. Once it's warmed up you can turn it back, somewhere around the 12:00 position is usually a pretty good starting point. Then you would test it out on your own and see if you prefer to go up or down from there.
Once this part is ready to go, once it's heated up, you would just take your whip piece here. This is the glass wand piece and your material would go up near the tip here. There's a little screen at this point. So you would put maybe a quarter inch of material in here, and then to use it or start vaping, you would then take this end and you would insert it into here.
Now the Da Buddha vape is a ground glass only connection, which is different than the Silver Surfer I've got. I've got the standard glass with the Silver Surfer, which means that you hold the wand up to the heating element while you take your draw. Then you put it down in between draws.
So with this vape, it's a ground glass connection, meaning this wand piece will stick in and attach and pretty much get stuck to the heating element in here, or the glass heater cover. So once it's attached you would then start taking your draw from the mouth piece.
So this vape is fairly inexpensive. Right now the list price is $189, which makes it roughly about $80 cheaper than the Silver Surfer, which is $269 right now. It is a very popular one. A lot of people buy it because it is inexpensive, and it's generally pretty high quality. It works pretty well.
I do think that the performance is average or a little above average for a desktop unit. Now as you watch me vape with this, my first two draws that you see me taking, they're actual time. I didn't cut them down. But after the second one, so the third draw and on, I cut them all down just to keep it short.
So you'll notice that I take about a ten second draw, maybe a little bit longer, to really get a good amount of vapor with this vape. That's a pretty average amount of time, as far as whip vapes go anyway. This vape, it has a pretty simple little ceramic heating element in the middle part there. It does do a fairly good job of vaporizing your material evenly.
Now there are a couple things that I don't really like about it too much. There are a few things I think the make the Silver Surfer vaporizer a better choice, even though it is a little more expensive. The first thing is the way that the herb chamber is, or how you put the herb chamber into the vape, which is just horizontally.
Basically what this means is, it's a little difficult to keep your material flat and even inside of the chamber or inside of the wand, because it wants to just fall down. Gravity is going to do what gravity wants to do. So when your material is not flat in the chamber it means that the heat isn't evenly covering all the material at once. Not that it's a big deal, but you will need to stir the material inside the wand probably after every draw or two.
A couple of times when I was using this vape, I did wait a little too long in between draws. I kept my wand attached, but I wasn't pulling on it. I just kind of was leaving it there for a little while. If you're not careful with this vape, it can cause your material to overheat so that when you go to take a draw, you might get surprised by a little bit of a burnt taste.
So what that really means in the grand scheme of things is that, even though this vape has ground glass connection, or hands free connection, you really don't want to leave it in there too long. So you kind of want to take it out in between draws anyway.
So in that sense, in my personal opinion, it's almost more of an advantage to have the standard glass like I do with my Silver Surfer, where you just hold your wand up to the heating element. Then in between draws you're taking it away from the heating element and you're just setting it down.
Now, as far as how this compares to other vapes in the price range, though, this is actually a very good vaporizer. For under $200, you can't really find too many other desktop units that are really good. Or there are not too many that I recommend anyway.
So as far as the vapor that this vap produces, I think that the potency is pretty much average. I think the taste is average to a little bit above average and I also think that the efficiency is fairly average. But again, for a vape being this inexpensive, being average is really not a bad thing.
So overall I do think it's a great vape. Like I said, for the price it's definitely good. It's pretty much above average for the price range. But, out of these two vapes, the Da Buddha and the Silver Surfer, I do think that the Silver Surfer would be the better option if you can afford the few extra bucks. I do think that there's an advantage to having the angled heater cover.
Now one other difference between these two that I forgot to mention which isn't a difference as far as how they perform or anything, It's just cosmetic. With the Silver Surfer, you do get the custom glass knob. You also get the custom glass heater cover, which also has some color in it. The wand itself also has some color and some design in it.
Whereas with the Da Buddha, everything is plain. It's all plain glass in here, in the heater cover. There's no color or anything. It's just sort of generic. That's just something that some people will care about, some people won't, not a big deal.
So if you're thinking about buying one of these, check out the link I put in the description to the authorized dealer that I got mine from, and the place I recommend. Otherwise you can check out my website VapeCritic.com to see what rating I gave to it, and where it falls among the other vapes I've reviewed. If you have any questions for me about this vape or how it compares to some other ones, feel free to let me know. I appreciate you taking the time to watch, and stay up!