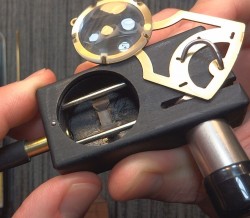 This is the Magic-Flight Muad-Dib Concentrate Box (pronounced "maw-deeb"), made by the same company as the famous Launch Box vaporizer. It's pretty awesome, and I think it's a great alternative to vape pens if you're lookin for something different.
It's designed for use with wax and oil concentrates only, and the material you use needs to be very clean and melt completely to a liquid when heated. You can use other kinds of concentrates that don't fully melt, but performance won't really be at its highest and the box will require more frequent cleaning ("burn-offs").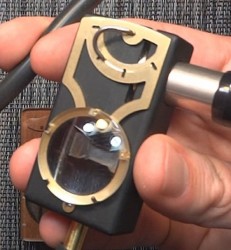 So the box itself is made from Maple hardwood and then the color is darkened with a special ink. The lid or cover has an optical-quality glass lens, and it slides side-to-side to open or close access to the trench area. Inside the trench (chamber) you'll find two rods holding a small stainless steel screen. This screen is where you load your concentrate, and you need to be very careful because it's super delicate.
I have an early model so my vape is missing a brass trench insert that they now include with all units. It goes underneath the screen and heating rods and basically just looks cooler and makes it easier to clean off the bottom. The screen is also replaceable now, so if you break it by accident it's pretty easy and inexpensive to replace.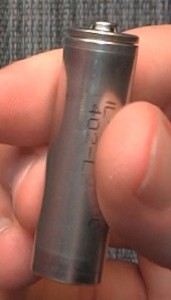 The Muad-Dib is powered the same way as the MFLB, with AA rechargeable NiMH batteries rated at 2000mAh or higher (with wrapper removed). The battery only engages when you actively push it in, and depending on how big your draws are you could get up to 50 pulls from a full charge, but the average may be a little lower. When the batteries are completely drained they're gonna take a few hours to fully recharge, so if you plan on using it a lot I would invest in extra batteries and/or the power adapter they make.
The vapor it produces would be too hot and harsh if you tried drawing right from the box itself, or even with a short stem, so they include a 1.5 ft black whip to use with it. Both ends have brass fittings so you stick one end into the draw hole on the front of the box and basically the other end is the mouthpiece.
To get started all you need to do is load a tiny amount of concentrate onto the trench screen, start off with an amount equal to the size of the ball bearing on the top. If the material you're using doesn't want to stay stuck to the screen try engaging the battery for a split second and then letting go, this should make it melt a tiny bit and stick in place.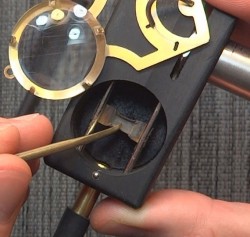 Close the lid after loading and get the mouthpiece ready by attaching the whip, then insert one of the batteries into the side of the box.
Now this is very important, there's a specific way to use this vape for the best performance and vapor quality. Unlike most other vapes, you want to start drawing from the whip before you engage the battery. Draw as fast as you can too, if you draw slowly the vapor may get a little harsh and the taste might suffer a little. Engage the battery right after you start your draw, and keep it engaged the whole time you're drawing until you see no more vapor being produced through the lens.
For best results you should vape all of the material you loaded in one big draw, you shouldn't load a lot and then try to get multiple draws from it. If there's any residual material on the screen after your draw you can do a burn-off by opening the cover and engaging the battery for 5-30 seconds. When the screen is clean and no more vapor is produced it's ready to be re-loaded.
I personally like this unit a lot. Pen vapes are cool and they have their place in anybody's collection, but the Muad-Dib is special and unique, and when you get the technique down and use it right the performance and vapor quality are top notch. You can get really strong, smooth draws from this thing, stronger than most pens.
This company also backs their vapes with a lifetime warranty, and they a have really good reputation.
Stay up!
-Bud