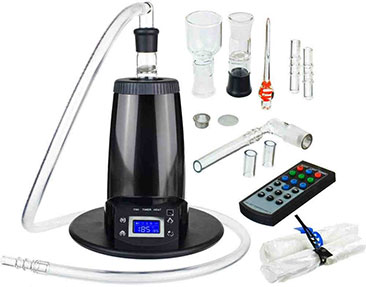 This is the Extreme-Q, a dual purpose desktop vaporizer meaning it can be used with a whip (a long tube) or with a big bag (balloon style).
I still consider this a good starter vape, or one that's good for someone looking to experience multiple methods of vaping without spending a lot of money. It does have many glass parts, so you just have to be gentle with them and be careful that you don't burn yourself, some of them get pretty hot during use. They also build up residue fairly quickly so to keep the vape looking fresh you'll have to clean it regularly.
When using the EQ in whip mode you're normally supposed to pack your material in the main bowl piece that sits on top of the heater, but I've achieved better results packing my herbs inside the elbow screen instead – if you're not sure what I mean there's a second video down the page a little bit where I explain in more detail. I also recommend experimenting with turning the fan on while you take your draw through the whip, as it seems to produce a larger volume of vapor that way.
In balloon mode the bags are filled in about 90 seconds on the highest fan setting, but for thicker vapor you might want to wait a little longer and fill it up on medium fan speed. Once the balloon is full you'll have to keep your finger over the mouthpiece opening so that no vapor escapes, because this vape doesn't have valves on the bags like the Volcano does.
Stay up!
-Bud
---
This is my original EQ review video from many years ago, one of my first videos, it's pretty rough lol:
Video transcription:
This is the Extreme-Q Vaporizer by Arizer. It is a dual purpose vaporizer or a combo vape because it can be used with a whip and it can also be used with a balloon. This vape is pretty cool. It looks pretty sleek on the outside. It's actually pretty light. It's got a remote control, and it could be considered a mid-priced vape with a full list price of $299.
I have a couple of tips for you if you're just using one of these for the first time. The first thing is that when you first get this and you take it out of the box and you set it up, before you even think about vaping out of it, you want to turn it on, turn the heat up nice and high and let it just sit there for about maybe 15 to 30 minutes just to let any residue, like from any oils or chemicals used during the manufacturing process to burn off so that you don't inhale any of that crap.
So, you can take your handy remote here. Hit the power button, then you can hit the 200 button on the remote and what that's going to do is set the unit at 392 degrees Fahrenheit. That leads me to my next tip. If you take the time to read through the manual they give you, you'll notice that there's a section that talks about the core temperature of the heating element being slightly higher than the actual vaporization temperature up here where the herbs get vaped.
That's an important thing to keep in mind because when you're trying to figure out what the best temp is for you to vape at, you need to take that into consideration. I've been using mine set at 392 on the unit, so 392 is the temperature of the core heating element and when I put the top piece on here where the herbs go, I'm assuming the temperature to be about 20-30 degrees lower up here.
Unfortunately, they don't tell you exactly in the manual what the temperature difference is, I'm just taking an educated guess, but 392 seems to work pretty good. The first thing you might notice when you turn it on and set your heat is that it gets up to the temperature you set pretty fast. For instance, when I turn mine on and I set it at 392, the screen is telling me that it got to that temp in about 20 seconds.
Just keep in mind that it's a little deceiving because what I noticed is that even though it says it reached the temperature if you just put this piece on and put some herbs in and, for instance, take your whip and put it in and try to start taking hits, 20 seconds after turning it on you might not get really good hits or you might not get anything at all.
Myself, I found that once it reached the temperature I set, if I put the top piece on with the herbs and I put the whip on and then I let it sit here for about another minute or two before I start vaping, that's when everything really seems to be at the proper temperature. Just keep that in mind when you're setting yours up if you get it, to set your temperature, set up your top piece with your herbs and then just let it sit for an extra minute or two to warm up and it will perform much better for you.
So when you're using this as a whip style vape, once it's warmed up and you have your herbs in the chamber and it's ready to go, you can just hit it like this, nice and slow, and in between hits you might just want to take a look at the end of the mouthpiece here to see if any vape is coming out. You might want to keep your finger over it when you're not actively hitting it just to make sure nothing escapes or anything.
If you feel like you're not getting enough this way you could take your remote, and you could actually turn your fan on low and then start inhaling it with the fan helping to blow the air through. So, just experiment on your own and figure out which way works better for you, with or without the fan on.
Just another quick tip to keep in mind about this vape. It has glass pieces up here at the top, so just be careful that you don't accidentally grab these when the vape is on because they do tend to get a little hot. So, you'll notice that included with this vape is a glass stirring tool.
What you'll want to do with this is during a session you'll want to pull off whatever top piece you're using here and just mix around your herbs a little bit, and this just helps ensure that it all gets evenly vaped and then you can put your piece right back on and start hitting it again.
Now, if you want to use this vape with a balloon you can do that, too. What you would do is instead of putting the whip on, you would put on this little piece they give you instead, which is basically the same top piece as the whip, but just a short piece of a tube instead of a long piece.
Then, you'll take the balloon they give you with the mouthpiece already attached here and in case you're wondering what this is, this does not come with the vape, this is my TV remote and I forgot to take it off my table. So, you would grab the mouthpiece of the balloon and you would fit it inside the tube here.
The next thing you would do is you would take your remote and turn your fan on high or Level 3. Now, to completely fill the balloon with Extreme-Q it's going to take about 90 seconds, so I'm going to turn the fan on and then I'm going to fast forward a few times just to shorten it up.
All right. So, you'll need some extra space on the side of the unit so that you can lay your bag out like this. It's about a quarter full now. Now, it's about half full. This is about three-quarters full and this is what it looks like when it's full. So, you shut off your fan now.
Then, you'll grab your bag and you pull it out of the tube here and you just put your finger on the end so no vapor escapes. Then that's it. You can just start hitting it. Just remember to keep your finger on in between hits because this bag doesn't have a valve or anything to stop the vapor from coming out.
As far as cleaning this vape, it's fairly easy to do. You'll notice right away what the problem areas might be or the areas where buildup will occur. These top pieces here, the one for the bag or the whip, they might accumulate some buildup inside these glass pieces that you might want to flush out every few weeks with some rubbing alcohol.
Then, they also have a little screen at the end here that's removable. You can pop the screen out and then you can also clean this with rubbing alcohol. The top piece here that holds the herbs you can clean that pretty simply by just throwing it in a Ziploc with some rubbing alcohol and just remember to shut the power off on the vape first and wait a few minutes before you try pulling this off because it gets a little hot.
Also, if you're curious about the remote, you can do basically everything you need to do on here. You can turn the unit on and off. You can turn the blue LED light around the bottom on and off. You can turn the sound on and off. It has the three fan settings like I showed you before, and then it has six temperature presets on here and also a plus and minus button to fine tune the temperature.
Then, it has a couple of buttons to set the timer on the unit. So overall, it's a pretty cool vape and also if you want to see a comparison of the Extreme-Q with the Volcano, just so you've got a good idea of what the differences are, I have a video for that, too.
So as always guys, thanks for watching and I'll see you later.
This video shows an important tip about elbow packing: