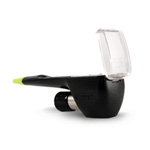 So the Palm is a portable vape made by the VaporBLUNT company that has some striking similarities to the Magic-Flight Launch Box.
Overall this is not a very well-made unit and it's not really one I'll be recommending. I don't like the knock-off design and I definitely think the MFLB is a better product.
Stay up!
-Bud
Video transcription:
What's up guys? In this video I'm going to talk about the Palm Vaporizer, which is this guy, right here, and I'm also going to compare it to the Magic-Flight Launch box, which is this vape up here. Now, what's interesting about the Palm Vaporizer is that it pretty much seems like a rip-off of the Launch Box. So first I'll give you a brief overview of the Palm and then I'll show you how it compares to the Launch Box.
So, as you can see here, the outer shell of the Palm is a plastic material and there's a little removable mouthpiece on the end here. There we go. Then running into the mouthpiece is this stem in here, and this little stem is what connects to the herb chamber inside. So, if you open the plastic cover here, which you do by just pulling up in that spot and then it pops open, you'll see that there's a little trench in here. This is a screen material.
So, the way this one works is you would place your ground up herbs inside this trench. Then you would close the top. It snaps close like that. Then you would take one of the rechargeable AA batteries that it comes with and you would insert this battery into this port or hole on the bottom.
Then, when you push in the battery, the little orange indicator light will go on inside to indicate that the heater has been engaged, and the heating element or the heating rods under the screen will start to heat up. That's how the herbs vaporize. So, it's a really simple device. There's not much to it. That's basically it. Once you're done, you would pull out the battery and that's it.
So if you're not familiar with the Magic-Flight Launch Box, I'll give you a brief rundown. This is the stem or the mouthpiece, and this thing is removable. If you wanted to take it out and use it like that, you could. Most of the time, I use it with the stem in there. It has an acrylic top that slides off like that. It's on a hinge back here.
Then it has a trench area inside. This is where you would pack your herbs. Then you would close the acrylic top. Then take the same type of rechargeable AA battery. Put it into this hole in the side here. Then when you push in the battery to engage it, you'll notice the little orange or amber light inside goes on to indicate that the heating rod is engaged, and then you would start taking your draw.
Now, I think the Launch Box is a great vape. It's an inexpensive vape. It's only $119 list price. But I like it. I've owned mine for over a year and a half now, and I still do use it. My opinion is that the Launch Box works very well for what it is. Now, this is the part that's really not fun for me, but I need to let you guys know what the deal is.
Like I mentioned before, the list price on the Launch Box is $119, and I bought this Palm for $109. So, it's $10 cheaper, but my opinion is that it should be $50 for this one. Because when you have both of these and you're looking at them side-by-side, and you're using both of them, the Palm is noticeably cheaper. It's obvious when you hold them both in your hand that it's an inferior product.
I personally don't even understand, really, why they would copy so many parts of the Launch Box, because the Launch Box is a great vape as it is. Where's the originality in this? I just don't see it.
Now, one of the supposed benefits of the Palm over the Launch Box is that the screen or the trench inside is replaceable, meaning if you wanted to, you could pull out this whole screen piece here and press in a new one. Now, on the Launch Box, you can't do that and that might sound like a great feature. But like I said, I have owned my Launch Box for over a year and a half and I've definitely used the crap out of it during that time. My screen is still perfectly fine and in no need of replacement.
In fact, what you sacrifice with the Palm having the replaceable screen is that it's not fit in there as well, and it doesn't look as good. It doesn't feel as good, and it doesn't work as good. Now, keep in mind that my trench, or my screen, in the Launch Box, is very dark and weathered because, like I said, I've used it a lot. But it's at least fit in there really well.
You could tell that even though the Launch Box is an inexpensive product that it's well made. But when you look at the screen on the Palm up close, you could see that it doesn't fit that well. There's even a little space in the side here. There are bumps and ridges and creases. It really doesn't look very high quality. Even if you look at it like this, you could see that the trench isn't even centered, like it's off-centered. It's tilted to one side. Not only does it look way different, but it's actually smaller than the Launch Box.
During my testing, I was actually surprised at how much more herbs I could fit inside the Launch Box than the Palm. Another thing I noticed, when testing out the Palm, is that the usage with the battery is not as smooth as the Launch Box. What I mean by that is, when I was in the middle of a session and I had the battery engaged, and then I wanted to let go and disengage it, the battery got stuck a couple of times and I couldn't get it out right away. It ended up burning my herbs inside the chamber.
So, as you could tell overall, I'm really not happy with the Palm. I really do think that if you're choosing between these two, my recommendation is that the Launch Box is a much better product and a much better option and, like I said, it's only $10 more.
So, hopefully, you have a pretty a good idea now, of what the main differences are between these two units. But if there is anything I left out or if you have any questions I didn't answer, please let me know and I will definitely do my best to help you out. I do have a website, vapecritic.com, where you could watch more reviews and see the ratings I give to each vape. I definitely appreciate you taking the time to watch this video, and stay up.