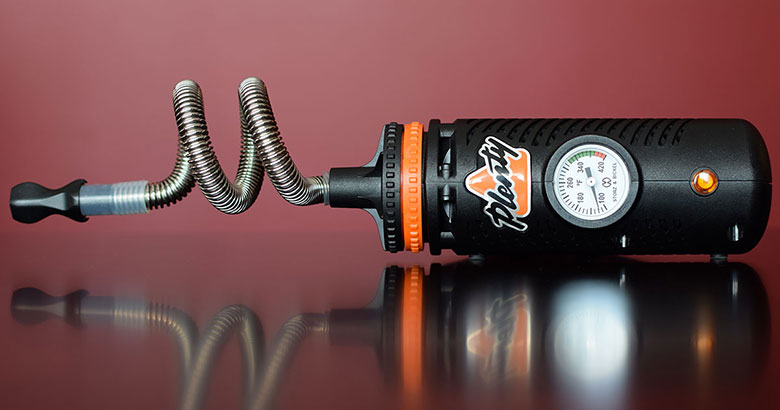 This is the Plenty vaporizer, a whip-style home vape made by the same company as the Volcano, and it produces some of the strongest, smoothest vapor I've experienced. It might look a little funky on the outside, but the real beauty is in the function.
The end results after a full session with this thing are the closest to smoking you'll get from a vape, it's really just as strong and the feeling is pretty similar (usually better). Watch my full video review and comparison to the Volcano above, it's ~37 mins long but I really go over everything you could possibly need to know about them.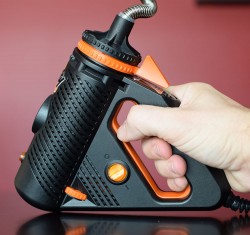 I'm not saying it burns your herb, because it most definitely does not, I'm just saying if you want the strongest effects look no further. It is 100% true vaporization with mostly convection heating, and it is damn good at its job.
Besides being one of the most potent it also has one of the most free-flowing draws you'll find, so it's very easy to pull from and it feels really natural.
Storz & Bickel now also has two portable vapes called the Crafty and the Mighty, and those are basically cordless versions of the Plenty in terms of performance.
The extra-wide herb chamber gives you that surface area you need for high quality, potent vapor draws. I would consider this one of the top models as far as best bang for your buck, and it's also one of my all-time favorites. The vapor quality from this unit rivals that of many more expensive models.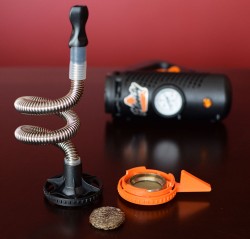 The chamber is also huge, and you can pack as little or as much herbs as you please. It also vaporizes your stuff very evenly, so there are no hot spots and when you're finished it'll all be a nice uniform color.
Not only do you get a lot of vapor with the Plenty, but it's super smooth thanks to that cooling coil between the herb chamber and the mouthpiece. It really does help cool the vapor to make it more comfortable and enjoyable, not to mention tasty.
All of the pieces also come apart very easily, so periodic cleaning and maintenance is a breeze (rarely needs to be done).
Click here to buy the Plenty from the authorized Storz & Bickel dealer I recommend.
Stay up!
UPDATE MAY 2019: I just posted an updated video review talking about how underrated and underappreciated this vape is, check it out: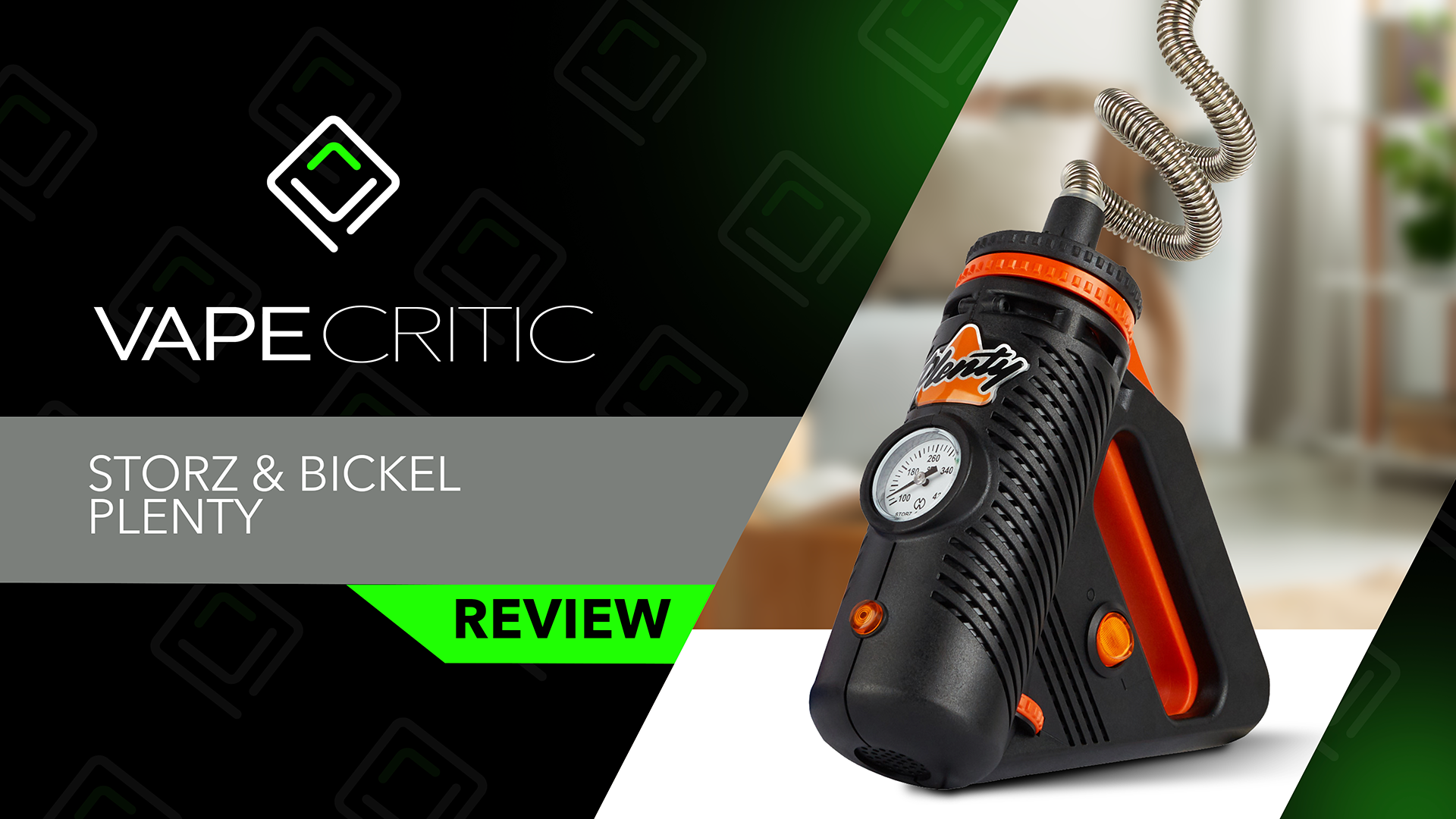 ---
Video transcription:
This here is the Plenty Vaporizer by Storz & Bickel, which if you're not familiar, is the same company that makes the Volcano Vaporizer, which happens to be my all-time favorite vape. So, this model is different from the Volcano, in that, this is a handheld vaporizer that uses a wick or, in this case, this coil, here. The Volcano, is a balloon vaporizerAll right. So, I'm just going to get right into it because there's a lot of stuff to talk about with this one.
The first impression that a lot of people get, that I've noticed, when they first see this thing, is that it, kind of, looks pretty weird. Some people have been comparing the looks of this thing to a power tool or something and I can see where they're coming from because it is kind of funky. But, I'll tell you right now, if you're buying this thing for looks, you're buying it for the wrong reason, because the performance of this thing is excellent.
The list price of this thing is $349 and I'm going to be raising it above the other wick-style vaporizers I've tried because the quality of the vapor that this thing produces is really, really good, and, when I say "quality," I'm talking about the quantity of vapor that it produces, the strength or the density of the vapor, the taste and also the smoothness of the vapor. This vape performs amazingly, in all those categories.
Now, the two main features that this vape has, that makes it better than most of the other ones that I've tried are, one, the size of the herb chamber because, as I'm going to show you in a minute, this thing actually has an even bigger herb chamber than the Volcano, which already had a pretty big one, and the cool part about having a big wide herb chamber is that it increases the surface area, which, in turn, helps produce better vapor.
The second cool feature about this, which sets it apart, is his cooling coil, here. This cooling coil, aside from looking a little weird, has a purpose, and it works. It actually does help to cool down the vapor, as it travels through the tube, here, before it reaches the mouthpiece.
Now, I'm sure you've seen this material before. This is like a flexible metal tubing that's, kind of, bent into a specific shape when you get it, and I do recommend that you leave it in this shape, because this is really how it's meant to be used and it performs the best, when it's left like this. During use, you can actually feel how the coil down here will get pretty warm, once you start vaping, and then, once you start working your way up the coil with your finger, you can feel it getting cooler and cooler and cooler. Then, by the time you get up here by the mouthpiece, you don't feel any heat anymore, at all.
So, I really like this feature a lot, because some people, including myself, find that with some other vaporizers, the really hot vapor that it produces can be a little irritating, at times. I always kind of wished in the back of my mind that they would figure out a way to cool the vapor, and, then, these guys did. So, those two features of this vaporizer, the really wide herb chamber providing a lot of surface area, and the cooling coil, really make this vape a strong contender.
Not only is the quality of the vapor awesome, but it's also been producing really nice, strong draws for me, and not in a bad way, like, overbearing or anything, just nice thick dense paper. It's also really efficient with the herbs, like the Volcano is. If you're going to use this thing by yourself, you only need to put, little more than, a pinch in.
What's cool about it is that since the herb chamber is so large, you have the flexibility of only putting a little herbs in and using it by yourself or, filling the herb chamber, and using it with up to four people. So, there's really an important tip about the herb chamber that I want to explain to you guys and I didn't make this up or anything. It's in the manual, but I just wanted to confirm that it does work.
So, I'm going to disconnect the cooling coil and your chamber, from the unit. All you've got to do is unscrew it, like that. Then, the cooling coil piece and the bottom herb chamber, the orange piece, they also unscrew, just like that. Then this is your chamber.
Like I mentioned before, it's pretty large in here. So, what you need to do, if you're going to use this by yourself and you're only going to put in a pinch of herbs at the bottom, is you need to take this other piece that they include and it's called the liquid pad. After you put your herbs in the bottom here, and again, this is only if you're using it by yourself and only putting in a little bit of herbs. You take this pad, and after you put your herbs in the bottom, you put the pad right on top, to fill up the rest of the space inside the chamber, so that when you take your coil piece and you screw it on top, everything in the chamber becomes nice and snug. Your herbs are, sort of, pressed along the bottom screen, all evenly.
So, putting the pad in there prevents the herbs from sliding sideways, if you're herb chamber is sideways like this, because you need to remember that when you're using this vape, your herb chamber's going to be in all sorts of positions. It'll be straight up when you're heating it up but, when you start taking your draw, you'll probably be using it like this, so your herb chamber will be sideways. So, you just have to imagine that if you only put in a little bit of herbs and here and you don't use that extra pad they give you, your herbs will be flopping around inside the chamber and it's going to affect the quality of the vapor, and how evenly it's getting vaped.
So, it is really important to use this thing, and I can confirm for you that it does work well. It doesn't hinder the performance of the unit. It doesn't lower the quality of the vapor or give you less vapor. It will still completely vape your herbs, and it vapes them better with this thing then if you didn't use it.
Now, again, this is only if you're going to put a little bit of herbs, and use it by yourself, because, if you're going use it with multiple people, it's recommended to fill the herb chamber completely, because, when it's fully packed, and this piece is connected on top, the herbs can't move around when you turn it in different directions. So, you don't even have to worry about that. It's not an issue. The fact that they're packed in there will keep them pressed against the screen evenly, the whole time.
I'm going to cut in here, really quickly, so you guys can see this up close. So, this is the top piece, here, and when you screw this off, this is the herb chamber. You can see it's pretty large. It's pretty deep there. You can fit a lot of herbs in here. Like I said, if you're not going to fill this up all the way, if you're just going use it by yourself and you just want to put a pinch of herbs in there, just remember to take this thing, that they include, this pad, and after you put your herbs evenly across the bottom, stick this right on top, and then this helps fill the chamber up, so that when you take this piece and screw it on, now it's all snug inside the chamber. So, no matter what direction you hold this thing in, your herbs are completely covering the bottom, here, and this just ensures that you'll get nice, strong, consistent draws.
Okay. So, the way that this thing operates, and the way that it heats up, is pretty unique, also. So, let me briefly explain that. This vape does require a few minutes of heat up time before you can actually start vaping from it. The way that they recommend that you use it is to, first, pack your herbs inside the herb chamber, then connect the coil, then take your unit and screw your whole herb chamber and coil onto the top, just like that. Then, you set your temperature with the dial, down here. So far, I found that with setting it on seven, which is their max setting, it actually seems to be working pretty well but, as always, experiment on your own to really find what you like best, because everybody's different.
Then, after you set your desired temperature, you hit the power switch, turn on the heater and, just like a Volcano, when you turn on the heater, this little light is going on in front. Then, you'll see on the temperature dial in the front, here, that it will slowly start to rise. After about two or three minutes, it'll be at the desired temperature that you set.
Now, one of the unique features of this vape, is that it has another switch in the handle, here, the grip. This is an actual switch. What this switch is meant to do is to restart the heater, after it turns off. But, you need to remember that before you can turn the heater back on, there's going to be a 90-second delay. So, what's going to happen is, you're going to turn it on after you set your desired temperature. It's going heat all the way up. Once it reaches that temperature, the light is going to go off and the heater is going to turn off. That's when you can start vaping from it and taking draws, and during this time, you're going to see on the temperature dial that the temperature is going to go down a bit. Then, after 90 seconds, or so, you can turn the heater back on by pressing the switch in the handle.
So, to demonstrate what I'm talking about, you'll see that my light is off now. What happened is, it reached the temperature that I set. I set it at number seven and, according to the dial, it got up to 390 degree Fahrenheit. So, the heater clicked off. This is when you would start vaping. I found that this vape is pretty much like wick-style vapes out there, in that, it kind of needs to be primed, for the first couple of draws, before you start getting the nice, thick vapor. So, for the first one or two draws, you'll notice that you get a lot of flavor, but there won't be too much vapor yet. Then, by the third draw, that's when the vapor really starts coming out good.
So, during this time, you'll be taking your draws and, if you look at the dial, you'll notice that the temperature does start to fall, while the heater is off, but you don't have to worry about it, too much, with this vape. This isn't one of those vaporizers where it needs to be on a precise temperature to work right. This thing works really well in a really wide range of temperatures. On the temperature dial, they have the ideal operating range marked in green, to make it easy for you.
So, like I mentioned before, there's a 90-second delay, before you could restart the heater with the handle button. So, you might notice the temperature dial get down to almost 340 degrees F, before you can turn it back on, but it's not a big deal it's not going to affect the quality of the vapor. You're not even going to notice the difference. So, all in all, don't pay too much attention to the dial. It's not a big deal.
So, after 90 seconds or so, if you push the switch down with your hand, the heater will turn back on and the light goes back on. It will heat up for about 30 more seconds, back up to the temperature that you set and then it will click off and the cycle repeats. So, the easiest way that I found to use this thing, so you don't have to remember when to click this, is just every time you pick it up and start using it, and taking draws from it, just, naturally, grip the handle and press the button down. It's not hard to push. Then, what this will do is, automatically after 90 seconds, since you have the handle, just push down while you're using it. It will automatically turn back on, when it can. This is, sort of, just a safety thing so that if you put it down, once the heater turns off, it won't keep turning back on. Since you don't have a handle depressed, it knows you're not actually using it. If you did happen to leave it off for a while, all you have to do is pick it back up, grip the handle, and the light's going to go back on.
All right. This is the dial I'm talking about. You can see that the guys who made this are a bunch of jokesters, with that max temperature there. But, like I mentioned, the temperature will fluctuate a little bit during use but, generally, as long as the needle stays in this range of green, here, you're going to be getting nice high-quality vapor. So, that's all you have to worry about. You don't really have to worry about keeping it on a precise temperature. All right. Also, don't forget that this top piece here, this metal piece, will get hot. There's your little warning. You'll also find this little tag, on the cord, here, reminding you to only use substances mentioned in the instructions, for use. All right, no funny business in here.
So, overall, I'm really happy with this vape. I really like it. Obviously, it didn't overtake the Volcano, as my number one choice and my favorite vape, but this definitely has become my number two at-home choice, because I really can't get over the quality of the vapor coming out of this thing. It really is awesome.