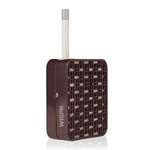 The WISPR is a newer version of the iolite vaporizer with a few enhancements over the original.
It's still powered by butane and has very similar (if not identical) inner workings, but the outside looks different and they changed the mouthpiece and starter button on this one.
This is a portable vaporizer to consider if you don't want to worry about having to plug in or recharge your device. As long as you have a can of butane handy you can refill this vape over and over again to your hearts content, without ever needing electricity.
In my mind, the first obvious benefit is that it's great for long trips or outdoor activities like camping where you won't always have access to an electrical outlet.
Stay up!
Video transcription:
This is the WISPR vaporizer which comes from the same company that makes the original iolite vape, and the retail price of this one from an authorized dealer is $269.
The iolite is a very popular portable vaporizer and the manufacturer, Ogelsby & Butler, released this version more recently to improve on the aesthetics and to add a few features missing from the original.
This Vape is made in Ireland and unlike most other vapes currently on the market this thing is powered by butane gas. There are no batteries or chargers with this one, this thing uses the butane that you fill it with and a built-in igniter to heat the herb chamber.
The Wispr is available in a handful of colors, and this one happens to be called espresso.
So to give it its power you need to take your can of butane, which is sold in most convenience stores, and insert the filling nozzle onto the gas valve located on the bottom of the unit.
Once you have it lined up you simply push down on the can to start the flow of fluid, and after a few seconds you will see and hear the chamber start to overflow which means it's filled up.
After filling the butane you'll want to wait a few minutes for it to settle before pressing the starter.
Now one of the upgrades that they made to the Wispr is they added this viewing window to see how much butane you have left. This is something that the original iolite doesn't have.
Through my testing I found that I was able to get just about six full Vape sessions, roughly 15 minutes each, out of each gas filling, which is the same I got with the iolite.
Now with a can this size you should be able to refill the vape roughly ten times.
To fill your herb chamber you pull out this rubber mouthpiece part right here, and inside this top piece with the screen installed you'll lightly pack your herbs. The bottom chamber here inside the unit is what heats up. Then you could take the unit and slide it down on top of the mouthpiece like so.
This flexible, rubber mouthpiece is also new for the Wispr, because the iolite has a rigid plastic stem instead. One of the cool things about this one being rubber is that when you're not using it you could fold it down and store it like this.
So once you have your butane and your herbs all packed up you're ready to turn it on. Pushing this side switch down to the first position will start the flow of gas, and pushing it down to the second position will engage the igniter. To see if the vape is turning on properly this indicator light on the side will first turn blue and then orange within a few seconds. Every once in a while it won't start on the first try but all you need to do is wait a few seconds and try it again.
Each time the heater is engaged you'll hear this low hissing sound, and the way this vape works is that it attempts to reach and hold a preset temperature. The preset temp is 374°F or 190°C and it holds it steady by periodically stopping and starting the heating element during your session.
Each time the heater turns on you'll hear that hissing noise and the orange light will start to glow. This cycle of turning on and off will repeat itself until you turn the side switch to the off position. Now one of the things that's a little funky with this vape, which also happens with the older iolite model, is that there is a little bit of a butane smell every time the heater is reengaged.
It's not a humongous deal, because through all my testing I never tasted the butane through the mouthpiece, just don't let it throw you off if you smell a little while vaping. The smell of the gas seems to come from the side of the unit and does not pass through the herb chamber.
While testing the Wispr I found that if you take long, slow draws instead of fast short ones, you'll get more vapor. The only downside to this is that the air passing through the short mouthpiece stem gets pretty hot after a few seconds, so you'll have to do some experimenting on your own to figure out the best draw speed for you.
I'd say that the herb chamber is medium-sized for a portable Vape, meaning it's not tiny but one packing is really only enough for one or maybe two people. With the herb chamber packed mostly full you can realistically expect up to 10 small to medium-sized draws.
When you're done vaping and you want to turn the unit off, simply flip the side switch back to the original position.
One of the cool things that I really like about the Wispr is that it really is pretty stealthy. It's definitely not the smallest Vape out there but with the way that it's shaped and the design on the outside I'm sure most people would not know what this is if they're seeing it for the first time, especially with the mouthpiece in the stored position. It also comes with this simple drawstring bag to carry it around in.
So overall I think this is a pretty decent Vape, and it's probably best for you if you're someone who doesn't want to have to worry about plugging in or charging their vaporizer.
If you're interested in buying one of these I put a link in the description to my favorite Vape store that I highly recommend you check out, and they do include your first can of butane free to get you started.
If you haven't made up your mind yet you can also check out my website VapeCritic.com for more reviews and comparisons.
Thanks for taking the time to watch this video, and if you have any questions send them my way.