This is the Dr Dabber Aurora vape pen designed for use with wax and other solid concentrates.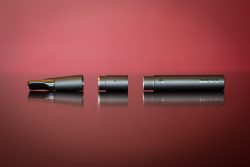 Game Changer: Magnetic Connections (Threadless)
Biggest difference between the Aura and other pens?
The 3 main components are held together magnetically instead of screwing the pieces on and off. This is the first time I've seen this, and I love it.
I was worried that maybe the magnet connection would be too loose and the pieces would come apart in my pocket, or that it might be too tight-fitting and annoying to pull apart… but neither of these thoughts came to fruition.
It seems like they used the perfect magnet strength to hold the pieces together – they come apart when you want them to and they stay together when you don't – nicely done Dr D.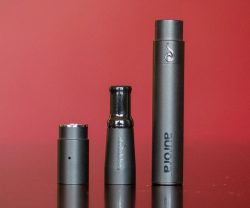 Just remember to keep the connections clean and oil-free by wiping them with ISO every so often, which is no different than a pen with threads it's just a little easier to clean with this one because of the flat surfaces.
The only part that doesn't have a magnetic connection is the mouthpiece which is held in by the typical rubber o-ring.
Even the charging dock attaches to the battery magnetically, which is sweet but does mean that it's proprietary (can't use any threaded chargers as backup).
Being able to quickly open and view the atomizer is the major benefit of the magnets, it's a pretty big time-saver if you compulsively check your coil after each hit like I do ;-)
3 Atomizers: Dual Quartz Rods, Dual Ceramic Rods & Ceramic Disc
This kit hits the spot – they give you three of the most popular and best-performing atomizers currently on the market. The coils do behave differently than some other top tier pens though, and it's important to know why and how.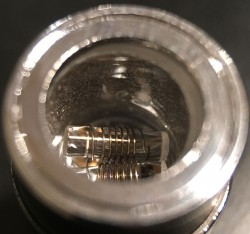 All of the chambers are lined in quartz (bottom and sides) and they're all the same size with a max capacity a little under a half gram. However, you should never really pack any vape pen full to the brim, I usually recommend loading atomizers only about 25% to 50% full max for best performance and lowest chance of issues (splatter or clogging). So figure around .2g is realistically the most you should load at once, and a BB-sized amount is pretty much the minimum.
First you have the dual quartz rod atomizer, which we've seen in a few other pens but I'm sure you're with me when I say it's about damn time Dr D! lol
At the bottom of the chamber there are 2 quartz rods wrapped in a titanium wire coil, and honestly I think this style is the sexiest looking of them all. Actually, it's pretty much my favorite one to use also.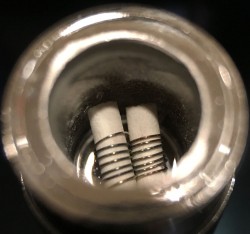 Next we got the dual ceramic rod atomizer, which is sort of a hybrid of two popular styles. The two ceramic rods is nothing new but placing them inside of a crystal quartz chamber is nice and not extremely common.
These don't work like your typical ceramic wicks, they don't get as hot and don't really absorb your oil so they stay white longer and don't turn dark for a while. I talk more about this in the section below as well as how to get the most vapor from it.
Then there's the ceramic disc or ceramic halo atomizer, and this one doesn't have any coils or rods. The wire that heats up is inside the ceramic disc which means your concentrate never really touches it. This means the only materials your wax really comes in contact with are quartz and ceramic in this one.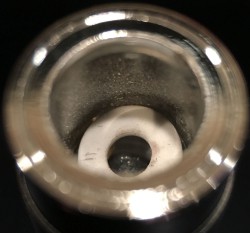 There are two air holes on the outside of each atomizer which channel air to those tiny holes inside the chamber, and then they added another air hole on that middle part that's just before the mouthpiece.
All of the atomizers work differently, not only between each other but also compared to the same coils in other pens, which brings me too…
Performance: Lowww Temperature Heating
Dr Dabber's slogan is "Less Heat. More Flavor." and they definitely kept the theme going with the Aurora.
All of the atomizers heat your concentrate at below-average temperatures, and two main things happen when you do this…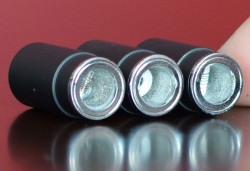 Flavor is the top priority at low temps, that's the main benefit of going lower – you taste more things in your concentrate. This can be a good thing or a bad thing, because believe it or not if you don't have access to high-grade concentrates then you might not actually want to taste everything, you know what I'm sayin?
But if you're using the good stuff you will absolutely love how this pen performs. The flavors and aromas you get from it make it crystal clear how different this is from the Ghost.
Ok so the taste is great and everything but what's the tradeoff? Well, it's draw duration, or how long you need to pull from it to get a big cloud of vapor when you exhale.
To make it super simple, I consider this a "long draw" pen, meaning you kinda need to take a ~6-10 second draw to feel like you're getting a big satisfying hit, and to blow out a nice cloud.
This is because of the super slow heating, so you just need to know what to expect. If you only pull from it for a few seconds you might feel like it's not working to its full potential, but it's still vaporizing your material just not fast enough to build up visible vapor. You can still feel the effects even if you don't see any vapor, the visual part is more of a psychological thing.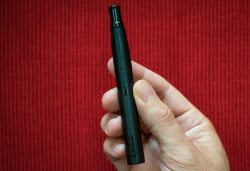 The Aura battery is variable voltage with 3 heat levels, and through my testing I've noticed that I prefer a specific heat setting with each atomizer. I wouldn't really consider the temps to be far apart so the differences are pretty subtle.
With the dual quartz coils I like to use the medium heat setting which is the blue light. But listen, I also learned the specific way to draw from this one because I didn't quite get the best results at first.
This atomizer seems to perform best when you take fast, long draws. You want to pull in the air very quickly – it'll be easy because of the free-flowing draw. If you don't take a hard hit it's going to affect how it tastes and also how much vapor you get.
To put it another way, breath in hard enough that you can actually hear the air rushing through the pen. If you do this you'll get nice big clouds of smooth, tasty vapor. When I try and pull slowly on this one it just seems a little harsher and the flavor isn't quite as pure.
Now with the dual ceramic coils I also like to use medium heat, but high heat can be cool sometimes too. These ceramic rods don't act like most others I've tried so just like with the quartz I kinda recommend taking a long, fast draw for the best taste and vapor production.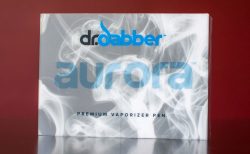 The ceramic rod atty can usually produce the most vapor and biggest clouds, but the quartz rods aren't far behind at all.
When using the third atomizer they include, the ceramic halo, I recommend keeping the battery on the low heat setting and taking long, slow draws. This one you should use differently than the dual rods, if you try setting the heat too high or you pull too fast your wax can start to bubble up and splatter around inside.
But when you hit it low and slow… ohhh baby is it sweet. The vapor is super smooth and comfortable, and the taste is basically as good as it gets.
The catch with the ceramic disc is that you'll usually get less visible vapor from each hit. If you pull for 10+ seconds you'll get vapor, but anything less than that is normally just a light wisp.
It's all good though, it just means it's the most discreet. You're still gonna get the same effects because even though you can't always see it you're still getting invisible vapor goodness with each draw ;-)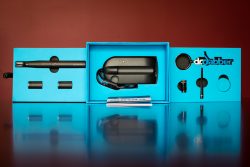 To Sum It All Up…
This pen is good enough and unique enough to say that I highly recommend it and think everyone would enjoy having it in their collection.
The magnets… I mean come on. The 3 atomizers… you betcha. The quartz… can't get enough.
If I had to get super duper nitpicky, which I do cus I'm The Critic, I'd say the power button could have softer edges to make it feel more elegant and the matte black finish could be a little more durable, but that's about it.
Stay up!
-Bud
---
A few more pics: