We're up to the PAX 3 now guys.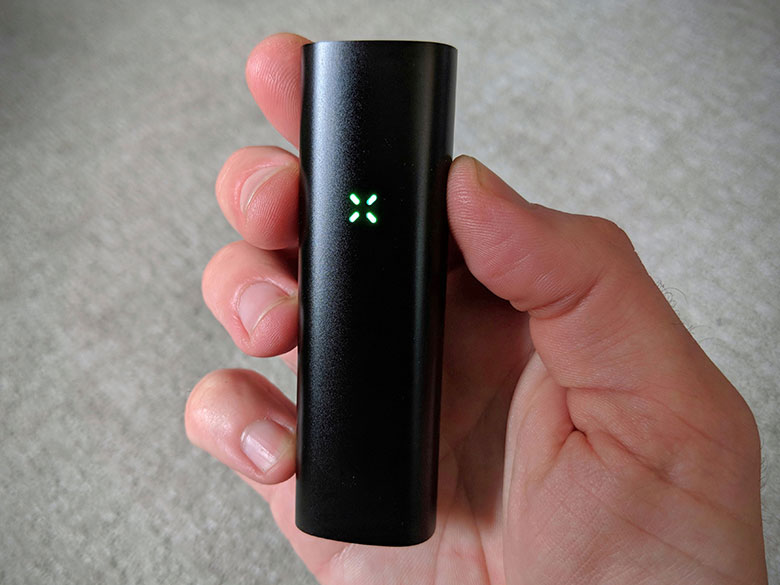 This is the third generation vaporizer for dry herb from PAX Vapor. This model has always been one of the smallest, sleekest and best performing portable vapes you can buy, and this new version continues the tradition.
There's only a few things that are different with V3, it's actually a very similar vape to V2, and their size & shape are identical.
Watch my PAX vaporizer review video below for the full scoop in 6 minutes, and I also made a 3-minute cleaning video if you keep scrolling.
Overall, I'm diggin it.
It's easy to use, convenient to carry around, and produces lots of tasty vapor from short draws. There's a certain way you should grind your herb and pack the oven (shown in video) and when you do it's a very consistent vape.
Click here to buy the PAX 3 from the authorized dealer I recommend.
Stay up!
-Bud
---
UPDATE: The shiny finish shown in my original review video below is no longer the standard finish, the PAX 3 now has a matte outer shell, thank goodness!
---
More pix: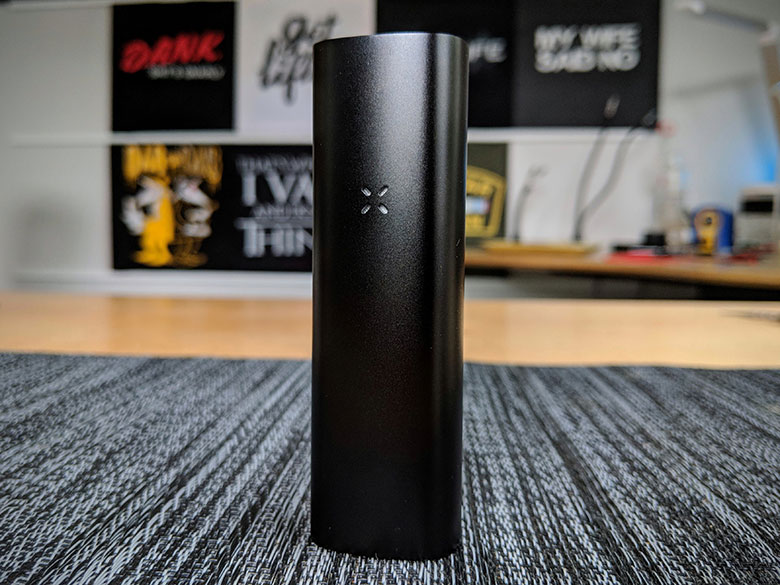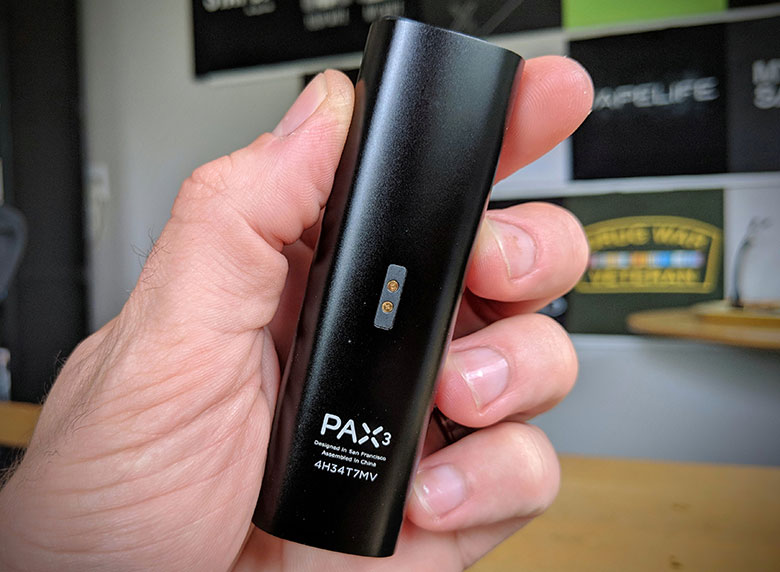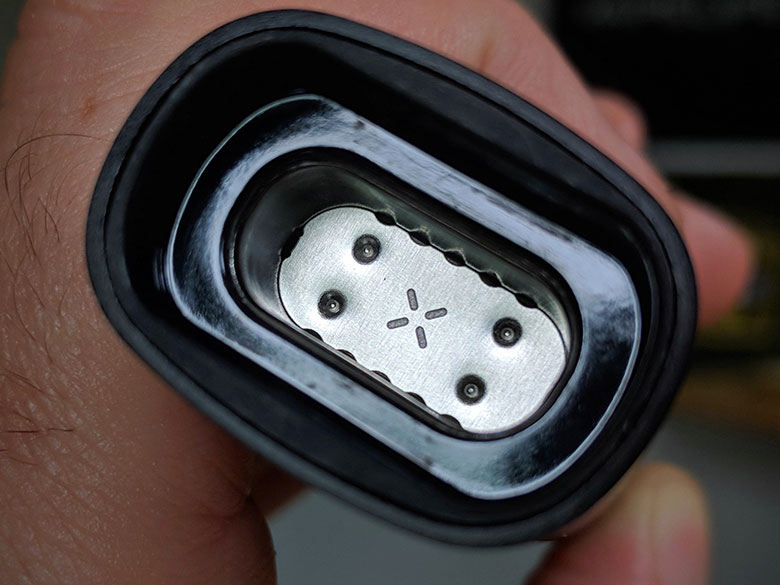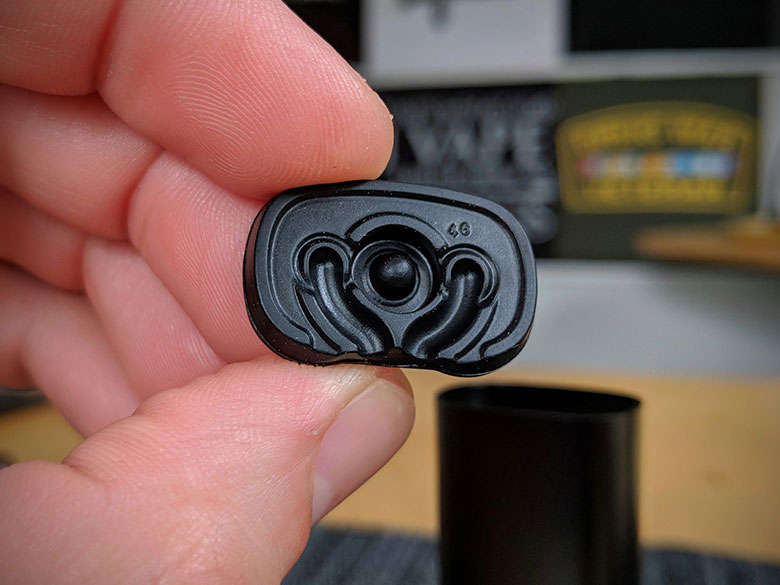 ---
PAX 3 Cleaning Tutorial:
---
PAX has consistently been on my Top Picks list of the best portable vaporizers since 2012 when the original model was first released.
---
Review video transcription:
It's the PAX 3 everybody! Nice and shiny, that's the PAX 2 on the left, and the new one is mostly the same but with some nice upgrades.
Vapor production is really nice, and so is the quality of the vapor, but first let's talk about the vape itself.
The new one is shiny right, but I'm not diggin the outside – it scratches, fingerprints all over it, why?? I really liked the outside of the PAX 2, but most of it looks the same now.
The black PAX 3 I have was a pre-production unit which is what I based my initial thoughts off of, but the rose gold unit I'm using for this review is a final production unit.
The first area I want to show you here is the oven or the bottom part, because the inside looks just the PAX 2 except for the screen at the bottom, they made a couple of extra edges and ridges to help with airflow but it's mostly the same.
The part that's different is the oven lids they include now because they give you a couple of them, in addition to the standard one they give you a half pack lid to fill the oven halfway so you can use half as much herb a usual.
And now with the PAX 3 they also include a concentrate insert. I initially wrote this off as a non-functioning gimmicky piece, but I tried it for this review and even though it kinda look silly and it sticks out when you put it in the oven I was actually surprised when it performed fairly well and I had a nice little wax session with this thing, but I do think that the can that you put your wax in, the silver thing, it definitely is a little weird.
The PAX has just one button on the top, you push it and it turns the vape on, and if you hold it down for a second you can see what heat setting its on.
Now the PAX 3 actually does heat up a lot faster than the PAX 2, 3 times as fast, in 15 or 20 secs instead of 45 secs. Initially I didn't think that the vape actually got up to temp that fast, but with this final production unit I changed my mind it actually does and it works really well.
It has four preset heat settings which are easy to change, you can do it on the vape or you can do it in the app it has now which I'll show you later.
The top part, the mouthpiece part, you just sorta pull it out it's that little silicone piece. They give you two but the flat one is actually the one I like and recommend, because this other one that sticks up a little bit, which most people would think actually looks more normal, it looks like the one you would wanna use, it doesn't quite work as well, I don't really like it as much. And I think that you're gonna like the flat one better too
Aside from it being highly scratchable I do kinda like how it looks. The charging dock is magnetic, it sorta just attaches to the bottom of the vape with those two contacts, you plug it into the usb cable.
The PAX2 had the brushed aluminum finish and now the PAX3 has the polished finish. I'm thinkin maybe somebody needs to make cases for these like they do for cellphones, cus it seems way too delicate, it's way too easy to scratch you can even see it in my photos and I haven't had this vape for THAT long.
I def would have liked to have seen an improved with the oven in the PAX3, like some kinda of different situation in there with that screen cus it's not really ideal. But I was happy to see the inclusion of the different oven lids now cus that's cool
I'm going to load half packing right now, here's the half pack oven lid, and I'm putting in about .2g, and then I'm using my PAX loading tool to firmly pack it down, with the PAX you need to pack it down tight to get good results with it and you need to grind fine too.
Something you don't have to do with the PAX 3 is take a long draw, you'll get nice clouds of vapor, nice satisfying draws by only pulling for a few seconds.
This is not extremely common, this is doable because it's a conduction vaporizer.
The vape is pretty smart actually, it knows when and when not to heat the oven, to give you the best vapor quality and efficiency. Vapor quality overall is very good. It's very smooth, it's comfortable, it tastes good.
For a conduction vaporizer they really nailed the performance down. If anything id love the draw resistance to be eased up a little bit, but it's just like that because of the design.
Otherwise, very nice performance, I'm impressed with it, and I do think it's a slight improvement over the PAX 2.
Since the PAX is so popular companies makes accessories and stuff for them. NewVape has a bunch of them, one of the things being this water pipe adapter, which easily lets you use your PAX in any 14mm or 188mm water piece.
Some people like to vape though water to cool and condition the vapor even a little more. They make the loading tool I showed you before, this thing is a must have.
They also make a cleaning rod, which ill you in a different video, I'll make a separate cleaning video because it's a little involved.
They also have these aftermarket, upgraded oven lids. These things can help you boost the airflow and performance, and remember how I said grinding fine is upper important with this vape? They also make the highest quality fine grinder I've tried to date.
And now they got an app with the PAX 3 too. And it's kinda cool they give you a few cool options. You can change your temperatures, they give a few different modes even. These basically let you have more control over your session or what happens when you have it on. I like the interface but the colors are a little weird, it's easy to use though.
Stay up!
-Bud