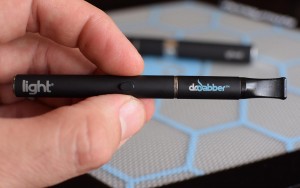 This is the Dr Dabber Light vape pen and it's not too much bigger than a cigarette. It's basically one of, if not the most discreet vape pens I've reviewed so far. It's very easy to store, carry, travel with, and use on the go. Now what's very interesting about the Light is that the coil inside of it is pretty much like a mini version of the Ghost coil, which I really like. The performance and the vapor quality is very similar, it's basically on the same level. Obviously the capacity is not as high with the Light, you can't fit as much concentrate in there. This pen is made strictly for use with wax and oil concentrates by the way.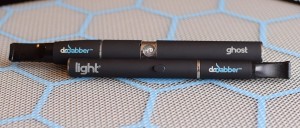 The atomizer in the Dr Dabber pens is a titanium coil wrapped around glass wick fiber, and I think it performs really well with it. It's a really nice balance of vapor taste and strength, and it provides really consistent draws. The overall experience that you get from a pen with a coil like this one is really cool. I just find this to be a very versatile, easy to use pen in a variety of situations and circumstances.
It actually comes apart into a few different pieces like most pens. You have the mouthpiece tip you can just pull out, it's held in by a little o-ring. Then the second piece also comes off, this is sort of like a sleeve or cover to the atomizer. Then you have the actual atomizer with the coil and this part will also unscrew from the bottom part which is the battery.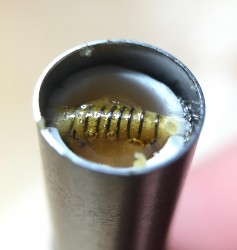 So these are really the three main parts: mouthpiece, atomizer, battery. The battery is where the power button is, and you hold the button down while you take a draw. Any time you press the button the tip is gonna light up blue. Now the button is one of the only areas that I thought maybe there's a little bit of room for improvement. I think it sticks out a little too far, like a couple of millimeters. I think if it was a little more flush it would be cooler.
The capacity of the Light atomizer is less, it's probably about half of what the Ghost coil is, I'd say somewhere around .1g of concentrate. Loading it or packing it is pretty much the same though, you're basically just gonna put a little bit of your concentrate right on top of the coil. Then what you can do is give the power button a few quick hits just to let it melt down into the wick. The Dr Dabber pens specifically are pretty versatile, they work well with both tiny amounts and larger amounts of oil.
You could put enough on the coil for just one or two draws, or you could pretty much fill it to the top and the vape is still gonna work well. You can take short draws, short little pulls, and you'll get a nice little puff of vapor, or you can take a big rip from it and get a huge cloud of vapor if you want, so it's also versatile like that.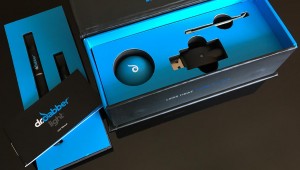 Another thing I like about Dr Dabber pens is the air flow through the mouthpieces when you're drawing from them. A lot of different pens now will have either extra air flow or adjustable air flow, but I kinda think that Dr Dabber nailed with the default thing they got going on here. There's no adjustability, but it's very comfortable, it's easy to pull from. It feels natural. It doesn't feel like you're pulling too hard, and it doesn't feel like it's too free flowing, it's a very natural draw.
Stay up!
-Bud