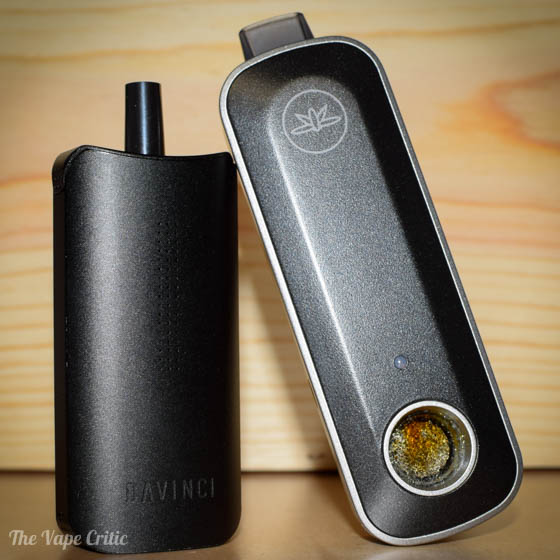 As far as portable vaporizers go the DaVinci IQ and the Firefly 2 are pretty much on opposite ends of the spectrum when it comes to how they work and perform.
The IQ is a pure conduction vape, which means it utilizes radiant heat from the hot walls of the oven to vaporizer your herb, and the FF2 is a pure convection vape which means it vaporizes your herb or concentrate solely with super-heated air.
How they're used is going to differ quite a bit, as is the ideal situations to use them in.
I would say that the IQ is an excellent choice for supreme portability, it's one of the best performing vapes that can fit in your pocket. This is a "session" vape though, meaning you fill it up, turn it on, and then take 10-20 draws before it's spent and you turn it off.
With the FF2 it's an "on-demand" convection vaping experience, so there's a little more manual labor and technique involved with this one. However once it is mastered (which doesn't take long) there is no other vaporizer quite like it in terms of vapor taste and smoothness.
Check out my comparison table below listing the main areas of importance and how they stack up to each other:
Portable Vaporizer Comparison
DaVinci IQ
Firefly 2
Price
$275
$330
Heating Style
Conduction
(radiant heat)
Convection
(hot air)
Oven Material
Ceramic
Glass Walls, Steel Screen
Oven Capacity
~0.3g
~0.15g
Vapor Path
Ceramic Zirconia (w/ silicone gasket)
Borosilicate Glass & Stainless Steel
(w/ polypropylene mouthpiece)
Removeable Battery
YES
(18650)
YES
(Firefly-specific)
Sessions per charge
~5-7
~5
Draws per session
~10-20
~5-7
Charge time
~3.5 hours
~45 mins
Bluetooth / APP
Yes
Yes
True Heat-up Time
60 seconds
5 seconds
Easy to Load?
Yes
(pack tight)
Yes
(pack loose)
Stirring Required?
No
YES
Draw Resistance
Below-average
Above-average+
Vapor Production
Above-average
Above-average
Vapor Smoothness
Very good
Amazing
Flavor / Taste
Above-average
Superb
Odor Level
Average
Below-average
Works with Concentrates?
NO
Yes w/ concentrate pad
Precise Temp Adjust
YES w/ buttons
Only with APP
Country of manufacture
China
China
Dimensions (my measurements)
3.5″L x 1.7″W x 0.9″H
5.1″L x 1.6″W x 1.0″H
Warranty
10 Years
2 Years
VapeRating
Tier 1 Top Pick
Tier 1 Top Pick
Price
$275
$330
DaVinci IQ
Firefly 2
Questions/comments?
Let me know below!
Stay up!
-Bud