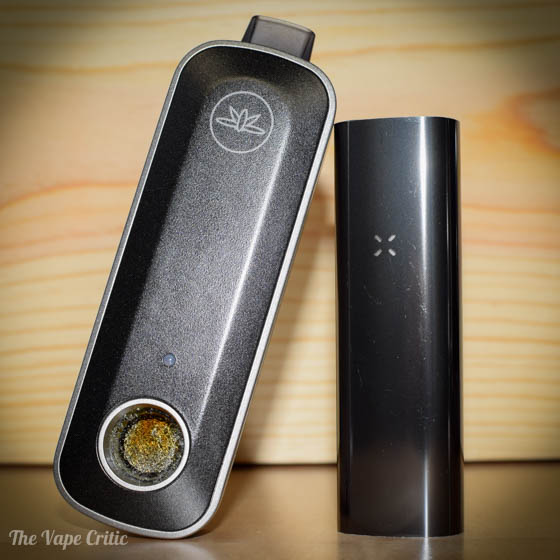 The PAX 3 and the Firefly 2 are verrry different vaporizers.
Both of them are portable, and they're both very good, but the way they heat and the way you use them varies a lot.
The Firefly vaporizes your material with super-heated air (convection), and the PAX heats your product with radiant from the hot oven walls (conduction).
They both have their advanatges and disadvantages and honestly everybody should make room in their collection for one of these (or both).
Check out the table below for the main differentiators:
Portable Vaporizer Comparison
PAX 3
Firefly 2
Price
$275
$330
Heating Style
Conduction
(radiant heat)
Convection
(hot air)
Oven Material
Stainless Steel
Glass Walls, Steel Screen
Oven Capacity
~0.3g
~0.15g
Vapor Path
Stainless Steel (w/ silicone mouthpiece)
Borosilicate Glass & Stainless Steel (w/ polypropylene mouthpiece)
Removeable Battery
No
YES
(Firefly-specific)
Draw Duration Required For Maximum Vapor
~5-10 seconds
~15-20 seconds
Charge time
~2-3 hours
~45 mins
Bluetooth / APP
Yes
Yes
True Heat-up Time
30 seconds
5 seconds
Easy to Load?
Yes
(pack tight)
Yes
(pack loose)
Stirring Required?
No
YES
Draw Resistance
Average+
Above-average+
Vapor Production
Above-average
Above-average
Vapor Smoothness
Very good
Amazing
Flavor / Taste
Above-average
Superb
Odor Level
Above-average
Below-average
Works with Concentrates?
Yes w/ oven accessory
Yes w/ concentrate pad
Precise Temp Adjust
Only with APP
Only with APP
Country of manufacture
China
China
Dimensions (my measurements)
3.9″L x 1.2″W x 0.8″H
5.1″L x 1.6″W x 1.0″H
Warranty
10 Years
2 Years
VapeRating
Tier 1 Top Pick
Tier 1 Top Pick
Price
$275
$330
PAX 3
Firefly 2
If you own either one of these or if you have any questions about how they compare please share your thoughts below!
Stay up!
-Bud
---
In the video below I compare the Firely 2 with the PAX 2 (their previous model) but believe it or not most of what I say is still applicable for this newer comparison: