These are my current top picks for best vaporizer pen for wax and oil concentrates in 2023 (THC & CBD wax, budder, sauce, live rosin, etc). Looking to vaporize dry herb? Check out my list of top picks for best portable vaporizer.
#1 TOP PICK:
---
---
BEST BATTERY FOR THC & CBD CARTRIDGES:
---
Check back soon for updates because I update this page regularly!
Stay up!
-Bud
---
Previous top picks:
Linx Hypnos Zero
*For light use, looks great, feels great, excellent performance
The Hypnos Zero from Linx Vapor is one of the smallest vape pens I've reviewed which makes it super stealthy and discreet, and it also happens to have one of the coolest atomizers I've tried. Build quality, vapor production, taste and smoothness are all top shelf, and it also features industry leading battery life.
It works best when you load small amounts of wax at a time, but it's super efficient so you'll be surprised how many draws you get. I would consider this to be one of the best vape pens for light to medium use.
The ceramic plate atomizer is smaller than average but it's super efficient with your concentrate, so a little bit goes a long way. Out of the four heat levels the pen has three of them are pretty low, and they barely make any vapor, but the highest setting gives you those clouds and the flavor is amazing at any temperature.
I really like the look and feel of the outer shell too, it's stainless steel and even though it's small it feels nice & solid in your hand.
—
PCKT One Plus
*Small, sleek & powerful battery for 510 cartridges
The PCKT One Plus is one of the best vape pen cartridge battery I've tried, and I've used a lot of them.
It's amazingly small but you don't sacrifice battery life for that at all, it has a very long-lasting 660mAh battery inside that barely drains when not in use.
It comes with 2 different size adapters to accommodate the various size vape cartridges on the market. You simply screw the adapter to your cartridge and then slip it inside the unit, the cartridge will be magnetically held it place until you pull it out again.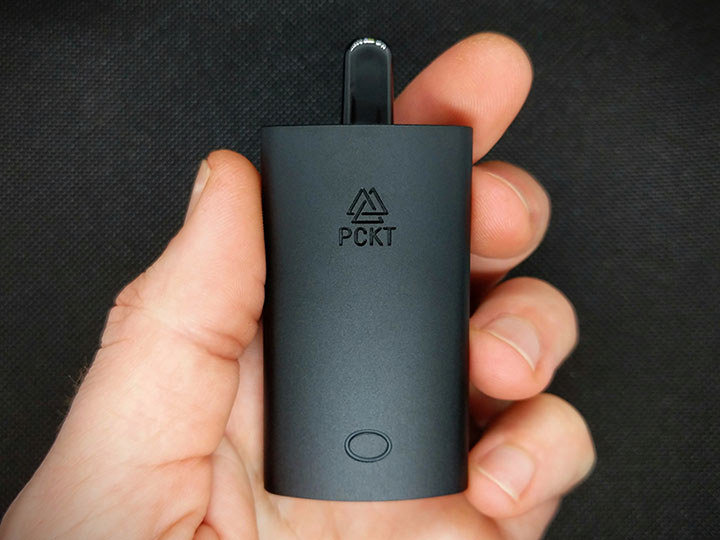 As the name implies you really can fit this in your pocket easily, even the small pocket of your jeans. Even though it's tiny it feels real solid and the build quality is excellent, I was surprised by the price of this one, it's definitely a great buy.
The new Plus model has a slightly wider opening than the original version and it now fits all cartridges up to 11.5mm, which is pretty much all of them!
—
KandyPens PRISM
*For light use, very compact, looks & feels great, cool features
This is the new Prism vape pen for wax & oil and I'm impressed with the size, build quality and performance.
It has an elegant stainless steel body with a black electro-plated finish that feels smooth and looks great. This type of finish does not show smudges or fingerprints.
The overall design is small, compact and stealthy. There's no lights on the outside besides the subtle ring around the power button, and I can cover the entire pen if I close my hand around it.
Performance-wise it comes with two different atomizers – one has a ceramic-lined chamber with a ceramic plate heating element embedded into the bottom, and the other atomizer is ceramic-lined also but there's dual-quartz rod coils inside of it instead.
Both coils provide a unique experience and they're both enjoyable. Using the ceramic plate atomizer is considered the "coil-less" way to vape because your concentrate doesn't make any contact with metal coils.
The vapor quality is great and you can get good vapor production from both atomizers. The coils are also leak-proof so they can be used with thinner oils in addition to wax. This pen is perfect for light users who vape a handful of draws at a time.
It has two charging ports on the bottom: a micro-USB port and a Lightning port (yes the one for your iPhone, pretty convenient), and it supports pass-through charging so you can vape from it while you charge it up.
—-
SOURCE orb 4
*Great build, cool atomizers, good for light or heavy use
The new SOURCE orb 4 vaporizer combines top-shelf performance with an elegant feel and solid build quality. This one has a magnetic connection now for the two mouthpiece parts, inside of which is the atomizer. This makes it more convenient to open and close during use and it's also pretty cool how it feels.
The orb itself is made of stainless steel and the atomizers are made of Grade 1 & 2 Titanium, as well as food-grade ceramics.
Vapor quality and taste is excellent with all of the coils, and they make a variety of types including dual quartz & ceramic rods and a titanium nail.
Their $50 orb 4 attachment kit is a very good deal and they give you 4 unique atomizers with it, all of which are awesome. Then they have a Premium kit for $100 that includes a battery and 6 coils, and also a Signature kit for $200 with an even bigger battery and 8 coils total.
Then, if you want the strongest vape pen experience there is, you get the new orb XL 2 with its monster atomizers.
This is one of, if not the most powerful vape pen I've reviewed, and it's also made of very high quality materials which is why I really like it.
SOURCE makes the full range of pens for all users which is pretty cool and unique, they make vapes for light users that are awesome and they also make the hardest hitting vapes that'll melt your face off.
There's also the orb 4 slim, which isn't exactly a skinny pen but it has a standard straight shape instead of their trademark orb. This is actually a pretty heavy duty pen that feels extremely solid in your hand, and it can deliver nice light vapor or big heavy rips.
This company sticks to using legit materials in their vapes and these are really the guys to look at if you want the strongest vape pen experience.
—-
AirVape OM
*Cool keychain vape pen, very nicely made, works with oil cartridges and wax
The AirVape OM is a new keychain vape pen that's designed for use with both wax and oil cartridges. It's not a cheap pen by any means, that's stainless steel that you're lookin at and a glass mouthpiece tip.
That glass tip connects magnetically to the wax atomizer, the one with the dual quartz coils. The coil's slightly below average in size, but for a handful of nice draws on-the-go this thing delivers.
It's main advantage, aside from looking and feeling great, is that it can also be used with pre-filled oil cartridges sold in stores, and it comes with custom stainless sleeves that perfectly fit the two standard-sized cartridges sold on the market. This gives it a nice stealth effect because you don't see the cartridges through the steel (obviously), so it could be an e-cig for all anybody knows.