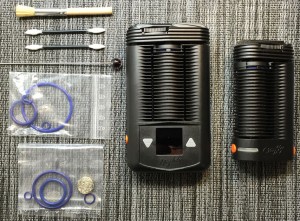 Cleaning the Crafty & Mighty vaporizers is something you should do roughly every dozen sessions or so, and this will help keep the unit gunk-free and the vapor tasting fresh.
EDIT: This is the "extended" manual way to clean your cooling unit. Even though I say in my video that I don't recommend soaking the parts in isopropyl alcohol, it's really the fastest and easiest way to clean it. I recommend doing this right after a session when the vape is still warm. Just take apart the cooling unit as I show in my video and then soak the parts in iso for no more than 30 minutes. It's still a good idea to have some of the precision-tip cotton swabs I show, the soaking won't remove 100% of the residue so you'll have to just manually touch it up at the end to get it perfect.
What you'll need: Paper towels (one dry, one dampened with water), Precision cotton swabs (or regular ones), and a toothpick or stir tool (something rigid with a pointy tip). Everything else you need is included with the vapes (screens, o-rings, etc).
The part that mainly needs to be cleaned is the top part or the cooling unit, the bottom screen in the chamber should last a while before needing to be replaced.
If you simply brush out the chamber after each use, while the vape is still warm, it'll stay looking like new longer and will require less frequent cleanings.
The cooling units actually come apart into a few different pieces, and these can be cleaned using some rubbing alcohol and precision cotton swabs. If you don't want to use alcohol you can also use warm soapy water (using dish soap).
In my video tutorial above I show all the different steps including how to replace both the top and bottom screens. The whole process is a little easier if the vape is warm, so try heating yours up for a minute or so before going through the steps.
Believe it or not the entire cooling unit pieces are pretty inexpensive to replace, so if you end up needing any new parts it's not a big setback.
Stay up!
-Bud