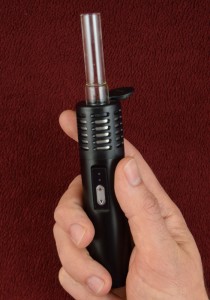 This is the Arizer Air, which is the newer, smaller version of the popular Solo vaporizer.
Both of these are powered by internal rechargeable batteries, but the battery in the Air is removable and replaceable. You can get roughly 1 hour of usage from a full charge, or about five 12-minute sessions.
Arizer does use proprietary chargers with this vape but fortunately the unit does have pass-through charging, which means you can turn it on and use it while it's plugged in. It also has an automatic shut-off feature which turns the heater off after 10 minutes of use, just in case you zone out.
It feels well-made and like a real solid device, I wouldn't say any part of it feels cheesy at all. It has a ceramic heating element which can help keep the flavor of the vapor pure, and the glass stems it comes with help in this area also.
They include two different glass mouthpieces (stems), one is just like a Solo stem but shorter, and the other one has a plastic tip on the end that's removable.
This is an easy to use vape, there's really not much to it. It's got the one button on the front that you hold for a couple of seconds to turn it on, and then you choose from 5 temperature settings.
Push the up and down arrows to cycle through the different settings, my personal favorites are the white and green levels – 374°F (190°C) & 392°F (200°C) – they seem to provide the best vaping experience overall.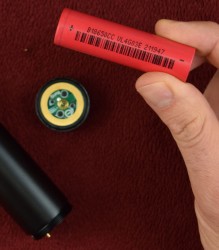 So when you pack the stem you want to grind your herbs up nice and fine, pack the tip of the glass full and tamp it down a little bit so it's not loose.
To attach the stem hold it upright and turn the main unit upside-down, then insert the stem into the chamber and press it into place. If it's very tight and it doesn't seem to fit try letting the vape warm up for a little while before putting the stem in, you can usually wiggle it into place more easily that way.
Once the stem is in place just turn the unit on and wait 90-120 seconds for it to reach operating temperature. The blinking LED light will turn solid which indicates it's ready and you can start taking draws.
Draw resistance isn't terrible with the Air, but it does still kinda feel like sipping a thick milkshake through a straw. If it's too hard to pull for you try lifting the glass stem up 1-2mm from the bottom of the chamber, this should help make the draw slightly easier.
The first few draws will be just a light visible vapor with a lot of flavor, and then after a few pulls vapor production ramps up. You should draw from it for at least 5-10 seconds to get the maximum amount of vapor, and it can produce quite a bit of it.
I do think it's a good performing vape and the vapor quality is definitely above average. Taste and efficiency are some of its strong points, and it's also fairly potent too.
However, I do have one issue with the vapor, and that is its smoothness. I find it to be a little scratchy feeling sometimes, not quite as cool and smooth as some of the other good portables I like, but still totally acceptable.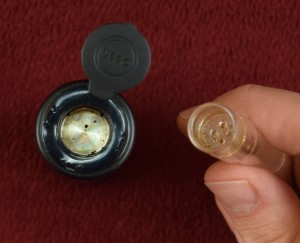 The Air is nice and efficient which I like, each stem can hold approximately 0.25g of ground up dry herbs and you should be able to get at least 10-15 nice draws from that.
This vape is new so I can't really comment on its reliability, but its sibling the Solo has proven to be very reliable over the years so I would guess this one will be also. **Update June 2016: The original unit shown in my review still works like new – it has proven over time to be a very well-made and reliable vape.

As far as maintenance and cleanliness, there's really not too much you're gonna have to do. Like usual, brush out the chamber and stem after each session to keep them as clean as possible.
The stem is a part that does need to be cleaned regularly if you want the vape to stay looking like new. After just a few sessions you'll start to get some residue buildup as well as tiny herb particles on the inside wall of the glass.
To keep it clean just soak the stems in some isopropyl alcohol for a while and then rinse them off before vaping again. Besides looking better keeping the stems clean will also keep the flavor of your herbs as pure as possible.
It's not a very luxurious vape, it pretty much just gets straight to the point.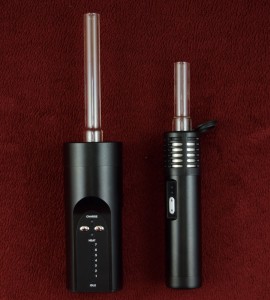 Final Thoughts
I'm nit picky about its portability but the performance of the Air is great, and if you want an easy to use vape that's potent and tastes good it's hard to go wrong with this one.
Stay up!
-Bud