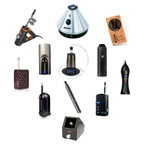 This is basically one big review of the first 12 vaporizers I acquired, a "roundup" if you will. Feel free to leave a comment below if you have any questions or need advice, I'll do my best to help!
Stay up!
-Bud
My First 12 Vaporizers. A Look Back
What's happening, guys? This video is going to be basically a round-up or review, of the dozen vapes that I've reviewed so far since I've started doing this. So there's a mixture of portable vapes and home units here. This isn't every vaporizer that's out. There are a few that I haven't reviewed yet, but these are the ones that I have. So what I'll do is I'm going to give you a brief overview of each one. You know, talk about some of the pros and cons, and then if there's any that interest you or you want more details about, I do have an individual review video for each one of these. And if you do have a question that I don't answer in any of my videos, feel free to let me know and I will definitely do my best to help you out. All right? So let's jump right in.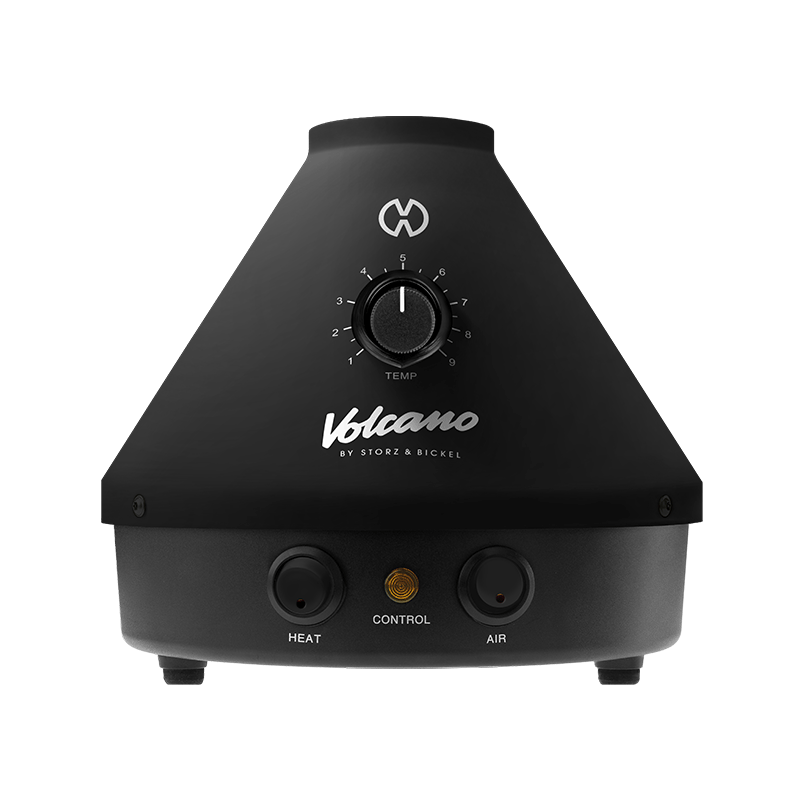 The first vape I'll talk about is the Volcano. This is the vape that I currently rate the highest. This is a home unit, and I've personally owned this one now for three years and four months. Out of the 12 vapes that I'm going to talk about right now, this is what I consider the mack-daddy. So the Volcano is a balloon vape. What that means is when you're using it, your herbs go in this chamber here. This chamber goes on top of the unit. Then you fill the balloons with vapor. Now there are a lot of opinions out there, on what type of vape is the best, you know, if a balloon vape is better than a whip-style vape. Me, personally, I like the balloon a lot. All right? Now everything about this vape is top-shelf, in my opinion. Usually, the only complaint people have about this thing is that it's really expensive, and it is. But I do think that it's totally worth it.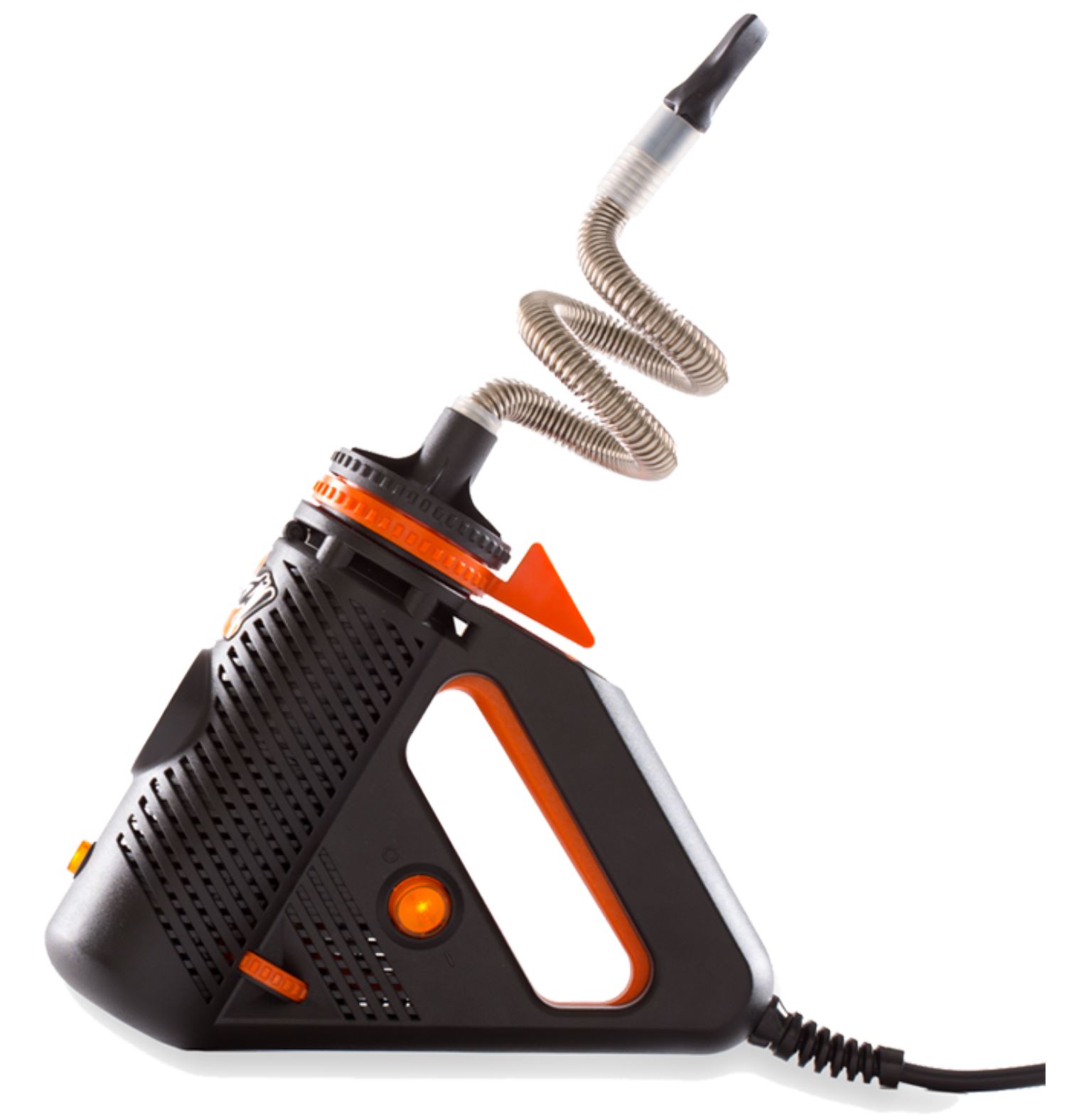 So the next vape I'm going to talk about is called The Plenty. This is made by the same company that makes the Volcano. The company is called Storz & Bickel. They're both made in Germany. Out of the vapes that I've had and reviewed, these two are the highest quality, and I use these the most. Again, that is just my opinion. I'm not paid by them to say they're the best or anything like that. I just truly think that these guys, right now, are making the best vaporizers you can buy. The plenty does look a little weird. It doesn't really look like a traditional vape. It doesn't look like the Volcano at all. It doesn't work the same way. It's a whip-style vape. There's no balloons or anything with this one. The one benefit that this vape has that blows every other vape away pretty much is the strength and the quality of the vapor that comes out of this thing. I haven't really heard too many complaints about this one.
I recommend it all the time to people. The few people who got back to me who did buy it after talking to me said that it was just as amazing as I said it was. One person actually said it was too strong for him. He actually had to turn the temperature down because it was a little too crazy for him, which is never a bad thing for a vape. So overall, this one's excellent. Not too many negatives.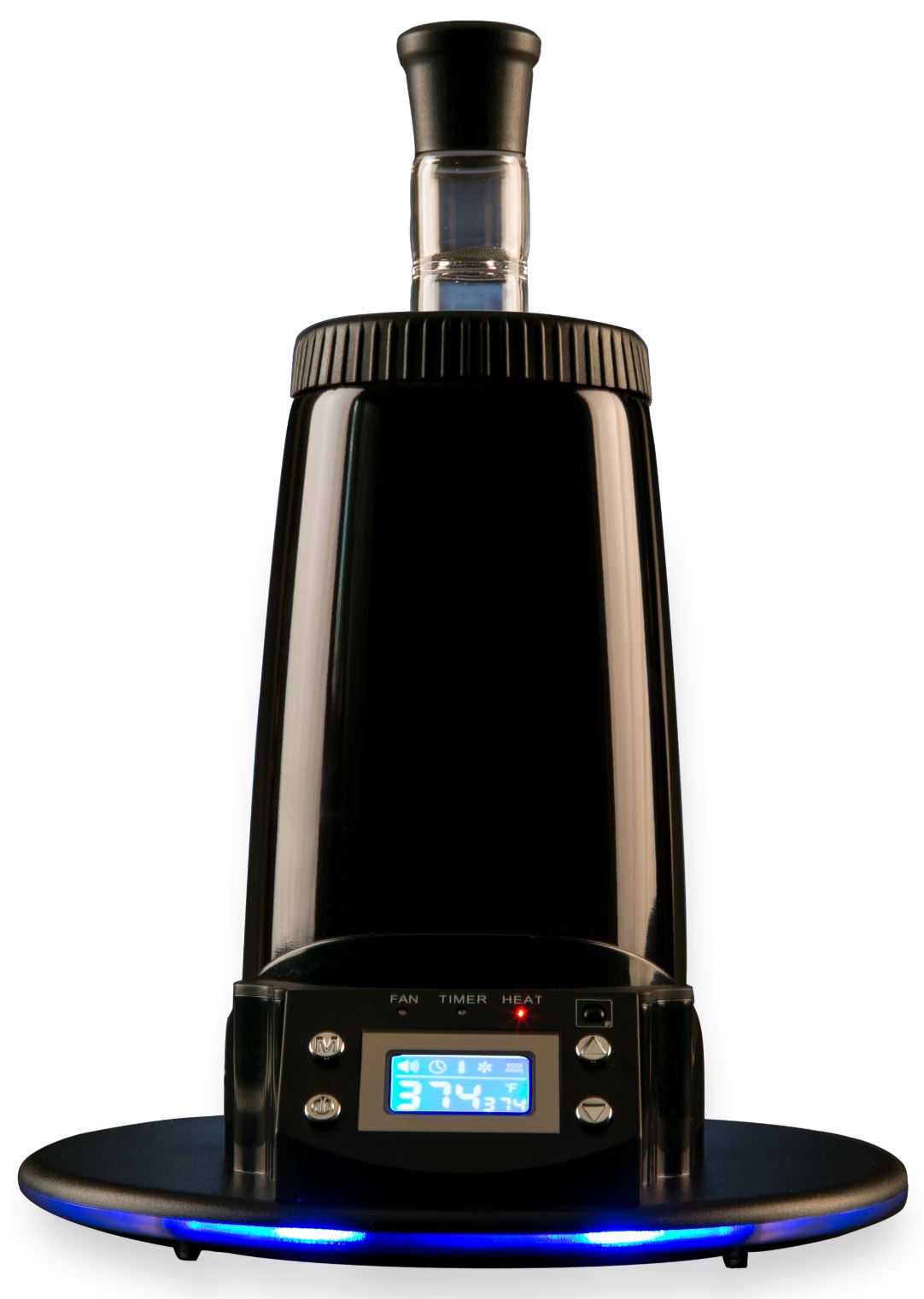 Now the next vape I'm going to talk about is the Extreme Q. Now this one's popular, and you're going to see a lot of people talking about this online. There's a lot of chatter about this one. There are a lot of varying opinions about this one. That's mainly because it's pretty damn cheap. But as with many things in life, you do get what you pay for. So let me briefly explain what I think about this thing. Now the main benefit that most people see with the Extreme-Q is that it can be used with a whip or a balloon. So it comes with this piece. This is the big long whip. You can put that piece on top there and take your draw out of the mouthpiece. Or it does come with another little elbow attachment that you could then attach a balloon to, and you can fill the balloon and take your draws from there instead. Now this is cool and everything, that it's so versatile. But there are a couple of things to keep in mind. The first thing is that while it can be used with a balloon, it's not exactly a great balloon system. The balloons are kind of cheesy and there are no valves on the mouthpiece or anything. It does build up residue in here. And the balloons kind of do take a long time to fill. Now for me, personally, there was a period of time when I was using the Extreme Q pretty regularly, and after just a few days, I pretty much gave up on using it with the balloon, because it was just too awkward and weird and it just, it didn't work out. In my opinion, it's not that great. So I ended up using it with the whip, which I personally think is a better way to use this vape. But it also has some downsides.
For me, the main downside that I just really didn't like that much is that it gets dirty really fast. It starts to look really ugly. I don't even know if you can see it right now, but there's a bunch of like, residue in this elbow piece here and it looks disgusting. Now don't get me wrong though, I'm not trying to say that everybody has to go out and purchase a Volcano for over $500 for their first vape. That's not what I'm saying. All I'm saying is that I want everybody to really understand what the differences are between a vape like the Extreme-Q and a vape like the Volcano. All right? Because what this is really like when you compare these two, it's like comparing a Honda to a Mercedes.
Overall this is a decent vape. All right, I like it. It does the job. It does produce, you know, potent vapor. That works. It's just not a luxurious vape. It feels kind of cheap. And what I personally think, is that if you buy this as your first vape, you're going to use it and you're going to like it for a year or so, and then you're going to realize that it's not as great as you thought it was, and you're going to end up plunking down money to buy something like this. So that's fine though. Personally, the Volcano wasn't my first vape. You know, my first vape was like $150. I used that for like, a year and a half. And then when I finally got tired of it, with all the different parts getting dirty and having to clean it all the time and it feeling cheesy, I bought this thing and never regretted it. Ever. So that's enough about those two.
Now the next vape I'll talk about is the Easy Vape. I know some people do like this one. So please don't be offended by what I'm going to say, but I hate this thing. I never got good vapor out of it. I found the vapor consistency is all over the place. I also didn't like the design of it, how the chamber is angled down. So I just found it to be messy. I would get my herbs all over the place. So overall I just didn't like it that much. It is very cheap which makes it appealing to a lot of people. And there are people who do like it and use it all the time, and that's cool. There's nothing wrong with having a vape that you like to use. But, you know, there's also nothing wrong with someone like me saying that it's not that great. So if you wanted my advice, I would say just avoid that one entirely.
Portable Vaporizers
So now let's get into the portables. So as you can see, I have eight portable vaporizers here. Before I get started telling you about those, there's just one thing I want to mention. And that is out of all the portable vaporizers I've tried, the only real benefit to them is that they're portable. In my personal opinion, you'll get better vapor production, your vapor will be stronger and overall more enjoyable with a home unit, like this one, this one, or even this one. But that's just what I think. So what that means is that when I'm home, I'm using one of these three. I'm not really using my portables that often. For me, personally, they are really strictly for when I'm not home. Because I don't really think that the vapor production yet, or the strength of the vapor is up to par with the home units. But please don't take that the wrong way, because I'm not saying portable vapes are bad. Most people like them. Tons of people have them. I do think a lot of people go for them as their first vape because they are much less expensive, but I would really recommend keeping an open mind and not just rushing for a portable as your first vape, because I don't want to see you disappointed. I really don't, and that's all I'm really trying to do by explaining all this stuff to you guys, is make it so that when you go out and purchase a vape, whether it be your first one or your second or third one. I really don't want you to be disappointed in it. I want you to know what to expect. I want you to know how it's going to perform compared to other ones so that you're not taking a gamble when you make a purchase.
My Favorite Three Portable Vapes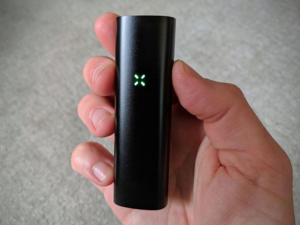 The first one is The Pax. Out of the eight portable vapes I've reviewed, I do rate this one the highest overall, and that's mainly because the design of it is really the most advanced. It is even on the smaller side, which is also a huge bonus. This vape will literally fit in your pocket and you can bring it around with you. I also like how simple it is to use and how quick it is. To turn it on and off, you literally just push the mouthpiece in and it pops out to turn it on, and then when you're done you just push the mouthpiece in and it turns off. The chamber on the bottom is very easy to access. It's a magnetic lid on the chamber. So everything about this vape, in my opinion, is super easy and that's why I really like it. But I don't only like it just for the simplicity. I also think that the vapor production is above average for a portable vaporizer. Which means that it does produce vapor that's stronger and tastier than most of the other ones. So overall, at the time that I'm making this video, this would be the one that I recommend as the best portable.
Now before I finish up with the Pax, I just want to mention the one thing that I don't like about it that much, is that there is some draw resistance. And what that means is that when you're taking your pull or you're taking your draw, you're going to feel a little resistance. It's not going to be, like, very free-flowing. Kind of going to feel like something's working against you. All right? There are other vapes that have that issue too. So it's not a huge deal, but it is something to keep in mind.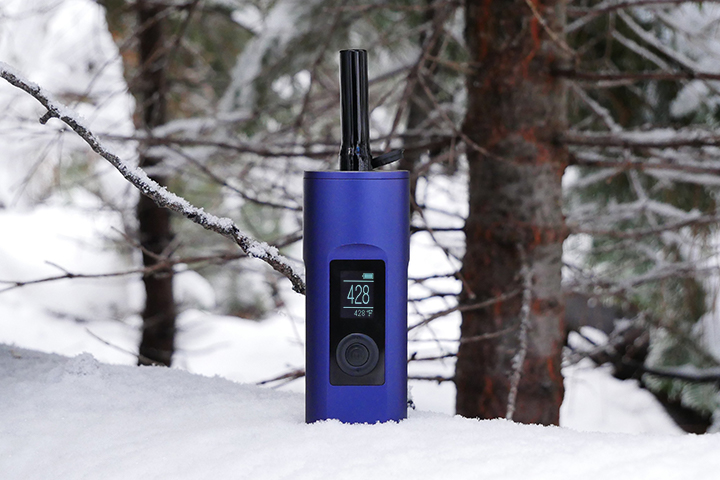 Now the next vape that I like a lot is The Solo vape. Now I'll start with the negative because it's pretty much the same negative as the Pax, and that is that this vape does have a lot of draw resistance, which means that it is kind of hard to pull. And I really don't like that a lot. It kind of bothers me, because that's not what I want to feel when I'm vaping. I don't want to feel like it's a job to vape. But despite that negative, it does have a lot of good things going for it and I do rate it pretty high because the main thing that I like about it is the vapor quality and the taste from this one, which is definitely above average. And out of the portable vapes, it's pretty much at the top. So the Solo is also pretty easy to use. Now the only other thing to keep in mind is that if you do want to bring this around with you, it is kind of difficult to do that. It's not really a vape that you could stick in your pocket, like the Pax, or anything like that. Because it is bigger and heavier. It's a little bulkier overall, and it does have a glass stem. So that makes it a little more fragile than some of the other ones. Because it's not really one, again, that you could just stick in your pocket. You do need to kind of have some kind of case or box to keep this in when you bring it around with you. Other than that, I do think this is a great portable vape and I do recommend it all the time.
Now the next vape that is in my top three for portable's is the Magic-Flight Launch Box. Now this one is really cool, in my opinion. And if you're someone who's looking for your first vape, you never vaped before, and you don't want to spend a lot of money at all, give this one a shot. Out of all the vapes that I've tried, this is the cheapest and this is the only vape under $150 that I actually recommend at all. Now what's cool about the Launch Box is that it is really small. So this is another vape that you could just stick in your pocket and carry around with you. And it's super fast. It's the quickest vape out of all the vapes. Because once you engage the battery, which is how this thing's powered, you will be vaping in as little as five seconds. And what's cool about that, is that you can take a draw, stop, come back a few minutes later, take another draw. So I really like this one and I do also recommend it all the time. Now the only real downside that I see with this one is that it is a little difficult to use. There's kind of a learning curve with it. It can be a little finicky at times. You do need to use herbs that are really finely ground up to get the best results with it. It does tend to build up residue a little faster than some other ones. It also tends to smell a little more than some other ones. But overall, for the price of this, it's excellent. And I still use this occasionally, even with all these available I do still use this sometimes. I like it.
All right, now the next vape I'll talk about is the NO2 vape. Now this one is the largest out of the portables that I have, but it's actually kind of good. It's, you know, somewhere in the middle, I'd say. It's not one of the top three that I recommend, but it's definitely not in the bottom three either. The things that I like about it are that it is fairly easy to use, there are only a few parts, it's fairly inexpensive, you know it's under $200, and the vapor production is pretty average. It's decent. There are lots of people that own this one, and like it a lot and use it all the time. Now the few things that I wasn't too thrilled about or that I don't like that much are that it does build up residue fairly quickly because it has a transparent stem and mouthpiece. It also has a fairly small chamber inside. So you really can't put a lot of herbs in here. It's really only enough for one person. The vapor from it tends to be a little on the hot side. So for me personally, what I found is that after a handful of draws, it starts to get a little uncomfortable. It's a little too hot. But like I said, it's not the worst. There are a couple of vapes that I'm going to talk about in a minute where the vapor is hotter, and I don't like it at all. But this one I'd say it pretty much average. This is like an average vape, somewhere in the middle, not bad, it's not great, but it's not a bad choice if you're looking for your first vape.
All right, so now we're going to get into the ones that I'm personally not too crazy about.
So first, let me talk about the AtmosRAW, which is this thing. When I first bought this, I was excited because I thought that it looked really cool. It's small. What's not appealing about a little pen-style vape, that's small that could fit in your pocket? You know, a lot of people ask me about this one all the time. They want to buy it. They think it's great. But it's not great. And it's not even a real vaporizer. So my final verdict with this, after wasting a whole bunch of time trying different fixes and all that crap, is that this is not a good vaporizer. It's not really a vaporizer at all. Some people claim that they do get some vapor out of it, but I personally think that it's such a small amount of vapor that this produces, that it's not even worth mentioning. So I think you should avoid this if you're looking to vape. But I do actually kind of like it as an electronic pipe. And other people have told me that it does work well for them with concentrates inside. So that's cool. And it does have a use. I'm not saying this thing is totally pointless to get. But if you are going to get it, just keep in mind that you're not going to be vaporizing. Realistically, if that's the case, it should be called the Atmos RAW pipe, not the AtmosRAW vaporizer. So anyway, I'm done talking about this one. You know the story about this one now.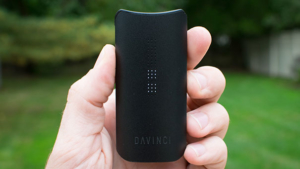 So the next one I'll talk about is this one, which is the DaVinci vaporizer. Now the Davinci is kind of interesting because it's on the higher end of the price scale for portable vapes. So when I first got it, I was really expecting a lot from it. It is discreet. You could probably fit this one in your pocket. It's a little bulky for that, but you could fit it into your pocket if you wanted to. They do have a flexible straw that unscrews, so they thought of that.
They also thought of a couple of other things that I never saw before, like they have a storage chamber inside here for extra herbs for later. That's kind of cool because none of the other vapes I have have a storage chamber for extra herbs. It also comes with a little brush in here. But overall, I really wasn't impressed with the performance of this thing. Like, the vapor, I really didn't think it was that strong. It's the hottest out of all the portables I've tried. So that's the deal with this one. So overall, you know, some people like this. There are a couple of people out there who really like this. I think it has a couple of things going for it.
Now that brings me to the last two, which are the iolite and the WISPR vaporizer.
Now these are unique because they are powered by butane. All of the other portables that I've talked about so far are powered by rechargeable batteries, either internal or external batteries that you recharge. But these, you actually have to get a can of butane and refill them when they die, with the butane. So that right there makes them very different than all the other ones. Now I've personally found that there are pros and cons to this.
You will notice that I really don't rate these that high. I don't recommend them that often. That's mainly because I really don't like the vapor that comes out of them. I find it to be a little hot. It's not really that comfortable, it's not that strong, it's not that potent. In that category, I'm really not thrilled with it, you know, in the vapor production category. But what I think is cool about these, and what I think their main benefits are, is that they are powered by butane. So if you're going on a long trip or you go camping or anything like that, where you're not going to be by an electrical outlet, you know, these might be a good choice then. Because you can literally just take a can of butane with you and, you know, use these for weeks, months, with that one can of butane. So that's definitely appealing to some people. But listen, if you're not in that situation where you're not taking trips or you're not camping or you're, you know, you do have access to an outlet on a regular basis, I personally think that for the price, there are better vapes to get.
Now one last thing that I did hear about these from a few different people, which also concerned me, sort of the way the Davinci did, is that people have been emailing me, telling me that their Wispr or their iolite, you know, it stops working after a couple months or a year. It just dies. The company that makes these is based in Ireland. So I've heard that they're pretty good at replacing them and getting replacements out to people under warranty, but it might take a little while because it is international shipping and stuff like that, and nobody really wants to have to deal with the hassle of getting their unit replaced. So overall, I think they're okay. I don't think they're in the top three. I don't recommend them that often. But the time that I do recommend them is when you're not going to have access to electricity. But if that's not an issue for you, make sure you take a look at the other ones before making a purchase.
To Sum it Up
So that wraps up my round-up of these twelve. Now let me just reiterate again, that anything negative that I said about any of these is really just so that you can make an informed decision when you buy something. I don't have anything against any of these companies. I think they all tried. Each vape has its own unique thing about it that makes it cool. So what I do when I come up with my overall rating for each one is I, you know, I try to consider everything. I consider how it works, how easy it is to use, how well it's built, the vapor quality, how much cleaning is required or how much maintenance is required, and the price of it. So when I come up with my overall rating, I'm thinking about all those things. But as I said, it's not always about the overall rating. Sometimes you might need a vape for a specific purpose, which would make one better for you than another one.
So lastly, out of the twelve vapes that I have right now, and the ones that I've reviewed, these are the five that I like the most, and that I recommend the most. So that's going to wrap up this video. I hope it was at least a little helpful, in helping you distinguish between all the different units. If you do have any questions that I didn't answer, definitely feel free to let me know. Either leave a comment or contact me or whatever. All right? If you go to my homepage on my website, VapeCritic.com, you'll see the overall rating that I gave to each vape. I list them in rating order. So you can check that out there. Thanks for watching and stay up!
Recommended Reputable Retailers