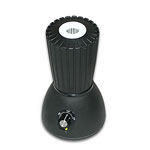 The herbalAire is an interesting vape, it works a little differently than most others.
The manufacturer considers this a "tri-function" vaporizer, saying it can used with a whip, a balloon, or you can direct draw. I wouldn't personally ever draw directly from this unit without the whip attached, so I consider this a dual-mode vape like the Extreme-Q.
What's different about this one is that you are NOT supposed to grind your material before packing the herb chamber. They basically want you to just pack your material down inside the "crucible" and almost create a solid block for the heat to pass through, they call it "espresso mode".
I find myself using a little more material than average with this unit but I think it performs well in whip-mode and the vapor is strong with a fresh, clean taste.
The balloon system I'm not really thrilled with, I think having the fan or blower separate from the main housing is a little bit of an inconvenience. Also, since the "fan" for this vape is really just an aquarium pump, it makes it feel a little cheesy.
One issue I mention in the video is that particles get through the mouthpiece screen and travel up into the bag when using the vape in balloon-mode. This is how it works out of the box, but I'm actually wrong when I say the mouthpiece screen is built-in and you can't change it, because you actually can remove that screen and replace it with a finer one if you were so inclined.
Stay up!
-Bud
Video transcription:
Hey. What's going on? In this video, I'm going to review the herbalAire vaporizer. The model that I have here is the 2.2 model. This vape is one of those dual-mode or dual-purpose units. You could use it either with a balloon or just with the whip. First, let me just turn this thing on and get it going. It has a dial on the front, which is the temperature knob and the on/off switch. You just click it on.I have found that this vape does run a little on the hot side, so you'll get pretty good results with a lower temperature than normal, or than you would with a lot of other vapes. I would say that just about 350 is probably a good point to start at. Then, if you feel like you want to bump up the temperature from there, you absolutely can. So, I set it to 350.
This newer version, I'm pretty sure, is the first version to have these LED lights on the bottom. They'll change colors when the vape is doing different things. When you first turn it on, it's blue. That means it's heating up. When it reaches the set temperature, the light will turn green. That's basically it, to get it going. It only takes a few minutes to warm up. It's not one of those vapes that takes a very long time.
The way this one works is actually very different from all the other vaporizers I've reviewed. What I mean by that is they actually tell you in the manual not to grind your material that you're putting in, not to grind your herbs at all. This is definitely unique, because no other vape tells you to do that. If that's really a good thing is debatable, I guess. I don't really know if it's the most efficient way to go about vaporizing.
One of the cool things about grinding up your material before vaping is that you have a really good idea of how much you're putting in. Sometimes, when your herbs are all clumped up, or it's in dense form, you can't really tell how much it actually is or how much it weighs or anything like that. For them to tell you that you should just be putting in clumps of your material, not grinding it up, makes it a little difficult to gauge how much you're actually using.
This piece that I'm holding here is the crucible piece, they call it. This is the part that you would pack your material in, then drop it inside of the top of the unit. If you look inside the top of the unit, you'll notice that at the bottom of the chamber there's a bunch of little holes or jets. These are the heat jets, where the heat comes up from the unit.
It's going to travel up through those holes, directly through the screen at the bottom of the crucible through your material. Then, there's this mouthpiece part. That goes on top of the unit after you put the crucible in. There's also a little screen at the bottom of the mouthpiece.
An important note about this mouthpiece part, you'll notice that it's kind of loose when you first put it in. The way it works is, it's going to be loose when you first put it in, but the material that it's made of, as it heats up, it's going to expand a little bit. The seal will tighten up, so that it's not just going to easily fall out. You do need to leave it there and give it about a minute for it to actually heat up and get stuck.
Then, what you would do, if you were using it in whip mode, for instance, this is the whip it includes. You would take this end, and you would just plug it in to the top of the mouthpiece. Then, you would just take a draw, just like you would with any other vape. You would take a nice ten to 15 second pull to get a good amount of vapor.
What I found is that the vapor it produces is pretty good. I like it. It has a nice, clean taste. It feels fresh. It's not very harsh. It might be a little on the hot side, a little warm, but it's not bad. As far as vapor quality, I'm satisfied with that. I think the vapor quality is good with this one.
What I did find however, in my own testing, was that it does seem to work better, and you'll get better vapor and more vapor if you put a decent amount of material inside the chamber or the crucible. If you try using only a pea-size amount, like they recommend starting with in the manual, I didn't really get good results with that. I kind of had to put in a good amount, make sure the bottom screen is completely covered, and leave a little bit more than that.
Then, it seems to work really well. This is not one of those vapes that's going to work really well with a tiny pinch of material. Again, remember that you're not grinding the material that you put in here. For the heat to actually be hitting nice, you need to pack down a good amount.
Now, I'll show you the balloon mode, which I don't really think is that great. I'm not really impressed with it. If you're considering buying this vape for the balloon function, I'd probably recommend you maybe look at one of the other models for that. The way the bag system works with this, they give you all the pieces separate.
This is the bag that I put together already. They'll give you the bag material. They'll give you a couple of mouthpieces and a couple of clamps. You just have to put it all together. It's not very difficult. There is no valve on the bag or anything. This is one of those vapes where you have to plug it with your finger in between draws.
What you would do after you assemble your bag is, you would take this little straw piece they include, and you would stick this in the top of the mouthpiece. Then, you would take the mouthpiece part of your balloon, and that also fits right on that straw piece like that. I'm just going to move this to the side and show you, because this is the part that gets kind of weird, in my opinion.
This vape doesn't have a built-in fan, like other balloon vapes have to force the air up and fill the balloon with vapor. What they give you with this vape is an aquarium pump, basically the same kind of air pump that you would use for a fish tank. They also give you this piece of tubing. What you're supposed to do is connect this tubing to the output of the pump. There's a little input port on the back of the unit here, where you plug this other end into. What you're supposed to do to start filling the bag is just turn on the power for the pump.
Once you start doing that, the bag will start to fill. It's not a very fast filling bag. It will take a little while, a couple minutes. I'm not going to fill a full bag here. I just wanted to give you an example. One of the other issues that this vape has, that I found, in addition to the pump system just being kind of weird, is that the screen in the mouthpiece part here is a very coarse screen, meaning that the pore size is large. It's not a fine screen.
What I found is that particles of my material get pushed up into the balloon, even though I didn't even grind my material. Just little flakes or little particles that happen to be in my material from packing it in, they will be pushed up into the balloon. They'll get stuck on the sides. When the balloon is full, and I go to draw from it, some of these particles will come out through the mouthpiece into my mouth, which is definitely not good.
Like I said, I couldn't avoid this, even with not grinding my material at all. The only way that I could see completely eliminating that issue is by somehow fashioning a finer screen to insert into the bottom of the mouthpiece here. The screen is built in to the mouthpiece, so I don't really know how you would even do that.
Fortunately for this vape, the particles traveling up through the mouthpiece doesn't seem to be an issue when you're using it in whip mode. I'm just guessing that's because the flow of air isn't as intense, so it doesn't push all the particles up. It only seems to be an issue when you have the pump attached, and you're trying to fill the balloon.
Again, just to summarize briefly, I think it's a pretty good performing vape. The vapor will be a good quality. It's going to taste good. It's going to be potent. I do think that it's good for using in whip mode. It's pretty enjoyable like that. I'm not very thrilled with the balloon system with this one. It's just not very user friendly. I don't really like it, so I wouldn't really recommend it for use like that.
That's pretty much all there is to it. I might have left out a couple things. If you have any questions that I didn't answer, feel free to let me know. I'll do my best to help you out. If you think you really like this one, and you want to give it a try, and you want to buy it, I put a link in the description to the authorized dealer that I bought mine from, which is the place I'd recommend you check out if you're going to buy it online.
You could also check out my homepage on my website, Vapecritic.com, where you will see the rating that I gave to this vape and where it falls among the other vapes I've reviewed. As always, I really appreciate you taking the time to watch my stuff, and stay up!