A little while ago I reviewed the original AirVape and thought it was pretty good for the price. I worked closely with the makers of this new XS model after helping them identify the areas that could be improved, and they did a really good job implementing the things we talked about. I now honestly feel that this is one of the best portable vaporizers under $200 that I own.
Check out my full XS Go review video below:
Build Quality & Design
Right off the bat I was really impressed with the feel of this one. It has a very sturdy metal shell now, not plastic, and it definitely looks and feels more elegant and durable.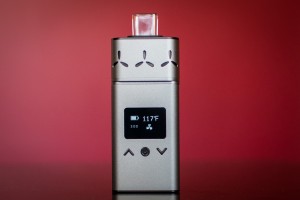 The form factor is actually pretty great, it's small & light and the flat design makes it easy to hold and also convenient to store.
Overall, the shape, size and weight are right in line with what I look for in a good portable vape, and it's more portable than the original one.
Ease of Use
Vapes that are easy to use really make the whole experience more enjoyable, and this XS is not complicated at all, beginners will get good results right away.
The glass mouthpiece at the top pulls right out and the oven or herb chamber is below that inside.
Simply pack the chamber full with finely ground herb, tamp it down a tad, then push the mouthpiece back in and turn the unit on.
Set your temperature with the up and down arrows, I recommend starting at about 355°F and slowly working your way up from there if you want more vapor.
Once the unit heats up, which only takes 30 seconds, you just start taking draws from it and the session will last about 10 minutes.
Performance & Vapor Quality
The XS has a ceramic oven which is different from the first model and also from a lot of other vapes. It helps promote even heating of your material and also helps keep the taste nice and clean.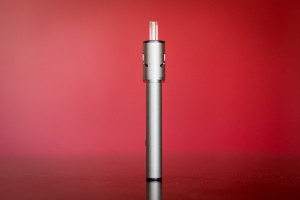 There's a cool screen system in the mouthpiece that channels the vapor through a certain path and prevents it from going straight from the oven to your mouth.
This keeps the vapor cooler and more comfortable and makes a big difference when compared to cheaper models that don't have something like this built-in. It shows me they paid fine attention to detail, and they listened when I told them to improve the vapor quality, which I like a lot.
What you want to do for best performance is first grind your herbs nice and fine, then over-load the oven and tamp it down so that it ends up being even with the top edge of the chamber.
You don't want your herb loose and floating around in the chamber, you want it nice and snug in there.
The vapor production is actually very good, I was surprised, it definitely performs a lot better than the original. And you know what else is cool? There's not a lot of draw resistance, meaning it's not as hard to pull from as some others – I really like this.
Check out this video clip below of me taking a bunch of draws from it:
Setting the temperature low will give you smoother vapor and a better taste but you won't get quite as much visible vapor. If you want big clouds you'll need to set the heat at or above roughly 380°F, and the only thing that really gets sacrificed when you raise the temp is the smoothness. This is common with most vapes though and I normally don't recommend vaping at very high temps anyway.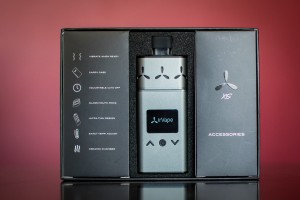 Vibration Alert & Auto Shut-off Timer
I like this feature a lot, the vape vibrates! It's not the only one out there that does this but I feel it does make the vaping experience a tiny bit better.
So the unit also has an automatic shut-off timer – every time you turn the vape on there is a countdown timer on the screen that starts at 3 minutes. Actually, you adjust it from 3 to 5 mins, and you can do this by pressing the up & middle button until it changes.
You'll feel the vape vibrate when you first turn it on, and then you'll feel it vibrate again when it reaches your set temperature. Now what I like a lot is that you'll also feel it vibrate when the unit shuts off after timer, so you won't be left hangin with a vape that isn't even on and not realize it.
Overall Thoughts
At $180 it's above average in most areas compared to other vapes in this price range, and I'm really impressed with how many improvements they were able to make with this new version, kudos guys!
It's small, light and good looking, and it's super easy to use. If you're looking for a good portable and you like the design of this one I think you'll be very satisfied with it and really dig how it works.
Stay up!
Watch my full AirVape XS review video below, it's about 16 mins long but I put everything you could possibly need to know in there. The photos below show my original unit that I've had for a while, but in my video above I show what a brand new one looks like today, and they made a few small tweaks.
Here's a few more pics:
---
2017 UPDATE: You can now get a very cool shell for this vape when you buy it, and this case keeps your vape clean and keeps your mouthpiece in place while you have the unit stored. It feels great, it's well-made, it makes an airtight seal when you close it, and it's even waterproof. I highly recommend it for the extra $20, check it out:
---