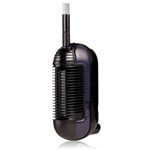 The IOLITE is a unique little portable vaporizer made by a company in Ireland called Oglesby & Butler. They also make the WISPR, which is very similar but slightly more expensive.
What makes this vape different is that it's powered by butane. Instead of charging batteries or plugging it into a wall you simply fill it up butane that you can buy at most local convenience stores, the type typically used in lighters.
The heating element uses the gas to heat the herb chamber to optimal vape temperature, in this case 374°F or 190°C.
Overall I think it's just ok and it's probably most useful for people who don't want to deal with having to charge batteries all the time.
Stay up!
-Bud
Video transcription:
This is the iolite handheld portable vaporizer by Oglesby & Butler. This company is from Ireland and they make both the iolite and the newer, slightly more expensive Wispr. I have a review video for the Wispr also that you can check out after this one if you're interested in these.
This unit is sometimes called the walkie-talkie vaporizer because of the way it's shaped, and the retail price from authorized dealers is $199.
Now the iolite is a unique Vape because of the way it is powered. It doesn't plug-in, it doesn't have a charger, nor does it run on rechargeable batteries like many other portable units do.
The energy source for this thing is butane, yes the same type of butane you would find in your typical lighter. This vape utilizes a butane powered heating element and an igniter switch to safely and efficiently heat the chamber to the ideal temperature.
What this means is that the main benefit of the iolite is its non-reliance on electricity to operate. As long as you have a can of butane with you, the Vape can be used over and over again, and once it runs out of fluid it can be refilled in seconds.
As far as how long each filling of butane will last, through my own testing I was able to get six full vape sessions that were between 10 and 15 minutes each. So you're looking at a max operating time of about an hour and a half before it will need to be refilled. I've seen varying reports on this from other people, so this is just what I experienced during my testing.
This is an example can of butane that I picked up at a local convenience store, and I'll show you quickly what you need to do to fill it up.
You'll want to hold the iolite right side up, and the butane upside down. You'll fit the nozzle of the can onto the fill valve located here, then you'll push down to start the flow and as soon as you hear or see the gas start to overflow you know the chamber is full, and it should only take a few seconds.
After refilling the butane you'll want to wait a few minutes for it to settle down before igniting the Vape.
During this time you can get your herbs ready and packed inside the chamber. This is what it looks like inside, this top piece attached to the mouthpiece has a screen installed inside there, and this bottom chamber is what heats up.
So what you'll do is loosely pack your herbs inside this top piece here, and you can experiment with filling it with different amounts to see how her perform for you, and then you'll take the main unit and turn it upside down and slide it right on top of the top piece.
Once you have your butane filled and your herbs packed inside, you're ready to turn on the Vape. With the iolite you first flip this switch on the side from 0 to 1, to start the flow gas, then you wait a few seconds and push the igniter switch.
You'll actually want to be looking at this side of the Vape when you ignite it because you'll start to see an orange glow as an indicator the unit was successfully started. I found that sometimes it doesn't always ignite the first time you push the switch, but I've never had to hit the switch more than three times either, so it should only take you a couple of tries max to get it goin.
So once the heating element is engaged it will heat up for approximately 45 seconds until it reaches its operating temperature of 374°F. After first reaching this temperature the unit will then cycle off and on every minute or two to keep an ambient temp inside the heating chamber.
You'll also notice that the unit makes a low hissing sound when the heater is engaged. This sound, along with the heater, will start and stop throughout your session.
Now even though the iolite reaches its operating temp in under a minute, I found the results to be a little better if you wait about two minutes or so before you start to take draws.
One of the things that impressed me was that they picked a good temperature to set this Vape at. After a full session I've found that the herbs come out evenly and thoroughly vaped, and there is no signs of combustion either. 374°F also falls right into the ideal range I always recommend, and if you happen to be interested in learning more about the ideal Vape temperatures check out my site because I made a video where I did some experiments to find the best temps.
Alright so now I'll touch on a few of the things that I wasn't too thrilled about with this one.
The first thing is that whenever the heater is actively running you will smile a little butane if you're holding the Vape close to you. Now I never tasted the butane while vaping, which I'm really glad didn't happen, but it was a little offputting to actually smell it every time the heater turned on. It's not really a huge deal, but if you're sensitive to those types of things it might bother you a little bit.
The second thing is that hissing sound it makes, which is also not a huge deal, just a minor annoyance if you're watching TV or hanging out in a quiet room.
The last thing that I wish was a little bit better is the size and smoothness of the draws. To get a decent amount of vapor I found that you need to take a long slow draw, which is normally fine but since there's such a short distance between the heating chamber and the mouthpiece there is little time for the vapor to cool down.
This also is actually not a big deal, because I'm most, if not all, portable vaporizers currently on the market have a similar issue.
The only other thing to remember with the iolite is that there's no indicator to tell you how much butane you have left, so you'll just have to keep track of how many times you used it in between fillings. All that happens when it runs out of gas is it'll slowly stop heating up, so worst-case scenario if it runs out in the middle of you using it you'll have to pause for a few minutes and refill the butane before resuming your session.
So to summarize the iolite for you, it's a convenient portable Vape that runs on butane instead of batteries, and you can get around six nice long sessions out of each gas filling. The fact that you don't need electricity to run this one means that it's perfect for outdoor activities like camping or for long trips.
It's also light weight and easy to carry, and it comes with this cool little carrying case. The only thing you'll have to do is make sure you keep a can of butane around, and to give you an example the one I have here cost me $3.50 at a local convenience store and I could probably refill the iolite at least a dozen times with a can this size.
Some of the negatives you should keep in mind are that there's a slight butane smell each time the heater is activated, there's that intermittent slight hissing sound, and you need to remember to take long slow draws to get good vapor.
I put a link in the description to a great Vape store that I think you should definitely check out if you're looking to buy one of these, and they even give you your first can of butane for free to get you started.
If you want to see how the iolite compares to other portable vaporizers, including its newer sister model the WISPR, check out my website VapeCritic.com.
If you have a questions feel free to ask, and stay up!