This is the Life Saber Vaporizer, or LSV, produced by 7th Floor. This company also makes the popular Silver Surfer and Da Buddha vapes, and they all share basically the same ceramic heating element.
The LSV is unique though for a few different reasons…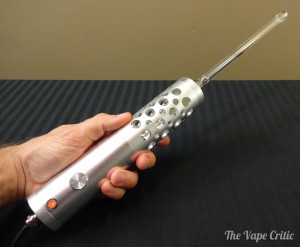 First, it's a handheld unit, so even though technically this would be categorized as a "desktop" vaporizer (since it plugs in for power) you have to hold it in your hand while using it. The Plenty vape is another unit I've reviewed that works this way, and I actually find it pretty enjoyable.
The next thing that's cool about the Life Saber is that it's mostly glass. This is good because it helps the vapor taste clean and pure, but the downside is that this vape is pretty fragile. Especially the long, skinny mouthpiece/wand – you need to make sure you don't smack that against any hard surface by accident.
What's also interesting about this vape is that you'll get a full draw of vapor the first time you take a pull after attaching the wand. This is not very common, most herbal whip-style vapes produce just a light vapor for the first couple of draws and then usually around the 3rd pull or so vapor production is at its max. Starting from your first draw the LSV is pretty much at full throttle.
This vape doesn't have set temperatures or anything, it just has a heater intensity knob that you adjust until you find the temp you like best. The other 7th Floor models work the same way, and I don't really consider this a negative because even though you can't set your temperature on a screen like some other vapes you can still dial in the best intensity for you with the knob, and it works well across a fairly wide range.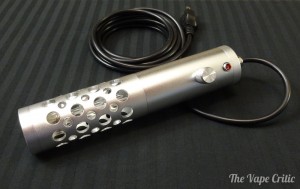 One drawback is that you need to stir your herbs at least once or twice during a session to ensure that it's vaped evenly. This isn't that uncommon but the thing that makes this a little inconvenient with this vape is that you have to turn it upside down and take out the wand to do this. The unit itself and the wand are both fairly large so it does take a little maneuvering to do this smoothly (it's 19″ long put together).
Overall I'm impressed with the performance and vapor quality of this unit, but the atypical design may not suit everybody. It does have some good things going for it, and the last advantage I want to mention is its efficiency, I would consider it above-average in this department. You can't really use a tiny pinch with it because of the shape & size of the herb chamber, but all it takes is maybe 0.2g-0.3g to get a nice full session of roughly 10 good draws or so.
Stay up!
-Bud