This is the Dr Dabber Ghost vape pen for wax concentrates.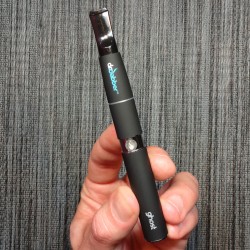 Ghost Atomizer / Coil
The coil in each atomizer they offer is made of a high resistance titanium, and it's wrapped evenly around a high-quality wick.
They designed the Ghost to work at a lower heat than most other pens, which helps preserve more of the flavor and keep the vapor smooth. You'll stay in the ideal temperature range longer with this coil which helps it produce even, consistent draws. This also helps you avoid burning or charring your material, which could negatively affect the taste and comfort level of the vapor.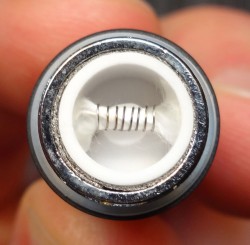 Load a small amount of concentrate directly onto the coil, and when you give it a little power it'll melt down into the wick and saturate the fibers. Then when you wanna vape the coil will gently heat the fibers to vaporize your oil.
They include 2 atomizers with the standard Ghost kit which is nice, and each one should last you about 1-2 months of regular use depending on how you treat them.
No "burn-off" is necessary before you first use a new coil, but you definitely should give it 2 seconds of power first to make sure it heats up. Loading your concentrate into an atomizer that ends up being DOA is a major bummer. This is true for all pens, so just make sure to test them before using them.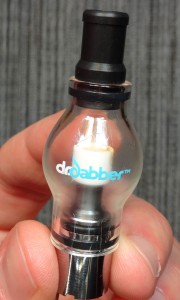 Glass Globe Attachment
Dr Dabber offers a bunch of accessories to go with the Ghost pen and one of them is a glass globe attachment.
Many other pens out there offer one of these as well, so it's not necessarily unique, but it is high quality like the rest of their stuff and I did like the performance with it.
This thing basically just lets you see the vapor as it's being produced, it's definitely pretty cool and not an expensive add-on.
Glass Water Tools
Two other cool accessories they offer are the Percolator attachment and the Recycler pendant.
These are both glass pieces that allow you to vaporize your concentrates through a little water. It's unique and I think they're pretty cool, I don't normally vape through water but I really enjoyed using both of them, and they seem really well-made.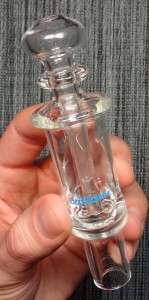 They come with a third type of atomizer that's made of the same materials as the standard one but it's shaped a little differently to work with the glass.
Vapor Quality & Performance
So out of the pen vapes I've reviewed so far I really feel that the performance of this one is top-tier.
There isn't really a significant difference in performance from pen to pen, but there are subtle things about each one that makes them unique.
The high quality coil and low heat design keeps the vapor it produces smooth and tasty. You can take short draws for a light vapor, or long draws for big clouds, and either way you use it the vapor is top notch.
The performance and taste is basically the same with the globe attachment, but when you use one of the glass water tools the vapor is a tiny bit different.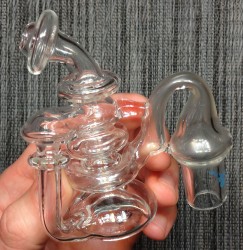 Vaping through water can help smooth it out a little bit, but it can also strip out a lot of the flavor if you use too much. Usually the lower the volume of water you filter through the better, because this gives you a little of the filtration without changing the taste much. Luckily, these pieces don't hold a lot of water so the change in taste is negligible.
Battery
The battery that comes with this vape has a power button that lights up blue when you press it, but the tip of it doesn't light up at all which gives it more of a stealth factor.
You'll get roughly 200-300 draws per charge, but this will vary depending on how long your draws are and how often you vape. Figure you should be able to get at least a few days of regular use out of it before it dies. It also holds a charge for a long time which is nice, I'm still running on the last full charge I gave it almost a month ago. When it's completely dead it'll take about 2 hours to fully recharge with the usb adapter they include.
If anything goes wrong with the battery within 3 months the manufacturer will replace it free of charge, but the atomizers aren't really covered. It's recommended to test each coil before loading by giving it 2 seconds of power to make sure it heats up, because once it has oil in it they can't replace it, and it's a huge PITA to get the oil out.
Verdict
It's harder to rate pen vapes than herbal vapes because there aren't as many factors to consider, and most of them are fairly similar, but I do think the Ghost scores a little higher than many others in most areas.
Stay up!
-Bud
Here are some pics of the Light: