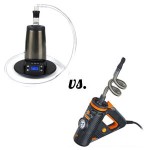 The Plenty and the Extreme-Q are fairly close in price ($349 vs $239) and in this comparison I show the EQ being used as a whip-style vape (it comes with balloons also).
Overall I think they are both good vaporizers, but I like the vapor quality of the Plenty a lot more. The wider herb chamber (providing greater surface area) and the cooling coil really take the Plenty to the next level by providing some of the best tasting, strongest vapor I've experienced.
Don't get me wrong, I like the Extreme-Q also, and it was my daily vape for a while, but the Plenty is on another level. However, I still think you would be satisfied with either vape, so it really comes down to how much you want to spend and how badly you want top-shelf vapor.
Stay up!
-Bud
Video transcription:
All right guys, so what I'm going to do in this video is show you the differences between the new Plenty vaporizer by Storz and Bickel and the Extreme Q vaporizer. The Plenty has a list price of $349 and the Extreme Q price has been lowered to $239 now.
So, this one is a whip only vape. And in this case, the whip being this coil thing on top. And the Extreme Q is a whip or a balloon style vape, because you could use it like this with the whip attachment. And it also has a little piece with some balloons that it comes with, that if you wanted to, you could use it as a balloon vaporizer like the Volcano for instance. I have a couple of other videos that explain more about how this thing operates when you're using it as a balloon style vaporizer. So, in this video I'll just talk about using it with the whip.
Now, the first main difference that you might have noticed already is that the Plenty vaporizer, this is a hand held vaporizer. It's not really portable because there is still a plug and you do have to plug it in, but the cord is fairly long and you do hold this thing in your hand when you use it.
The Extreme Q is stationary. You pick a spot to put it down and you leave it there. And then whoever wants to use it just has to sit around it, within this distance, this is how long the whip is. It's pretty long. And the whip does rotate around the top piece, too. So, technically if people were sitting in a circle or something, you could just pass it around like that.
So, the way that these operate is kind of the same. But at the same time there is a couple of differences. So, when you turn on the Plenty, what you do is you first set your temperature with the dial down here, and then you flip the power switch to turn the heater on. When you do that, the little indicator light on the front will go on, and then you'll start to see the temperature on the dial start to rise.
With the Extreme Q what you do is you hit this button in the front to turn it on and then you set your heat. For the Extreme Q, I found that setting it on 383 or 392 seems to work pretty well. And for the Plenty vape, I've been setting it on the max setting which is on number seven and that seems to be working for me pretty well, also. But everybody is different. And everybody will prefer a different temperature. So, the best thing to do is just to experiment on your own and find what you like best.
Now, the Plenty vape is made by the same company that makes the Volcano, which is my all-time favorite vape. And even though it looks very different from the Volcano, the one thing that did carry over into the new design is the vapor quality. This vape is really good at consistently providing cool dense vapor. Which, if you put all the other features aside, the quality of the vapor, I guess, is probably the most important feature of any vaporizer. So, that's what I really like about this one is that even though it looks a little weird, once that vapor starts coming out, you're not going to care about anything else.
It's also very forgiving because it does work in a wide range of temperatures. It's not very temperature specific. Now the Extreme Q, the looks are pretty cool. Most people would, I guess, probably say that the Extreme Q looks better than the Plenty. It's got this nice shiny outside with the blue light around the bottom which is kind of cool. And a lot of people like the versatility, the fact that you can use this as a whip style vape. Or as I mentioned before, put the balloon attachment on and use it like that with the bags that it comes with.
So, the fact that you can do both and you can use it both ways is cool. And I like that. It is a big plus. All right. The Extreme Q also does come with a remote control. So, even though it is stationary, wherever you decide to put it, you can turn it on and off, change the fan speed, change the temperature and stuff with this remote. So, that's kind of cool.
Now, as far as the herb chambers in these, that is one big difference between them. Because the Extreme Q herb chamber as you see here, it's kind of the width of about a nickel and then it's about an inch, an inch and a half high. Whereas the chamber on the Plenty vape is about as wide as a half dollar, so it's much wider. But it's shallower, it's only about a quarter or a third of an inch deep.
Now, what I've found though from testing a bunch of different vaporizers, is that the greater the surface area that a wider chamber provides is beneficial. And does kind of make the vapor that comes out of the end a little better. But don't get me wrong, the Extreme Q also produces great vapor. And I used this thing for a while. But if I was to compare the vapor from these things side by side when using this as a whip style vape, I'd have to say that the Plenty is the winner in the vapor quality area.
That's just my opinion. All right. I know some people disagree because they say that the glass is really what gives it the best taste and stuff. And if you don't have glass parts then, it's not a good vaporizer. But, what I've really found from all my testing is that the glass does help a little bit, but the quality of the vapor, meaning the taste and the density and the strength of the vapor, really is determined by the design of the herb chamber and how evenly the herbs get vaped and how much surface area of the herb the heat hits at once.
So, aside from the herb chambers being different sizes and shapes, the other feature that I thing makes this thing produce the higher quality vapor is this cooling coil. And yes,.it actually does work. And it actually does help cool the vapor and make it smoother. Not that the vapor coming out of the Extreme Q is like bad or anything. And there definitely is some cooling going on because of the fact that the whip is so long. But if you were to compare these side by side and take draws, you know, one after another you would be able to tell that the vapor coming out of the Plenty vape is going to be a little cooler and smoother than the vapor coming out of Extreme Q.
So listen, I could already see the comments coming now from people telling me that I'm crazy by saying that. But I'm really talking about a little bit of a difference here. There's only about $100 difference between these vapes. And that's about how much of an increase in vapor quality you could expect.
So, for $239, this thing will get the job done and it gets it done pretty well. And like I said, this was my daily vape for a while. But the Plenty just takes it to the next level. And now that I have this, this is my number two choice now for at home use. And the Extreme Q will kind of be taking a little bit of a back seat for now. All right. So, you know, depending on how much you want to spend. I do recommend both. And I do think that you would be very satisfied with either one.
One other similarity that I did forget to mention is that these both can be used by either one person by putting in a little bit of herbs, if you're going to use it by yourself. Or they can be used with multiple people, up to three or four people if you want to pack the chambers full. And that's a cool feature for both of these because not every vape do you have that versatility where you can use it with as few or as many people as you want.
Now, in my video review of the Plenty vape, I show you exactly how it works if you're going to use it by yourself as opposed to with multiple people. And when I was using the Extreme Q regularly, what I found is that if I was using it by myself, I would put my herbs inside this screen, the elbow screen, up here. And this would provide nice strong draws without having to put in a ton of herbs. But if you were going to use this with a bunch of people, you could put your herbs inside this piece and fill this whole piece up in here. So, it's a cool feature. Like I said on both of these vapes, that you can do that.
So, if you're interested in buying either one of these, I put links in the description to the store that I bought mine from and where I definitely recommend you go. So, make sure you check that out. And if you want to learn some more about these vapes, I have a couple of other videos with the Extreme Q and another video with the Plenty.
All right. So, that's going to wrap it up. Thanks for watching, and I'll see you soon.