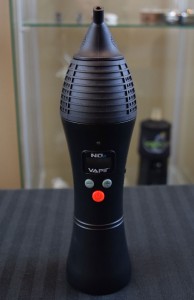 This is the Vapir NO2 – a handheld, portable herbal vaporizer. It comfortably fits in your hand, and I think it's really decent. This vape pleasantly surprised me by how easy it is to use, how fast it heats up, and the entire vaping experience. The only thing that's a tiny bit of a bummer is that the herb chamber is fairly small, and the vapor is a little on the hot side. I found that if you pack the chamber 3/4 full like the manual tells you to, or even all the way full, it can really only supply one person with the full effects. If you plan on using this with other people just be prepared to re-pack the chamber mid-session. Luckily though it is extremely easy to empty and refill the chamber of the NO2.
This vaporizer has a rechargeable battery and can also be used while plugged in with the wall charger. I found that the battery, after being fully charged, lasts about an hour of heating time, or about four sessions. It also heats up pretty quickly, in less than a minute when it's plugged in, and about a minute and a half when running off the battery. One tip I have for you regarding what temperature you set is to start off lower than you normally would with other units. Even know the usual recommended temp is 365, and the NO2 manual says to set it between 375 and 385, I would recommend you set it between 355 and 360 for the best quality vapor. When I had mine set higher than that the herbs started getting a slight burnt taste to them – but experiment yourself and let me know what temperature works best for you.
In my opinion the NO2 is totally dummy-proof, it really is easy to use. It's probably best for cordless use around your home but they do offer a car adapter so that you could charge this vape on the go. The top screen can get gunky after using it a lot so I definitely recommend brushing it off after each use, and when it comes time to really clean it you can easily take it out, and they include a bunch of new ones to replace it with.
Stay up!
-Bud
Video transcription:
What's up, guys? In this video, I'm going to show you the NO2 Vape. It's a portable handheld vape. Actually, I really like it. It has a lot of cool things about it. There are only a few things that are not cool about it. It's got a full retail price of $179. The company that makes this vape has been making other vapes for many years, also; and actually I used to have one of their old versions. I'm pretty sure that model was called The One. So, let me tell you everything I like and don't like about it, and why you might like this one.Here's the first thing that's cool. Now, when it comes to vaporizers I'm big on simplicity. I like them to use as few parts as possible, and this vape, after you initially put the tubes together, is only two pieces– that's it, very simple. So, it comes apart into the top piece here that has the tube attached with the mouthpiece; and there's a little top screen in here. This vape actually has two screens in it. There's a screen up here in this top piece, and then this is the herb chamber in here. And there's also a little screen down at the bottom of the herb chamber.
It comes with two screens installed. They also give you four extra in the box, and they will need to be replaced every so often. If you wanted to when you order it, you could even add on a set of 20 extra screens for a few extra bucks. So to me, that's awesome–two pieces, and it screws back together like that, very simple.
All right, the next thing I like about this is that it heats up pretty quickly compared to some other vaporizers. The way this one works is it comes with a wall plug, a wall charger, or an AC adaptor. And it has a rechargeable battery inside. So when you first get it, plug it in, fully charge it, and then you can unplug it and use it for what I found to be up to an hour, or about four sessions for me.
So, back to how fast it heats up, once you turn the vape on; on the side there's an on/off switch. And then, you set your heat and hit the heat button and that orange light indicates that the heat just went on. You only have to wait about a minute when it's plugged in, and about a minute and a half when you're running off the battery for it to full heat up and reach the temperature you set. So, that's kind of cool–I like that.
Just a side note, when you're setting your temperature, I know generally I say that 365 is around the ideal temperature, and it is; but every vaporizer heats the air a little differently. So, sometimes you have to tweak that temp a little bit up or down to accommodate for that. This vape, in particular, I've been setting a little below that number, at like 355, 360, because to me this vape seems to run a little hot. But that's fine, there's nothing wrong with that. The only issue is that in the manual they recommend you set it to 375 to 385, and I don't know, you could try that. But when I had it that high the herbs started to get a little bit of a burnt taste, so I turned it down a little bit.
Even though I already mentioned it, the next thing that I really like about this is that it's basically dummy proof. I mean, it's so easy to use. But it's also space-out friendly, because it has an automatic shutoff that will turn the vape off after 20 minutes after you turn the heating element on. So, if you turn it on and you put it down and space out, no worries. It'll turn itself off in 20 minutes. I've already done that.
And the last awesome thing about this one is if you want a vape that you could multi-task with, or use in the car, this is the one you want. Because first of all, once you pack it and turn it on, all you need is one hand and then you inhale from the tube. And also, if you're in the car, to anyone passing by it kind of just looks like you've taken a sip out of a straw of a big soda, or something–not that you should vape and drive–I'm just saying. It's very comfortable to hold and it feels very natural to use.
All right, so on the flip side, there are only a couple of things that bug me about it. And the main thing is that the chamber that you put your herbs in here, down in there, is not very big. It's kind of on the small side. And if you follow the instructions in the manual, they only want you to fill it three quarters of the way full. They don't want you to fill it all the way to the top, because they say that it impedes the air flow, so the heat won't make its way all the way through, and won't fully vape the herbs. So, if you pack it three quarters full, like they say, in my opinion it's only enough for one person.
If you want to vape with someone else or you're in a group, no big deal, just plan on having to repack it once or twice, depending on how many people will be using it. Though, once you unscrew the top, the first thing you do would be to turn it upside down and dump out whatever spent herbs are in there, tap it a little bit. Then what you would do is take this cleaning brush that it comes with and on the screen piece that's up here you would just brush it off, because there will be a little stuff stuck there. And then in the chamber, you just put this in, twist it a few times, tap it out again, any other leftover herbs will fall out and then it'll be spic and span inside. You put new herbs in, you take the top piece, screw it on, and you're ready to go again.
And the last thing about it that you should keep in mind is once you turn it on and it heats up and you put your herbs in, plan on vaping all of it relatively quickly. Because if the heat is on and you just want to put it down for a minute in between your hits, some vapor will slowly be escaping out the top, because the heat just keeps going. Granted, it is not a lot, and if you wanted to put it down for a while, you could even just turn the heat off between hits, I guess. But if you want to keep it on and you don't want to waste any vapor, you'll probably want to vape it all in one shot.
Also, when you're buying this thing, if you buy one, not only can you add on the extra screens, like I mentioned earlier, but you could also add on a car charger for it, which is awesome, because you already could use it for up to an hour in your car if you fully charge it at home. But now you can even recharge it there, too, if you want.
So, overall, I really like this vape. It's good for beginners. It's good for experts, and anywhere in between. It's inexpensive. So, I definitely give it two thumbs up, if you're thinking about trying it. And if you are interested in buying it, there's a link down below to a great vaporizer store. I get all my stuff there. It's fast, it's safe, the prices are good, so check it out, and let me know what you think.
I appreciate you taking the time to watch this video and I'll see you later.