UPDATE 2019: There is a newer version of this vape, the Arizer Solo 2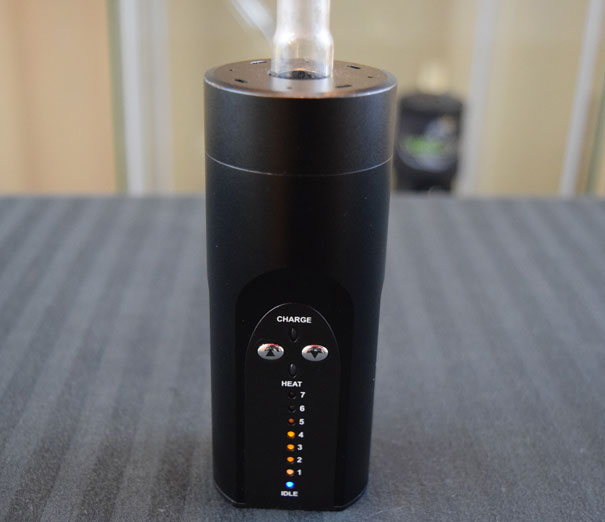 This is the Arizer Solo vaporizer – it's pretty cool and performs fairly well, there are just a few important things to consider.
It's made by Arizer, the same company that produces the Air and the Extreme-Q, the latter being their popular combo whip/balloon vape for home use.
The best part about the Solo is the vapor quality, it's clean and tasty. It's also very easy to use, which is great for beginners, and the battery will last for over an hour of use which is great. However, some of the negatives would be the above average draw resistance and the slightly scratchy vapor.
Pulling through the glass stem feels like trying to drink a thick milkshake through a straw, and you typically need to take about a 5-10 second draw to get a good amount of vapor.
Something else to keep in mind with this one is that even though it's technically portable it's a little too bulky, heavy and fragile to conveniently carry around with you on-the-go. If you're looking for a good cordless vape to use around your home this is definitely one to consider, and I also think the Firefly 2 works very well for this purpose. The Mighty aint too shabby either ;)
NOTE: The newest model of this vape can now be used while it is plugged in and charging, this was not previously possible with the model I show in my review below.
Stay up!
-Bud
Below is my original video review of the Solo (it's rough):
Video transcription:
This here is the Solo portable vaporizer. This model is made by the same company that makes the Extreme-Q, which is a very popular whip style vape that you plug in.
The Solo is powered by an internal rechargeable lithium battery. It's about as tall as a soda can but not as wide, and it actually has a little bit of weight to it.
This model is actually one of the better portable vaporizers I've tried, and there's only a couple of downsides to it. It's fairly simple and straightforward to use, and it only comes with a few parts.
Before you can start using this Vape you'll need to charge it up, and it does come with a wall charger included. However, it's important to note that with the included charger you cannot charge and operate this device at the same time. This isn't a huge deal, but what it means is that if the battery runs out halfway through your session you'll need to plug it in and let it charge for a little while before you can resume vaping.
This probably won't happen, however, because one of the cool features is that it does indicate how much battery power you have left every time you turn it on, so you'll be able to gauge if you have enough power for a full session.
So to turn the unit on you push the up and down arrows at the same time and hold for one second, then it will beep and immediately show you how much charge is left. Then, the unit sits in an idle state until you select the heat setting.
Now with this vape, just like the Extreme-Q made by the same company, I found that it works best set between 383°F and 392°F, which is the 4 and 5 settings on the Solo. As I make it a point to always mention, the best heat setting to use is really personal preference, so what you should really do is experiment on your own to find what setting you enjoy the most.
So once you hit the up arrow and the indicator reaches your desired heat setting, the unit will start to heat up and his red light will start blinking to indicate that the heater has been engaged. If you keep an eye on the indicator lights it will also show you what temperature the unit is currently at.
While it's heating up you can put the unit aside and grab one of the glass stem pieces, which is where you will pack your herbs. It comes with two stems, one straight and one angled, and this little part sectioned off at the end is where your herbs will go.
So what you'll do is you grind up your herbs real fine, and like most vaporizers the Solo performs best with material that is more on the dry side. Once you have your stem packed you can then insert it into the top of the unit.
Now the way that the stems fit inside the heating chamber is a little weird, because for me it didn't seem like they would fit in at first, almost as if they were too wide. But then after playing around with it for a minute I got it to go all the way down into the chamber. You would think that this would mean that the stem would be held tightly in there but I actually found that they do wiggle around a tiny bit and it's not exactly a snug fit.
I've heard mixed reports from people about how the stems fit inside the chamber, and it seems that there's a few different versions of this Vape floating around out there. The model number of the one I have happens to start with M107.
So the unit itself will reach the temperature you set fairly quickly, generally in under a minute or two, but before you actually start vaping you'll want to insert the stem peace with your herbs and wait another minute or so for it to heat up. What this will do is give you better vapor draws right from the start.
So after waiting that extra minute for it to heat up you could start taking draws. Now one of the first things you might notice, which is different from many other portable vaporizers, is that there seems to be a good amount of resistance when you are taking your draw with this vape. What I mean by that is that there doesn't seem to be as much airflow through the heating chamber as some other vapes.
This doesn't seem to affect the quality of the vapor, it just might take you a few times to get used to it if you are not someone who is used to pulling very hard when you take draws.
So what I really like about the Solo is that it produces some of the best tasting vapor you'll find from a portable Vape. The heating element and chamber seem to do a great job at vaporizing your material without under or over heating it.
Because of the slight resistance you'll feel, it's a little difficult to get big vapor clouds from this thing, but I found that a nice slow 10-second draw will consistently provide a good medium-density vapor.
Also, as a nice little bonus feature, the glass stems that they provide with the Solo do fit nicely inside the standard 14 mm or 14.5 mm slides that most water pieces have. Some people have found that filtering the vapor through water can help smooth it out and reduce possible irritation.
The Solo also has an automatic shutoff timer which will turn the unit off automatically after running for 12 minutes. This is just about the amount of time you'll need for a full session, but if you find that you need a little more time you can quickly turn the unit back on and resume vaping.
Through my testing I was able to get about eight full 12 minute vape sessions before the battery ran out. Then, it takes about an hour and two to fully recharge it again.
One of the last things to consider with the Solo is that they don't include a carrying case or anything when you buy it, so if you do plan on carrying this around with you you'll have to have somewhere safe to keep it so the glass stems don't break by accident.
Overall I think this is a very good product and I'm sure I'll be getting a lot of good use out of it.
If you think this Vape is right for you go to SoloVape.info which is where I got mine from, and they are a fully authorized dealer with excellent customer service, so I definitely recommend you check them out.
If you want to see some more reviews and see how the Solo compares to other similar vapes, you should check out my website VapeCritic.com.
If you have any comments or questions feel free to send them my way, and thanks for watching!