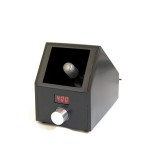 The EasyVape is a small whip-style vaporizer. In my opinion it's really not a great vape for a few different reasons.
One of the main things that bugs me about it is the design of the whip piece and how it attaches to the base unit. The bowl piece itself is a fragile piece of glass that you put your herbs in, but nothing really holds it in place. The tip of the heating element inside the base is at a downward angle, so if you don't put the whip on quickly enough or fit it perfectly on some of the herbs might fall out inside the unit. This was a bit of a turn-off for me because when your vape creates a mess it's kind of a drag.
Most people turn the vape upside-down to avoid the herb spillage but I feel it's kinda silly to have to do that.
I also found it difficult to dial in a good temperature with this vaporizer. Even the same herb at the same temp would give me different results sometimes. Most of the people I had try it said the same thing, that it didn't seem to produce good quality vapor draws. At times it was too light, and other times too dense (almost burnt tasting) – just overall not very consistent.
If you're in the market for an inexpensive whip vape this wouldn't really be a model I would recommend, I would check out the Hot Box and the DaBuddha instead.
Stay up!
-Bud