The HVT Saionara review below was written by @Hammertime from the VapeLife Forum.
When it comes to the MJ market, it has always been a dangerous road as a consumer. Fortunately, when it comes to using concentrates in e-cig pens, getting good performance is as simple as getting dual coils on quartz rods. Pen devices have been out for so long now they can deliver perfectly fine vapor at a low price point. The problem with wax pens is they are designed to use concentrates a specific way, and they are small with small batteries. They don't have much air flow, and the battery will die quickly if you attempt heavy use. A pen will never replace a glass rig at home, but they're not designed to.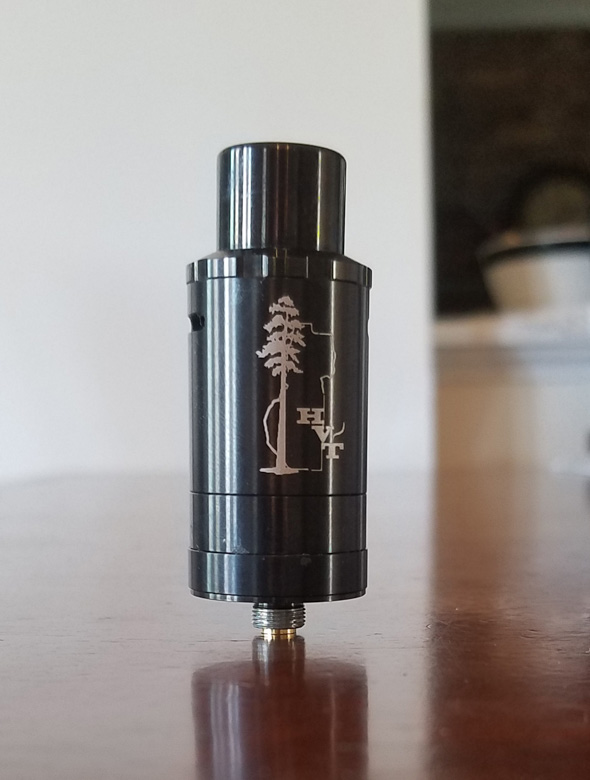 Here is where the Sai comes in. You have a standard ecig attachment for box mods, and it has 8 different coil attachments available for it. If you've ever wanted to try something exotic like a Miracle A or B coil you can do that with the Sai. I was attracted to the Sai because it was set up like an RDA (Rebuildable Dripping Atomizer), this means it has a pull cap and you constantly refill the inside of the cup. Most importantly, that RDA look makes the Sai extremely stealthy if it doesn't smell. All things considered there really aren't that many competitors for it out there, and the device is dependable enough that it should definitely be considered. The Sai is the best fit for a person who wants to use wax at home without having a glass rig and a blowtorch, or needs something more powerful than a wax pen but still stealthy when out and about.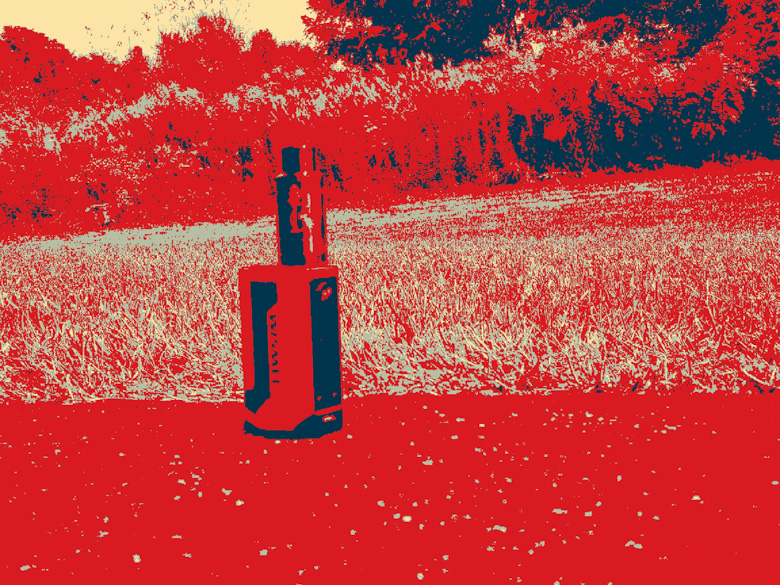 The Sai by HVT is a portable wax atomizer that is powered by a box mod. It is only compatible with concentrates, not dry herb. The unit only has 4 parts total and functions just like an ecig RDA. The diameter of the Sai is the ecig industry standard 22m, so it fits snugly on any 510 threaded box mod. This atomizer's main features are top airflow, almost universal box mod compatibility and more than 8 coil options.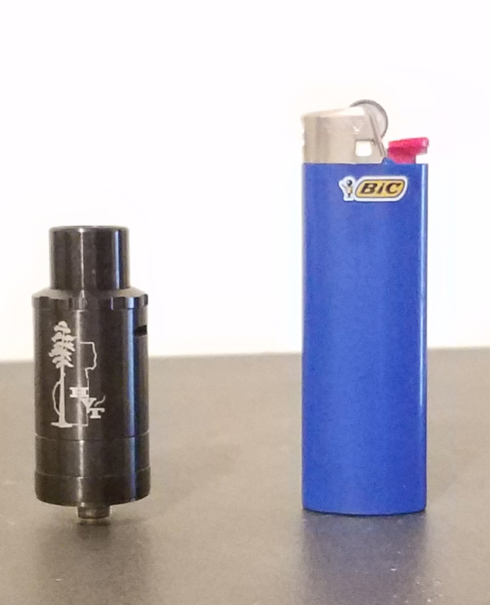 Main Features:
-Fits any 510 box mod
-Top Air Flow
-Ti bucket
-Designed for medium to heavy use
Vapor Performance
I'm going to start by saying that the Sai is one of my favorite things. It is a daily driver, and I have no plans of replacing it. I also only use the included Ti bucket coil. For me personally, I have trouble getting good results from coils in wax devices. I often overheat them and end up with a bad taste at the end of my session. The Ti bucket that comes with the Sai is forgiving if I overheat, and it pumps out clean feeling vapor the entire time. I usually use a pea sized dab, and I get anywhere from 3-5 dense and tasty draws. I don't recommend putting in huge dabs often or really at all. It can be a lot of fun but makes a bigger mess. The top air flow does a decent job at letting you know when you are producing vapor. Top airflow is a minimum for decent rda's, and while the Sai won't blow you away with the air currents, if it did the end result would most likely be a sticky mess. I do wish the holes were a little bigger, I prefer a very airy draw but the resistance here is only mild.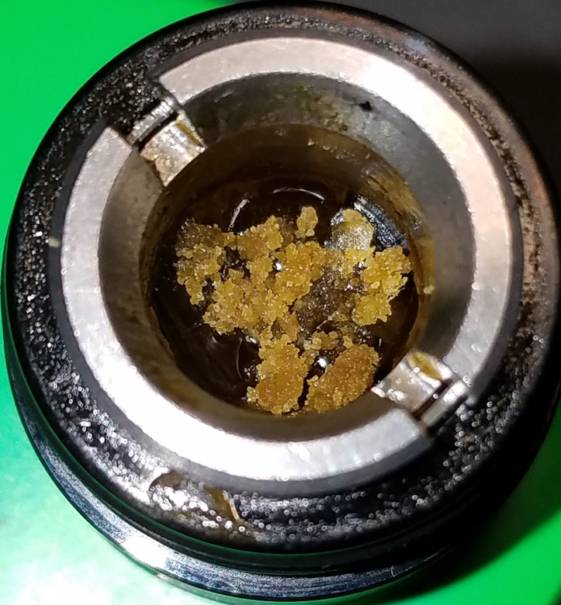 If you do make a mess with your wax, the mouthpiece has splatter protection that is also a part of the air flow. They get away with the top air-flow being a little small because the splatter protection holes are also part of the air flow. Again, the draw is smooth with mild resistance, and I recommend to draw at a slow or medium pace otherwise you will waste wax by sucking it to the cap. At medium to high power settings, the Sai produces large to medium clouds of tasty warm vapor. At the lower spectrum, with proper technique, it is possible to take short or long draws with little to no throat irritation other than the amount of vapor being consumed. Performance is definitely there if you want it, but the Sai allows you to choose your own experience. You can stretch a dab for 3-4 draws, or try to get it in 1 or 2. Finally this is a medium to heavy use vape. If you need to reload multiple times per session you can easily do that. This is also great to pass around with friends due to the simple learning curve.
Design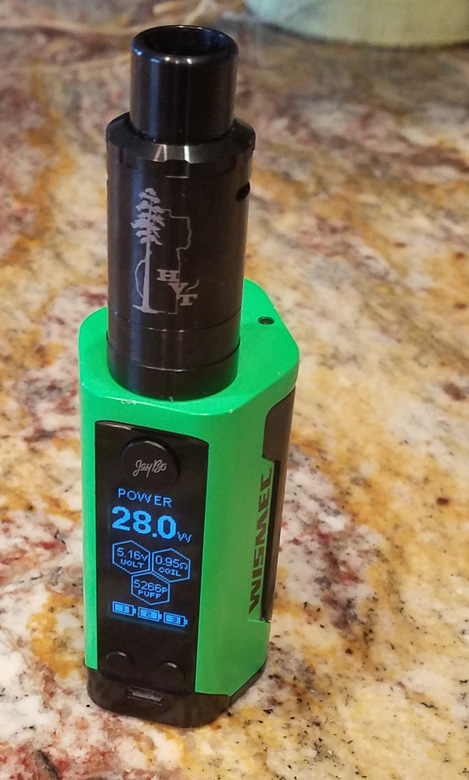 The Sai is supposed to blend in with the crowd, and it's smaller than you might think from the pictures. It looks big on this pink mod, but when set on a two or three battery mod it looks like any other ecig. For that reason the Sai has amazing stealth if you keep it clean. It won't hold up to scrutiny, but it really does look like an ecig RDA. On my single battery device, the whole setup fits in my pocket like any other ecig. This is not a luxury vape, and I wouldn't describe it as necessarily sleek. But the Sai is a true workhorse. What it lacks in style it makes up for with character. It's thick and a little bulky, but easy to grip for reloading. It just feels solid. There is a lot more function here than form. The ridges you can see on the top cap help to grip it when your O rings start to get sticky. All of the connections fit very snugly as well, in fact I find I have my best experience after the device has warmed up if I'm microdosing multiple times. The best thing about the design is that it's strong enough to give you couchlock at home but portable enough to take to a friend's house without a smell proof duffle bag. I like to use my 3 battery mod at home for infinite battery life, and my single for an overall lighter feel.
Cleaning and Maintenance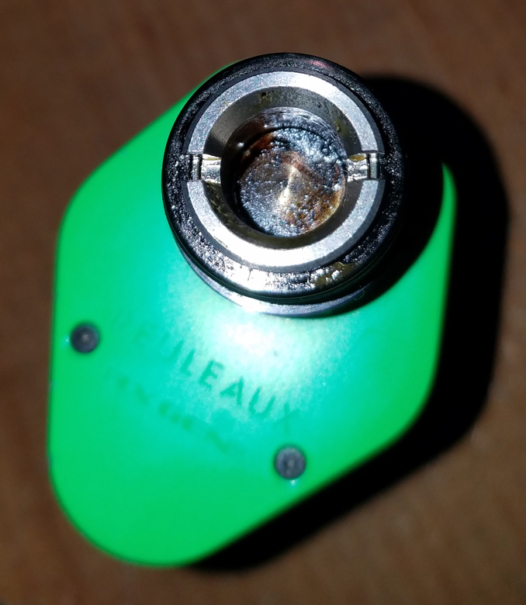 The Sai is made for concentrates, and concentrates are messy. So you should learn how and when to clean it. If you use a dry q tip to get the reclaim after every session like me, the bucket will stay clean, only needing the occasional iso scrub for stains. I let it go 5 sessions without cleaning once for the purpose of this review, and getting everything off was a lot
more time consuming, and required ISO. If you keep it clean I've heard of these coils going for 6 months or longer with no problems. The inside of the cap can also make the outside o rings sticky, and that is easily fixed with ISO. You can soak the top pieces and coils in ISO to do a deep clean if necessary. Keeping a couple q tips around will save a lot of time and effort in the long run. The Sai should also always be kept upright, if left on its side for too long there can be leakage. When you keep it clean there is only a light odor for storage. Of course, freshly used wax can have a very strong scent.
How to Use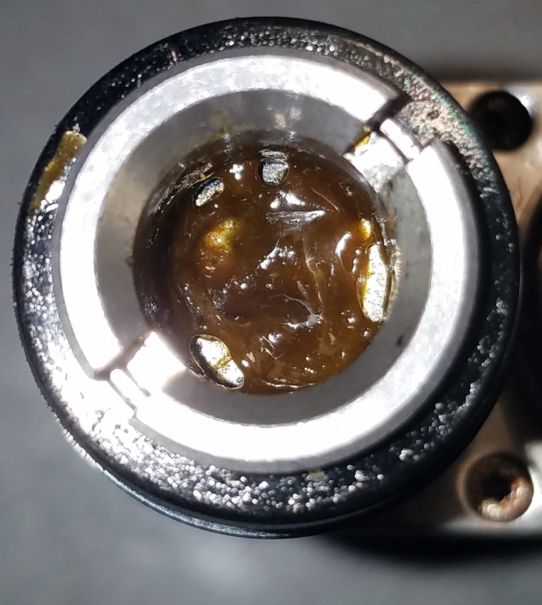 The Sai is used for low temp dabs. Concentrates are loaded into the chamber before heating, instead of being put directly onto a preheated nail. The Sai is a 2 piece setup, and dead easy to use. Simply pull off the cap, insert concentrate, then put the cap back on. Preheat the vape for 3-5 seconds (Temp settings here), then slowly inhale, pulsing the power button if the vapor becomes too hot. There are quite a few different types of coils you can get your hands on, but they all require the same technique for heating and inhalation. One big tip for maximum vapor is to carb the holes with your fingers, and use one finger to milk all of the vapor before you turn off the power and clear it out. If you always turn the cap to where you like to set your fingers, the holes get much easier to find during sessions.
Box Mods and Performance
What you use for a battery will greatly affect your experience with the Sai. Simply put, if you have one battery when it reaches half charge it will take significantly longer to heat. A two battery mod is what I would recommend for most people to use with this device unless you have spare batteries or are willing to buy them.
My heating recommendations for Ti bucket
18 watts – 6 second preheat – This setting is for a very relaxed session, with long flavorful draws. Wax tends to last a little longer if you don't heat it for too long. I love 18 watts because it can really surprise you just how good of a time you will have. It's a much slower experience and unique to the other two heat settings I've listed. This is great for preserving battery life on a smaller mod.
24-28 watts – 4 second preheat – This heats up faster, and you will feel vapor much more quickly. I am generally somewhere in these power settings. When you are accustomed to the device, you will begin to pulse the power as soon as you feel vapor. This heating technique allows you to really roast what's in the bucket for maximum effect.
30-34 watts – 2 second preheat – 34 watts is pretty much max temp for me, the preheat time is nearly instant, and with good pulses this is when I have the best results. If you instead just ride the button and keep heating expect very large vapor clouds, this is definitely the most intense and wasteful way to use the sai. Remember, once the bucket reaches temperature, you only need to pulse the power.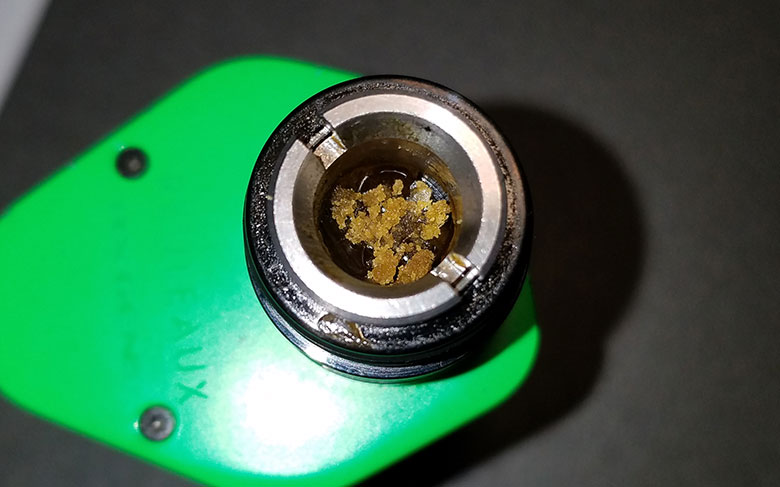 Final Thoughts
What makes the Sai special is the overall convenience and flexibility. It is both small and powerful. I don't want a glass rig at my place, and now I don't need one. The Sai does one thing and does it well. With more than 8 different coils available for purchase you can choose your own adventure. Like I mentioned above, if they are regularly maintained, coils can last 6 months or longer without needing replacements. If you use a lot of concentrates and you need both stealth and power, I recommend the Sai. The Sai actually is a great alternative to having a rig or e-nail setup at home. I honestly can't picture myself using a blowtorch multiple times a day in general, and e-nails just aren't for me. I recommend this to all of my friends, and I've never had someone try mine and have something negative to say. This is a solid Ti Bucket setup that takes advantage of all the bells and whistles box mods can offer. Finally, I know that this is a very portable and stealthy device but seriously do not use this while driving. It is not worth the risk of jail time or hurting yourself or others.
Pros:
– Potent
– Powerful enough to replace a desktop setup if necessary
– Great stealth when clean
– Control over your experience (wattage, air flow, draw length)
– Universal compatibility with ecig mods
– Removable batteries (on most mods)
– Portable
– Large capacity
– Smooth air flow
– Easy to clean and maintain
– Hydrotube attachments are available from the manufacturer
Cons:
– If you don't already own a mod with batteries it can be an investment
– The Ti Bucket must be maintained or performance will suffer and there will be noticeable odor
– The atomizer needs to be kept upright when loaded
The Sai costs $55-$65 depending on the color you choose, and it is definitely worth the price. If you already own a Saionara, you can get the top flow upgrade kit for $23-$30.
Stay up!