High Quality CNC Machined Grinder at a Low Price
Listen, the necessity of a grinder for optimal performance of one's favorite vaporizer cannot be overlooked. Hand grinding or using scissors prove time-consuming and fail to deliver a finely ground product of high quality. However, with the utilization of an herb grinder, users can achieve the desired consistency for their materials, leading to a more efficient and enjoyable vaping experience. It's great for more than vaping as well.
Variations of the 4 Piece Grinder
AEROSPACED BY HS 4 PIECE GRINDER 2.5″(63MM)
AEROSPACED BY HS 4 PIECE GRINDER 2.0″(50MM)
AEROSPACED BY HS 4 PIECE GRINDER 1.6″(40MM)
AeroSpaced grinders feature diamond-shaped, razor-sharp teeth meticulously crafted to effortlessly grind through even the most compact materials. These teeth are thoughtfully designed to ensure efficient and smooth shredding.
The most common variety is the 3-part grinder, consisting of a top section where the herbs are placed, a screened intermediate section where the ground herb is collected, and a final chamber where pollen separated from the herb passes through the screen. More advanced 4-part grinders like this one feature a pollen screen in addition to the grinding compartments, offering users the convenience of a scraper to collect the pollen. This one is more advanced and has said screen and pollen collection. Any seasoned vaper will know that this is a really fun feature when it gets full. It's like a free bonus session.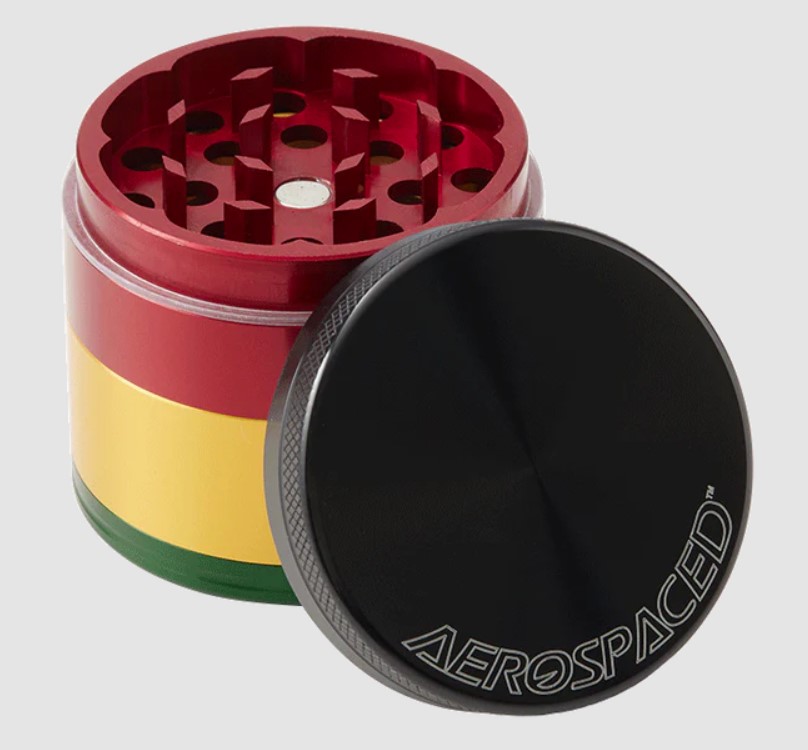 ADVANTAGES:
CNC MACHINED:
Each AeroSpaced grinder is CNC machined from a single solid block of high-grade aluminum, resulting in a precise and seamless fit for every component. This meticulous manufacturing process guarantees a durable and long-lasting grinder.
ANODIZED:
To achieve vibrant colors without compromising quality, AeroSpaced grinders do not employ paint. Instead, anodization is utilized, providing both color and an added layer of hardness to the aluminum. For those who prefer a classic aesthetic, the silver version showcases a polished aluminum finish.
MAGNETIZED:
The top piece of every AeroSpaced grinder is securely held in place by an embedded magnet. This ingenious design allows for easy rotation and ensures that the grinder remains intact during use.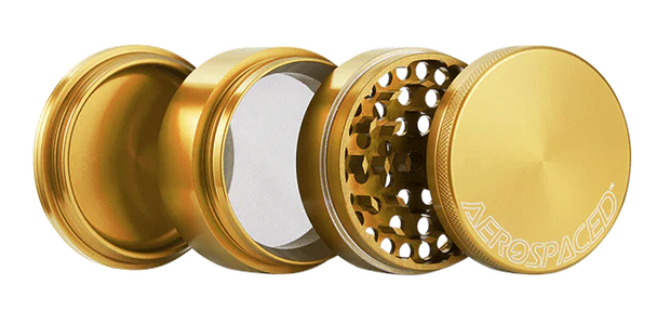 DRAWBACKS:
The only real negative about a grinder like the Aerospaced grinder is that you've got to clean it occasionally to keep the pollen collector working. This is not a big deal.
COMPETITORS:
Aerospaced offers their grinders in various configurations, including two, three, or four parts. In contrast, there are numerous inexpensive grinders available in the market made from acrylic or plastic. However, these cheaper alternatives lack the pollen collectors found in Aerospaced grinders and do not adhere to the same meticulous standards upheld by the Aerospaced brand. When seeking a grinder of superior quality and functionality, Aerospaced grinders stand out as the preferred choice.
USE:
Using a grinder is a relatively straightforward process, although it may appear intricate when utilizing 3- and 4-part grinders. Upon opening the top section of the grinder, an array of "teeth" will be visible, specifically designed to break down the material. The number of teeth present in the grinder depends on its size. It is crucial to place the material directly onto the teeth, rather than in between them, as this ensures effective grinding.
Once an ample amount of material has been loaded onto the grinder, reattach the lid and rotate it until all the material passes through the perforations. If necessary, a gentle tap on the side or the use of a pencil or scissors can aid in ensuring that all of the material successfully makes its way through the holes. Subsequently, remove the chamber containing the teeth to reveal the finely ground material.
This straightforward process allows users to effortlessly prepare their desired material for various purposes. By following these steps, individuals can enjoy the convenience and efficiency of a well-functioning grinder, resulting in finely ground material that suits their needs.
WARRANTY:
To instill confidence in their product, AeroSpaced grinders come with a Lifetime Warranty. This warranty serves as a testament to the brand's commitment to providing customers with a reliable and durable grinder that will last more than a month or two.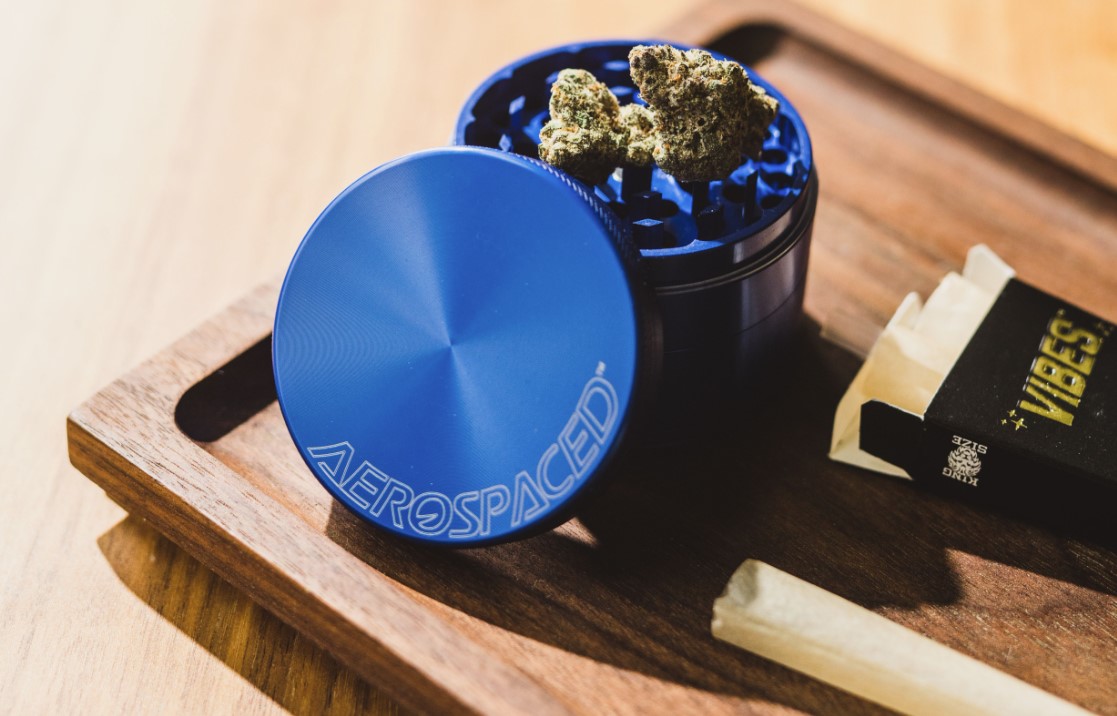 CONCLUSION:
Overall, AeroSpaced grinders embody precision, durability, and convenience, making them a trusted companion for any grinding needs. Their exceptional craftsmanship and lifetime warranty set them apart as a reliable and long-lasting choice for herb enthusiasts. Additionally, the pollen collection screen is a big plus in a grinder. It's always a nice surprise to find it full.
It's important to grind any material before vaporization to get the most out of the experience. Because of that it's wise to invest a little money in a grinder with a lifetime warranty. The price isn't even bad at all for that kind of guarantee of quality.
Since You liked this, check out our list of the Most Popular Vaporizers
OTHER VAPE CRITIC ARTICLES THAT YOU MIGHT FIND INTERESTING
Best Vape Pen for Wax, Oil, and Concentrates