This is the brand new Puffco Pro 2 vaporizer pen for wax, and I think it's a great all-around upgrade from the original Pro model which you can find my full review of farther down the page.
The new one is smaller, made of nicer materials, and has an updated atomizer. Check out some of my updated pix below.
Below is my review of the original Puffco Pro pen: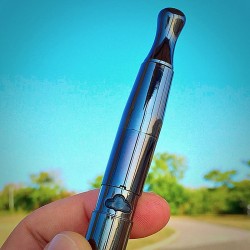 The Puffco Pro is a sexy-looking vape pen with an elegant feel.
Puffco Pro Atomizer
It's big. The ceramic-lined chamber can hold roughly ~.3g of concentrate, which is definitely above average.
At the bottom of the chamber is a ceramic rod wick wrapped with a titanium coil. It's pretty deep, so sometimes I find it difficult to load a little bit of my wax directly onto the coil.
This is one of the reasons why I recommend loading this atomizer with at least ~.2g for the best performance and efficiency. I really haven't found it to be very great with small amounts at a time, it's obvious that this one was designed to just be packed full every time (well, at least 2/3 full).
When you load it you wanna make sure that there's some kind of air path through your concentrate down to the oil. If no air can pass through you might not get a good draw so just use your dab tool to make a little air hole for the best performance.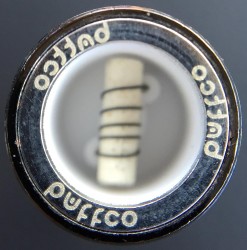 The extra large chamber is cool, but one of the drawbacks is that your oil may have a tendency to get stuck around the edges, and sometimes down under the coil as well. Every dozen puffs or so I would open it up quickly and move the wax back onto the coil if necessary.
The best way to clean out the atomizer is really just to turn it upside-down and run through two heat cycles on high. Whatever's left in there will come leaking out so do this over a paper towel to avoid a mess.
If you wanted to reclaim any oil stuck in there and use it again there's a few ways you can do it, but here's one simple method: Get a hair dryer, some parchment paper, and a pair of tongs. Grab your atomizer with the tongs and hold it upside-down over the paper, then gently heat it with the hair dryer, and after about a minute or so your oil should start leaking out onto the paper.
Performance, Efficiency & Vapor Quality
When I load .3g in there I get 50-70 puffs on average, and this is with taking a ~4 second draw and vaping on the low heat setting. As far as efficiency goes I can't complain about that at all, that's a high number of pulls from one packing.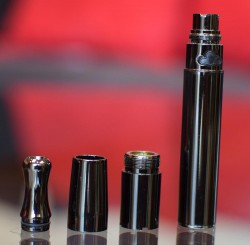 I'd say the quality of the vapor it produces is very good, and above average. The taste is clean and the vapor is smooth and comfortable, and it works equally well with both smaller and larger draws.
There's a tiny bit of draw resistance when you're pulling from it, so it's not as free-flowing as some other models, but it's still totally acceptable.
However, something I don't like is that the atomizer will sometimes feel clogged, meaning I'll go to take a pull from it and it'll just feel stuck, like no air getting through.
To fix this all I usually have to do is pull on it strongly on a few times while tapping the power button, and then it'll feel like it "unclogs". Simple fix, but I'd be lying if I said it wasn't annoying when it happens.
Temperature-Controlled Battery
The battery is pretty small compared to most full-size pens, and it has 3 heat settings: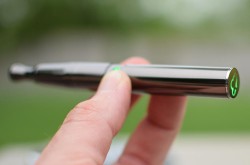 GREEN = Low
BLUE = Medium
RED = High (yes I am)
To cycle between the three levels you tap the power button 4 times and wait a second (tapping it 5 times will turn it off).
I don't notice any difference in the speed at the which the coil heats up between the different settings, but I do see a slight difference in the maximum temperatures (the coil glows a tad brighter on high heat).
The battery charges up for me in just about 3 hours or so, and it does last through quite a bit of usage before it dies. It's hard to say exactly how long because usage styles vary widely between users, but compared to other pens I own it's right in line with what I would expect.
Overall
This is a great pen if you don't mind loading a decent amount of wax at a time, and the build quality and feel is certainly above average.
It's not the best with small amounts, but when you pack a lot you do get quite a few draws, so the efficiency ends up being pretty good.
Sometimes I'll randomly get a clogged feeling when I go to take a pull, but aside from that the vapor it produces is smooth and comfortable with a nice clean flavor.
Stay up!
-Bud