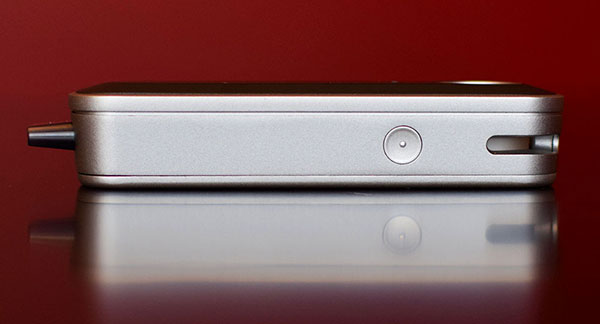 This is the Firefly 2, a portable convection vaporizer that heats your material solely with super-heated air, and this makes it different than most other vapes out there.
What are its advantages?
  Superb flavor, especially for a portable.
  Excellent efficiency, vapes as little as 0.1g.
  Very smooth, comfortable vapor that's never harsh.
  Works great with both dry herb and concentrates.
  On-demand heating means nothing wasted between draws.
Check out my full Firefly 2 review video below for everything you need to know about this vape. Close up pics, demo sessions, my face – it's all in there:
Overall I feel that this is an excellent vaporizer, but because of the specialized nature in which it heats and the mild technique required for best results I highly recommend watching more of my videos about it to ensure it's up your alley. Keep scrolling for more vids.
Click here to buy the Firefly 2 from the authorized dealer I recommend.
Stay up!
-Bud
---
This video is about how to use the FF2 to get the best results from it:
Slow, long draws are key with this one. You'll need to pull for ~10-20 seconds if you want big clouds of visible vapor, otherwise ~5-10 second draws will still deliver the effects you just won't see a lot.
---
Review video transcription:
Ladies and gentlemen, I give you the Firefly 2.
This vape is a portable convection vaporizer made for dry herb, but also works with concentrates very well. This model is an upgrade/updated version of the original Firefly from years ago.
The new one is lighter, smaller, works better, all that stuff. One of the most important things to know about how the Firefly works is that it uses small amounts at a time, 0.1g maybe 0.15g.
It's a vape that you can take just one or two draws and then put it down, saving the rest for later, because it's on demand or manual heating, it's only heating up your herb when your holding down the power button.
This unit in my opinion is the vaporizing equivalent of using a bowl.
Now because it holds such a small amount, it is sort of geared towards solo use, you know for one person, if you are gonna share it with other people more likely than not your gonna have to re-pack it
But from that small amount you put in there you're gonna get like 5-8 nice draws, so it is without a doubt one of the most efficient vaporizers I've reviewed.
Now in terms of performance I would say that it's excellent across the board, but like I mentioned before there is a little technique required to get the best results and best performance from it.
The one thing that I would like to see improved with the performance is the draw resistance. I'd say it's kinda of about average in that area, it's not super free-flowing, it's sort of guides you to sip from it because if you try to pull really you kinda can't.
So, the ideal way to use this one is to take slow, long draws. The vapor quality is A+, can't get much better, top shelf. The vapor is gonna be super smooth, it is extremely tasty, and then in the strength or potency department it's fantastic.
Since it's a convection vape it doers a superb job of fully extracting everything. If you're a lightweight you'll feel it after just a couple of hits, and if you're a heavy hitter you might need to repack it, but just remember even if you pack it twice that's only .2-.3g which is just about the size of the oven in a
lot of other vapes.
Build quality, it is made in China but it's made extremely well. They used very high materials, you can tell the manufacturing process in tightly controlled, there's no defects or anything out of line
All the materials used in its construction are flavorless, odorless and food safe. I wouldn't say that it's a fragile vape at all, but the only thing that you should be careful with is the exterior finish. I don't know if I would put it in like the same pocket as your keys, you could scratch it.
The battery is removable and replaceable, and they actually include two in the box, which is really cool with a vape like this I'm very glad to see that.
So, you access the battery by opening that back cover, the battery pops out. To charge it you would charge it with the battery inside the unit and then you would put the vape on the charging dock or cradle.
Then you would plug the micro-usb cable into the bottom of the cradle, and it usually takes about 45 minutes to an hour to fully charge each battery.
From each battery it will vary how long it'll last but you should be able to get on average about 5-6 sessions of about 5-10 draws each. So, figure about 25-50 full draws from a full charge depending on how long you pull for and what heat setting you use.
Because of how this charging system works , unfortunately, you cannot use this vape while it's charging.
Now in the portability department the FF2 is great, much improved over the original, which was a little big and heavy, with the new one it's a nice convenient size, it's great in your hand and it'll fit in your pocket. Besides that, it's really convenient to use at home as a great cordless vape that is easy to store, easy to use and take one or two draws from.
It's also a great vape to travel with and it's pretty easy to get it 100% clean. Cleanliness in general I'd give it like a B overall. Not because of the cleaning process, because it's easy and fast, it's because you do get visible buildup after just a few sessions.
I myself have been cleaning mine every 5 or 6 session, so pretty much every battery charge I give it a quick cleaning. All cleaning involves is isopropyl alcohol and a paper towel. All you do is gently rub the inside of the lid and the inside of the bowl area, both of those surfaces are very easy to clean, and they're flat.
Unlike the original Firefly that had those ridges and channels in the top where buildup would happen, the new one is completely flat, very easy to wipe.
I would say in total it should take you now more than 30 seconds to clean this vape, and cleaning is all you have to do, there's really no other maintenance. The only screen that's gonna need to be cleaned or replaced is in the mouthpiece.
The mouthpiece itself does detach, it comes out, and then there's a little tiny screen in there. You'll want to check this screen regularly to make sure it's not clogged.
The elegance also gets an A+, it feels like a luxury product and has a sleek look. It is noticeably higher quality than most other vapes, and the manufacturer def paid close attention to detail.
Now odor, it is a very low odor vape, it's nice. It def smells less than others, it's below average.
And then it works extremely well with concentrates. They give you these small concentrate pads or liquid pads, they include 3 of them in the box, and these pads go in the bottom of the chamber. Then you put a small dab of your concentrate right on top of the pad, and then from that you're gonna get a handful of really nice, flavorful draws.
Flavor and efficient are top notch, especially for a portable vape.
Now I wanna give you some usage tops, some best practices to get the best results. The first thing is after you engage the heat always wait a few seconds before you start your draw.
And then once you start pulling from it remember that if you wanna get a big cloud from it your gonna have to keep pulling for 10 seconds plus.
Pack it like 95% full, you don't want your herb to be too tight in there, but you don't want it loose or floating around in there either, so just give it a nice full packing right to the brim, where when you put on the cover your herb stays exactly where it is but it's not pressed down.
And I've found that this usually ends up being 0.1g to 015g. you don't have to grind extremely fine with this one to get the best results.
You do get the best performance out of it when you mix up or stir your herb every couple of hits, and the easiest way to do that with this one now is to just tap it against your palm a few times and that should mix up the herb just enough. If it doesn't mix around that's how you know you probably have it packed a little too tight.
There are 5 heat settings when using it with dry herb, and the default heat setting is the medium-high setting, the second highest one. That one is a really good starting point, and then from there if you want more vapor or a more intense vaping experience you can just bump it up to high. If you want a lighter experience you can just lower it.
The way you do this is with the matching smartphone app, that connects to the vape via Bluetooth. It's a straightforward and simple app, you connect your vape to it and then it'll tell you how much battery life is left. You can set which button you want to engage the heater, either the left one the right one or both. And then this is also where you select your heating profile.
That's basically all you need to know, that's the Firefly 2!
Stay up!
-Bud