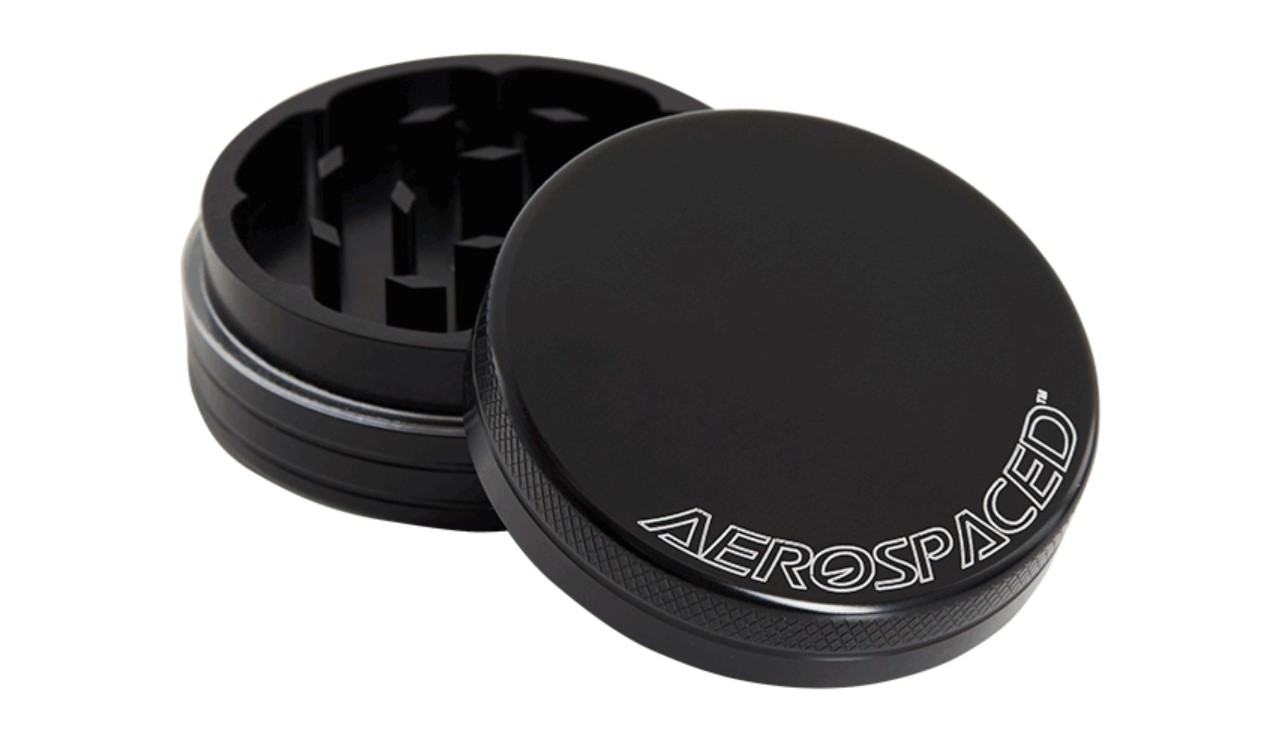 Simplicity in Design
Aerospaced 2-Peice Grinder. With optimized double-lead threading, the Aerospaced grinder undergoes a significant improvement in its overall feel once held in one's hand. The grinding action is remarkably smooth, and while there may be a slight resistance during the initial turns, it requires minimal effort to get it going. The gripped edges of the Aerospaced grinder offer enhanced maneuverability, making it easier to hold and handle while in motion. Gone are the days of struggling with excessive effort typically associated with cheaper plastic grinders. The Aerospaced grinder ensures a more comfortable and effortless grinding process, setting it apart from its lower-quality counterparts.
ADVANTAGES:

SMALL AND SIMPLE:
There is very little to lose with only two parts. The biggest benefit is the space it saves for traveling with it. Many users have portable vaporizers, and figuring out how to grind up material on the go can be a mess. This is pocket friendly. Additionally, this means there is less to break, fewer threads to get crossed or screens to clean.
CNC MACHINED:
Every AeroSpaced grinder undergoes the process of CNC machining, where it is meticulously crafted from a single solid block of high-grade aluminum. This manufacturing technique ensures that each component fits with utmost precision and seamlessness. As a result, the grinder attains a durable and long-lasting quality, capable of withstanding regular use without compromising its functionality. The attention to detail and the use of high-quality materials during the CNC machining process contribute to the overall excellence and reliability of every AeroSpaced grinder.
ANODIZED:
To achieve vibrant colors without compromising quality, AeroSpaced grinders do not employ paint. Instead, anodization is utilized, providing both color and an added layer of hardness to the aluminum. For those who prefer a classic aesthetic, the silver version showcases a polished aluminum finish.
MAGNETIZED TOP:
In every AeroSpaced grinder, the top piece is held securely in place through the use of an embedded magnet. This clever design feature enables effortless rotation of the grinder's components while guaranteeing that they stay firmly assembled during usage. The magnet ensures a reliable connection between the top piece and the rest of the grinder, providing convenience and peace of mind to the user. With this innovative mechanism, the AeroSpaced grinder offers a hassle-free grinding experience while maintaining its structural integrity.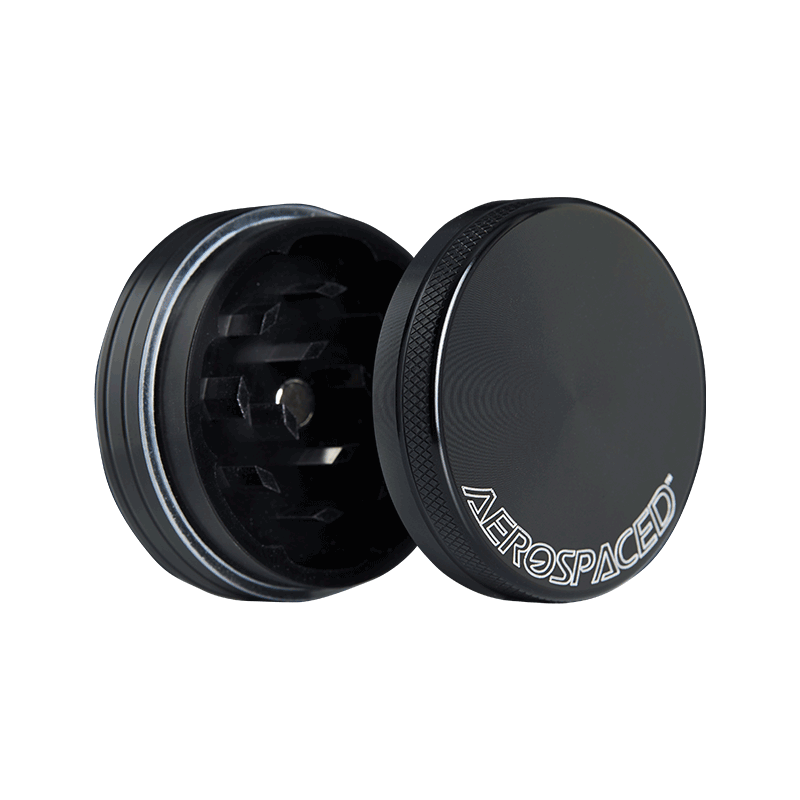 NEGATIVES:
The simplicity of the Aerospaced two piece grinder is also its only real drawback. Because it only has two pieces this means that there is no pollen catch. Another way to think of that is that everything that would have fallen into the pollen catch goes into your vaporizer.
COMPETITORS:
Aerospaced provides a range of grinder options to suit different preferences, offering configurations with two, three, or four parts. In comparison, the market offers numerous low-cost grinders made from acrylic or plastic. However, these cheaper alternatives do not meet the same meticulous standards upheld by the Aerospaced brand. When searching for a grinder that excels in both quality and functionality. Aerospaced grinders are the ideal selection for those seeking top-notch performance and reliability at a low price.
HOW TO USE:
Upon opening the top section of the grinder, an array of "teeth" will be visible, specifically designed to break down the material. The number of teeth present in the grinder depends on its size. It is crucial to place the material directly onto the teeth rather than in between them, as this ensures effective grinding.
Once an ample amount of material has been loaded onto the grinder, reattach the lid and rotate it until all the material passes through the perforations. If necessary, a gentle tap on the side or the use of a pencil or scissors can aid in ensuring that all of the material successfully makes its way through the holes. Subsequently, remove the chamber containing the teeth to reveal the finely ground material.
WARRANTY:
To instill confidence in their product, AeroSpaced grinders come with a Lifetime Warranty. This warranty serves as a testament to the brand's commitment to providing customers with a reliable and durable grinder that will last more than a month or two.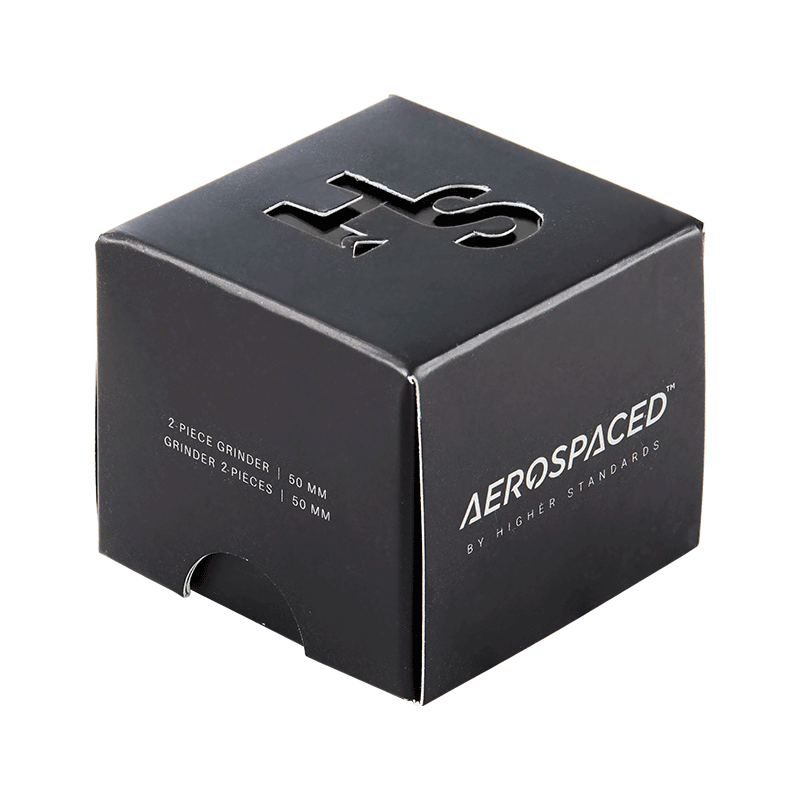 CONCLUSION:
AeroSpaced Grinders stand out as a brand that embodies precision, durability, and convenience. With their impeccable craftsmanship and commitment to excellence, AeroSpaced grinders have gained a reputation as a trusted companion for all grinding needs. Including a lifetime warranty further solidifies their position as a reliable and long-lasting choice for herb enthusiasts. Notably, the pollen collection screen featured in these grinders is a significant advantage, adding to the overall appeal. Discovering a full pollen collection screen is always a delightful surprise.
Recognizing the importance of grinding materials before vaporization to maximize the overall experience, it becomes wise to invest in a high-quality grinder with a lifetime warranty. The price for such a quality guarantee is more than reasonable, considering the long-term benefits and peace of mind it provides. AeroSpaced grinders offer an excellent balance of quality, value, and reliability, making them a worthwhile investment for anyone seeking an enhanced grinding and vaporization experience.
Since You liked this, check out our list of the Most Popular Vaporizers
OTHER VAPE CRITIC ARTICLES THAT YOU MIGHT FIND INTERESTING
Best Vape Pen for Wax, Oil, and Concentrates