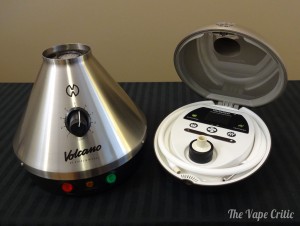 The Volcano (made in Germany) and the Herbalizer (made in the USA) are two of the highest rated desktop vapes I've reviewed.
They both provide balloon-style vaping experiences but the Herbalizer can be used with a whip as well. This makes it a combo vape, which can have its advantages.
Herb chamber size and shape is another main difference between these two. The Volcano has a larger, wider chamber that can hold 0.5g+ of material, which makes it great when 2 or more people are vaping. Don't get me wrong though, it can also easily be used with smaller amounts by one person. The Herbie's chamber is a bit smaller and comfortably holds about half the amount of material, so it's great for 1 or 2 people but can easily accommodate more if you don't mind re-packing.
They can both produce excellent quality vapor consistently, but I do find that the Volcano performs best in the typical vaping temp range of ~350°F to ~380°F. At temps above 380° I start to notice a small difference in the taste and comfort level of the vapor. I've found that the Herbalizer produces top-shelf vapor at any temperature across its entire range of 290°F to 445°F.
Heat up time is also significantly different between the two, we're talking minutes versus seconds.
If you own either of these leave a comment below and let me know what you think about it!
Stay up!
-Bud