This is my updated review of the Herbalizer vaporizer which I originally reviewed in early-2014.
I rated it really high and it was the most expensive vape at the time, it was $729, but it has since been lowered a tad. A lot of things have happened at that company which I'm not gonna get into, let's just talk about the vape.
Amazing Vapor, Extremely Fast, Super Efficient
The #1 advantage this thing has is the quality of the vapor that comes out of it. It uses a halogen lightbulb inside as the heating element, which only a couple of vapes do, but the advantage to this is super pure, super clean-tasting vapor.
---
---
I would honestly say that I'd like to see more vapes use it, I think the halogen bulb idea is awesome, the performance is fantastic.
It reaches operating temperature in seconds, you can adjust your heat level in seconds, and it'll be producing vapor in seconds. So in addition to the vapor being top quality it is one of the fastest vaporizers you can get.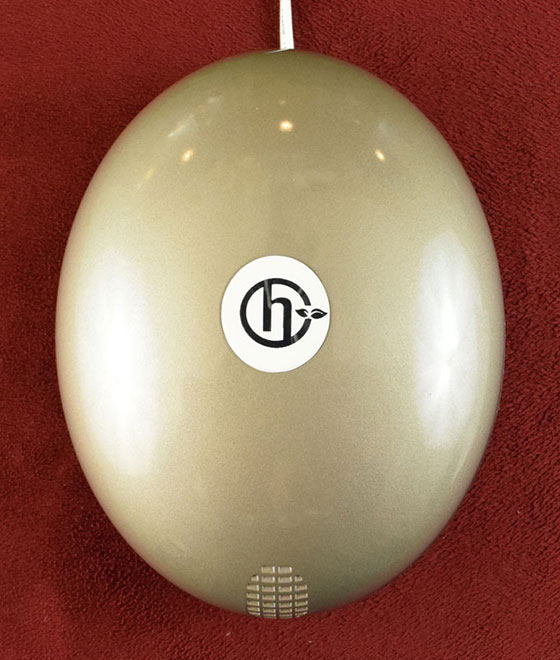 Efficiency is excellent also. It has kind of a small herb chamber compared to most others, I would say about a ~0.15g to 0.2g capacity. You don't wanna pack tight with this one, it's all convection heat so you can pack it full but don't pack it tight.
No matter how much you put in there, from a pinch to filling it all the way, the performance is excellent. The more you put in the more draws you'll get, but you can put in as little as a speckle and as long as it covers the bottom screen it's gonna work.
Now let's talk about what's not so pretty about it…
The Balloons Are Kinda Wack
After just a month or two of regular use my balloons typically look like they got run over. They can develop tears fairly easily which renders them unusable, and the Squeeze Valve can start to tear at the edges of the opening.
I would say that the bags are perhaps not made from the highest quality materials, and the valves are definitely prone to splitting which is no good.
Another thing that bothered me about them is that they don't stand up straight when you're filling them, they fall over to the side, which I normally would have been able to get over and look past if it wasn't for all the other stuff that sucked about them.
I use Volcano balloons with it now. You can get a set of six Easy Valve bags for $50 which will last you over a year. These actually fit right on the top of the Herbalizer herb chamber if you take off the top silicone grip and leave the whip connector attached.
They won't snap into place and stay there, you'll have to hold the balloon in place while it's filling, but I've found that I'm willing to make that sacrifice because of how much better I like these bags.
The Herbalizer does not push through nearly as much air as the Volcano does, so while the Volcano can fill each bag in 30 seconds the Herbie will need 2-3 minutes to completely them with vapor.
I Have An Issue With My Herb Chamber
The magnet came out of the bottom of my herb chamber, and now I can't get it back in.
The chamber is supposed to be held on magnetically to the base unit itself where the heat is generated, but my magnet popped out and it doesn't stay connected anymore.
I was trying to figure out how to get it back in permanently, but it looks like it was glued in. I don't know what to do now, I don't wanna buy a whole new bowl piece, but the magnet just keeps falling out.
It still works but now I have to hold the bowl against the vape every time I use it, it's not the end of the world… ok maybe it is.
It Always Looks Dirty
The next thing I have a little bit of a problem with is the dirtiness or the cleaniness of it. It's white inside and the whip or tubing is white also, and it starts to not look pretty after just a few uses.
Herb speckles build up in that front area and when you put the whip inside for storage the end of it can leave residue on the white walls.
So even though it's supposed to be a luxury vape and it looks cool and elegant, I find that many times I open it to start using it and I'm like ugh, it's filthy, and now I have to clean it again.
It is pretty easy to clean so I'll give it that. If you just take a paper towel and dampen it with some water you should be able to just wipe it clean and get most of the crap off. Anything you can't get off you'll have to use a little ISO alcohol on.
The whip you can also clean with the dampened paper towel or you can clean it with soap and water. This thing is funny, it's a silicone whip (white… again) and even right after you clean this it's got crap all over it again. I have a cat with black hair and when I walk back to my room after cleaning it there's cat hair on it already.
It almost attracts dirt, it's that type of silicone that's almost impossible to keep clean for more than a few minutes.
What's With The Plastic Tray?
The Herbalizer normally comes with this plastic tray in the top, and it's kinda lame. It doesn't seem to fit the quality of the rest of the vape, it's very cheap feeling and flimsy.
To make matters worse there's no real good use for it, it's just a tray to hold some of the aromatherapy crap and it's not that useful. You can take it off like I did, you just have to unscrew one part in the back and the lid comes off.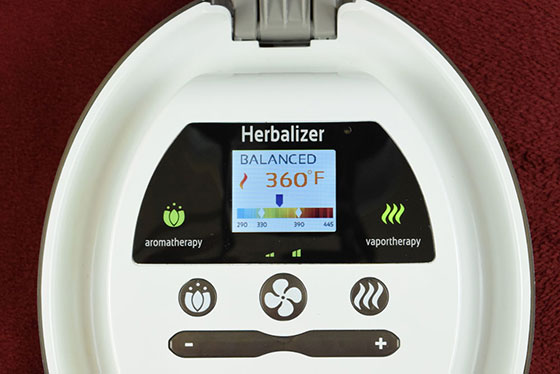 The Cooling Fan Drove Me Nuts
This vape has one of the most annoying cooling fans of any that I've used. I actually went as far as disconnecting the fan, and I'm completely aware that I voided my warranty which is up anyway, but I couldn't handle it anymore.
What was happening, at least to me in the climate where I live (average), was the cooling fan would go on for like 3 minutes and it would keep turning on.
The sound it makes is an annoying frequency and if I had the TV on in the same room it would drown it out, and I really didn't like that. I understand that the vape has to cool down but you gotta make the fan silent.
It's Still Special
So those are all my nitpicky critiques, but like I said earlier the performance is amazing, I really like the halogen bulb heating element, it's super cool.
I don't know though, that list of unfortunate side things that bother me is too long for my liking, being that the vape is so expensive. There can be a couple of things that are weird about it, but that needs to be it ;-)
Stay up!
-Bud