The Vapium Summit is a nice little vape, and at $150 it's definitely one of the best values you'll find.
It's a portable herbal vaporizer and it's small, lightweight, and feels fairly well-made. It's not very elegant or luxurious, but it doesn't feel cheap or cheesy either. All materials used in its construction (as with all good vapes) are food-safe and medical grade. Technically, the outer shell is a high-strength/high-temperature polycarbonate, and the grip is a thermoplastic urethane. Whatever, it feels decent is the takeaway here.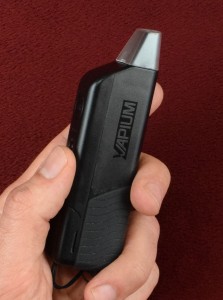 They're going for a "rugged" feel with this one which explains the thick rubber grip on the back, and it was designed to work even in extreme cold conditions.
Fun Fact: Did you know that the average skier spends 30% of their time on a chairlift? I literally just looked that up. I don't think I could invent a better time to vape, so for all you snow bunnies out there, strap up.
Performance & Vapor Quality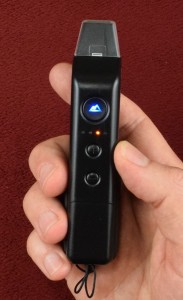 In terms of how good it works I'd say it's one of the best performing portable vapes I currently own that's priced under $200.
I like how vapor production is good even if you take just a short pull, and draw resistance isn't really too bad with this one. It's a conduction vape which typically are harder to pull from but I'd say it's a little more free-flowing than most of the other conduction models I've reviewed.
So you get a good amount of visible vapor, but it also tastes good and feels pretty smooth. It has 8 temperature settings, and what I've personally found is that the 5 and 6 heat levels seem to provide the best experience overall. The only time the vapor gets a little harsh is the last few draws of a session on level 6, and I really wouldn't recommend going to level 7 or 8 under normal circumstances.
The chamber holds about 0.2-0.3g of finely ground up herbs, and from a full packing you should be able to get anywhere from 10-20 good draws. That's pretty efficient, and in terms of potency I'd say it's just about average, which is all I really expected.
Pro Tip: Grind up your herbs very fine and pack the chamber tight if you want the best results. Fill the oven up over the rim, then tamp it down with your pinky finger. Experiment with how tight to make it, you want it pretty firm but if you compact it too much you might restrict the airflow and make the draw a little harder.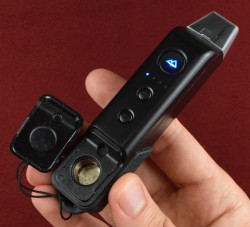 Battery & Charging
It's powered by an internal rechargeable lithium-ion battery, and it uses the standard micro-USB adapter for charging which is convenient. These chargers are cheap and come in a variety of styles, so you can keep one everywhere you go (home, car, work, etc). You can also use a usb power bank to bring extra juice with you when you're on extended trips with no electricity.
It takes just about an hour to fully charge the battery, and you should be able to get roughly an hour (60 mins) of usage before it completely dies. This is very similar to the Pax, and I like it.
When you first turn it on it heats up fairly quickly, I've clocked 45 seconds to the 5th heat level and about a minute to level 6.
This vape also has pass-through charging, which means you can turn it on and use it while it's plugged in.
Things You Should Know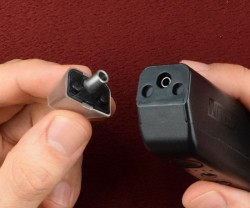 The vape has a 90 second auto shut-off feature, which turns off the heat after 90 secs of vaping and if you want to continue you press the main power button once and it resumes where you left off. These shut-off timers are becoming more common and usually just help conserve battery power.
It vibrates when you turn it on and it vibrates again when it reaches your set temperature. I like this feature, this is something that's also becoming more common, but there's one time it doesn't vibrate when I wish it did.
When the auto shut-off timer kicks in after 90 seconds of vaping the unit goes into standby mode and the light turns blue. For some reason though there is no vibration when the heat turns off, and to me that's the most important time to know what's going on. It's a tiny bit of a drag to have to continuously check the light on the front to make sure it's still on, but I definitely wouldn't let that sway your decision of whether to get this vape or not.
The herb chamber area can be a little messy when loading it with material. When you're trying to get your stuff into the oven in the middle it's inevitable that some small particles will get stuck in the creases around the edges. After you get the chamber packed you're most likely going to want to brush around the edges quickly before reattaching the lid.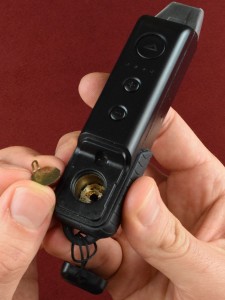 Maintenance & Cleanliness
The only areas of concern as far as cleanliness are the herb chamber and the rubber grip.
The grip tends to attract a little dirt and dust, and the chamber will need to be cleaned out quickly with a little rubbing alcohol every dozen sessions or so.
It doesn't seem like the mouthpiece area and inner vapor path need to be cleaned as often, but if you're doing the oven you might as well do those too.
They include a cleaning kit in the box with a brush, some pipe cleaners, an extra chamber screen, and a few alcohol wipes. That should be all you need for probably the first 2-4 cleanings.
The oven lid and the mouthpiece are both held in place magnetically, which is really convenient and helps keep maintenance low.
Overall Thoughts
The Summit is a nice, affordable, good performing portable vape. It's nothing too fancy but it does what it's designed to do and it provides a pretty satisfying experience.
Stay up!
-Bud