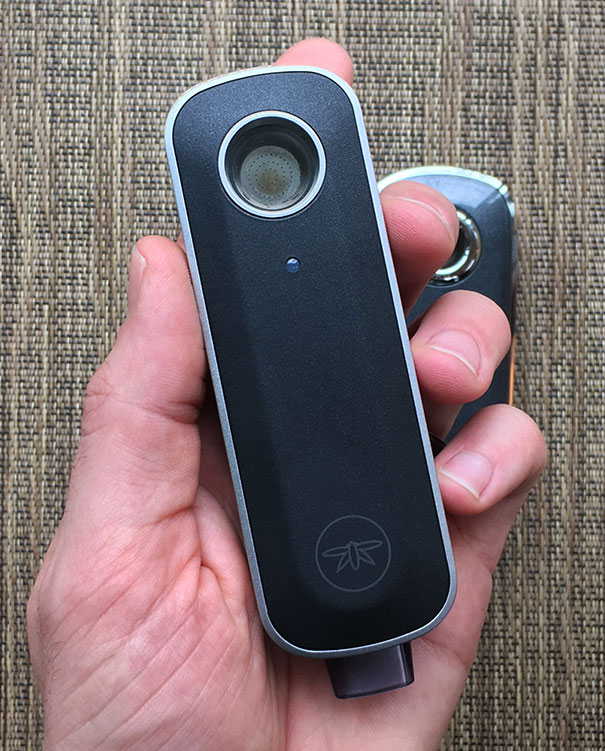 The Firefly is a cool portable vape with some unique qualities, and I'm pretty impressed with it.
The original Firefly looks and feels sleek and very well-made, and it has a bit of weight to it. The vapor it produces is smooth and has an excellent taste, one of the best I've experienced. It's also very efficient with your material – the chamber only fits about 0.1g-0.2g of dry herbs but you'll get about 5-10 good draws from that. Battery life is just OK at about 20 25-30 draws, but it does recharge quickly (45 mins), and if you wanted to you could pick up some spare batteries with it because it's actually removable.
Stay up!
-Bud
---
This is my original video review of the first Firefly vape:
Video transcription:
Hey what's up? This is my review of the Firefly vaporizer, and it's been a little while since I've said this but this one is pretty cool. Who does this cat think she is?
So this is considered a portable vape, and I'll talk more about that in a minute, and it currently sits at the top of the price range for portables.
Now before I show it to you up close and give you more details on how it works and how it performs, let me give you a few bullet points on what I think about it.
• The build quality is excellent.
• As far as ease-of-use, there's definitely a technique you need to master to get it to perform really well. (but don't worry, I'll show you all about that)
• Vapor quality, when it's used right, is excellent.
• It kinda has a small herb chamber, and it is kinda heavy for a portable.
This is also a convection style vape, which is pretty hard to get right in such a small unit but they definitely did a good job.
So here it is. Now you'll notice that it is kind of on the large side for a portable, and if you want a quick size comparison we got the DaVinci Ascent, this is the Solo, and then we have the Pax.
Now earlier I mentioned that this vape is kind of heavy, and to give you an idea of what I mean the Firefly weighs 278 grams. The closest to that as far as portables go would be the Solo at 230 grams, then you have the Ascent at 192 grams, and then the Pax at 94 grams.
So the Firefly believe it or not is actually 3 times as heavy as the Pax – I don't want you to get the wrong idea though because the fact it's heavy is one of the very few negatives I found about this vape.
There are not many parts to this one, and it only has a few buttons. This right here on the side is the main power button, and when you turn that on it basically puts the vape into standby it doesn't start heating yet.
On the other side this is the heater button. This part sticking out in the front is the mouthpiece, this is where you take your draw from. Then if you flip it over and take a look at the back, this is the battery cover, and if you take it off this vape actually has a removable battery. What that means is if you wanted to you could buy an extra charger and some extra batteries and that'll let you use it for a longer period of time before it needs to be recharged.
Now if you turn it over, this part actually lifts off and it's magnetic. So you'll see there's a little groove on each side and to get access to the herb chamber you just pull off the top like that.
So now what you have here this is the actual chamber where your material is gonna go, and it's actually not really that big, I found through my testing that this vape seems to work best with like a 0.1 put in there (max capacity is roughly 0.2 if finely ground).
And one of the reasons I say that's a good amount to put in here is because this isn't like a lot of other vapes like the Pax and the Ascent, you don't want your material firmly packed in there you want it kind of loose.
Like I mentioned this top piece is magnetic so after you pack the chamber you basically just place it on top and then it closes by itself.
Now believe it or not the actual vapor path, or where the vapor goes when you start heating it, is actually right down these channels all the way to the front to the mouthpiece.
So when this thing's all closed up the only place for the vapor to go is through these little grooves into these side grooves and then it travels all the way down.
I actually found that the vapor is very nice when you use it properly and it's smooth and tastes good, so that's a definite bonus with this vape, very high quality vapor for a portable.
While I have the top off and you can easily see the chamber let me briefly explain the best way to use this thing. So what you're gonna do is first turn it on, and that basically puts it into standby mode. Then you're gonna have your material in there and obviously you're going to put the top back on first. And actually let me put this down for a second because I wanna show you something.
When you first get it and you're looking through the manual on how to use the thing it kind of makes it seem really simple. It basically just says put the battery in, plug it in, charge it, put your material in, turn it on, press the button to heat it and start drawing. And then it actually goes as far as saying "it's that easy."
But you know what through my testing and stuff I found it's actually not that easy. When I followed the instructions and did what they said and I just pressed the button and started drawing I really wasn't very satisfied with the results, I wasn't getting a lot of vapor and I didn't feel like it was working very well.
Then what I learned after experimenting some more and asking some questions is that it actually needs to be pre-heated before you start drawing. Now what I mean by that is if your material was in there and you're getting ready to go you first want to push the heater button in, the button on the side here, and you want to wait 8 seconds.
I know it's a little weird but count to 8, you're going to see the light start to glow indicating that the herb chamber is being heated, then after 8 seconds let it go, wait about one second, then push it in again, count to four, let it start to glow and then start your draw.
Then basically the way this vape works is once you do that the longer you draw the more vapor you're going to get and the denser it'll be. If you're only looking for some light draws only pull for a few seconds, and if you're lookin for a really big draw you're gonna have to pull for 10 to 15 seconds.
The reason I consider this vape kind of advanced, or that you need an advanced technique for the best performance, is that the steps I just told you are what I personally found to be the best way to use it, but it's going to vary a little bit for everybody so you're gonna have to do a little experimenting.
Some people might find that they get better results if they hold it down longer like for 10 seconds, and some people might want light vapor in which case they would only pre-heat it for a few seconds first.
Now I want to talk about battery life for a second because that was one of the only other things that I wasn't really blown away by. It seems that if you do what I just did and that's how you use it you're only going to be able to take about 20 draws or so before the battery dies, or roughly two chamber-fulls.
So that's not really a lot but the good part is that when you have to recharge it it literally only takes 45 minutes to recharge.
One other tidbit of information that might help you with your technique is that this vape is designed to max-out at 400°F inside the chamber. So basically what you're doing when you use the technique I described is when you first hold it down for 8 to 10 seconds you're letting the chamber heat up to about 400°, then you're stopping and re-starting the heater sort of just to keep it hovering around the ideal temperature, which is normally in the upper 300°'s.
Then with the combination of how long you hold the heater in and how quickly you draw that's how you ultimately get the ideal vaporization going on.
Lastly they do include a few different tools with it, they give you a little brush and then a little plastic poker thing, and you will be using these.
What I found happens a lot is halfway through your session some of your material is going to come up and sort of get stuck on this top lid and in the grooves. So after every 3 draws or so I found myself having to quickly just open it up and brush off all the little pieces that got stuck and getting them back inside the chamber (this is also a good time to stir your herbs). Not ideal, but not terrible.
Arite so as you watch me take a few draws here I want to just talk a little bit about what I think this vape is good for and when I think I'll be using it.
Even though this vape is considered a portable the fact that it's a little heavy, and it has the nice finish on the outside so you don't want to bang it around a lot, and that it doesn't hold a lot of material in the chamber, and that you kind of need to stir it and brush it every few draws, it's not one that I'm gonna bring outside my house often and use it while I'm on-the-go.
That is something that I still kind of feel like I might use my Pax more for, but for using around the house as a "cordless" home vape that's where I think the firefly really shines.
The build quality is definitely up there, it's a really nice looking and feeling vape, and while not perfect by any means it's a lot better than many of the other portables I've reviewed.
If you think this vape is for you and you're looking to buy one, and you wanna help support your man, check out my link in the description to the authorized dealer I got mine from.
If you're not sure and you have some questions about it works or how it compares to some other ones feel free to let me know and I'll definitely do my best to help you out.
To see the rating that I gave this model and to watch reviews and get information on some other good units check out my website at VapeCritic.com
Me and the cat really appreciate you taking the time to watch, and stay up!