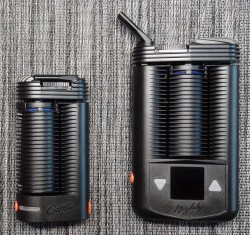 This is the Mighty vaporizer from Storz & Bickel, and in most areas it's very similar to its sibling the Crafty.
It's a portable vape that's super high quality, and it performs just as well as, if not better than, most good desktop units.
The performance is what I consider the biggest advantage of this one, and this includes the quantity, smoothness, and potency of the vapor it produces.
Mighty & Crafty Main Differences:
– The Mighty is bigger, it's not really a pocket vape, more of a cordless home vape (or for travel). However, it's still very portable and it's easy to hold, store and transport.
– The bigger size gives the Mighty double the battery life, 90 minutes versus the Crafty's 45 minutes. In addition to longer battery life it also comes with a longer power cord, ~6ft versus ~2.5ft.
– The Mighty charges twice as fast as the Crafty: ~45 mins versus ~2 hours (but it uses a proprietary charger instead of micro-usb)
– They both have pass-through charging, but only with the Mighty can you plug it in and use it right away when the battery is completely drained. With the Crafty you have to wait roughly 25 minutes for it to charge to about 20%, then it'll let you turn it on and vape.
– The Crafty uses a smartphone app to control the temperature settings and LED brightness, the Mighty has a screen on it that displays the temperature readings and battery life remaining, it does not use an app.
Click here to buy the Mighty from the authorized Storz & Bickel dealer I recommend.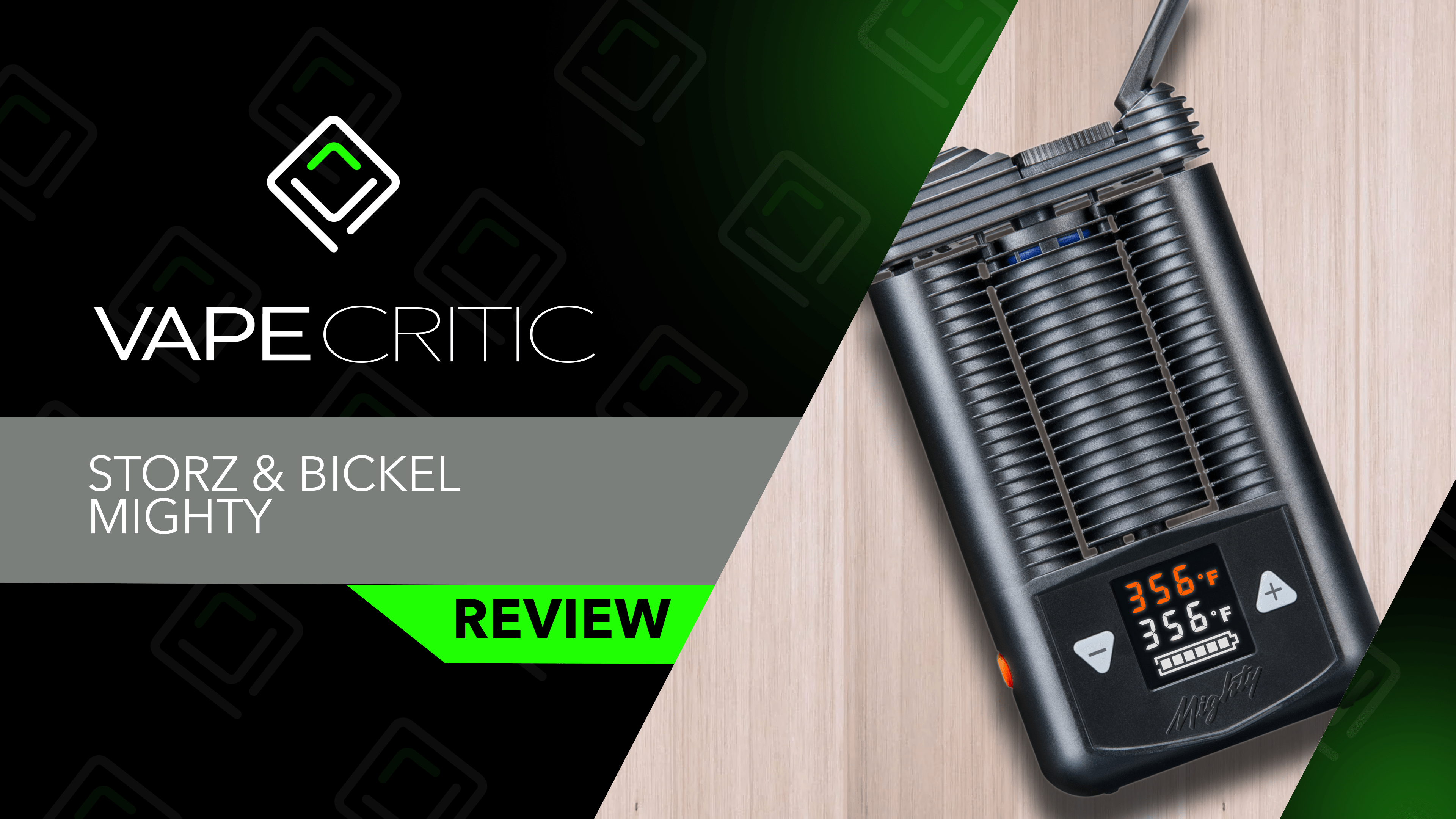 Watch the full Mighty Vaporizer Review here.
Stay up!
-Bud
Review video transcription:
This is the Mighty Vaporizer made by Storz & Bickel, which is the same company that makes the Crafty Vaporizer- it's sibling that came out at the same time. They also make the Volcano Vaporizer and the Plenty. So the Mighty and the Crafty do have a lot of similarities but there's also a few main differences- one of the main differences obviously being the size. The Crafty is like the portable one, the truly portable one, the pocket vape out of the two and the Mighty is kinda bigger, it's more of like a cordless home vape or a vape that's very easy to store and travel with.I'll start off with the similarities and then I'll tell you what's different. First of all, they both have pretty much the same herb chamber. The main difference just being that the top piece of the Mighty is bigger than the Crafty's. Another main difference between these two is that the Mighty has two built in batteries, internal rechargeable batteries, and the Crafty only has one. So that basically gives the Mighty pretty much double the battery life of the Crafty and I get about 90 minutes of actual usage time with this one before the battery dies. And with the Crafty, I get about 45 minutes.
One of the other differences is that the Mighty has a screen to show you the temperature that you have it set at and the current temperature. The Crafty does not have a screen, it has two heat settings that you can choose from. However, one of the other main differences is that they make a smart phone app only for the Crafty though and you can use that to control or modify those two heat settings. You can pretty much make them whatever you want (up to 410°F max). You could also use it to control the lights in the front. But the Mighty, they don't make an app for that but you don't really need it because it does show you the temperature on the screen. It shows you what the battery life, it has like a little indicator. So I don't really consider that a negative.
So the way that you get to the herb chamber is the same with both of them. But you basically just unscrew the top piece. The top part with the mouthpiece comes off and then the herb chamber's inside. The capacity of the chamber is just about .3 or so depending on how finely you grind. But what's nice about it is that it works really well with material like from a four piece grinder. So it doesn't even need to be ground up that fine. If you don't have a grinder, you don't need to run out and get one right away if you don't want to. They do include a plastic two piece in the box. It's actually pretty good quality.
They also include a filling tool which I actually really like. You attach it to the top of the chamber and put your material in it and then that's how you pack it and basically it comes out like a perfect packing every time. It's like very neat, everything's where it should be. So it's actually pretty cool.
Once you have the chamber packed, you just take the top part, turn it back on, snaps into place. The build quality by the way, which I haven't mentioned yet, in case you haven't just assumed it, is very good, it's excellent. All of their vapes are produced really really well. This company is definitely known for paying fine attention to detail. So when you have it packed and you are ready to go, you just press the power button on the side for a second and then it'll heat up to the previous temperature you had it on. It does heat up in just about 90 seconds which is pretty decent. But something that's weird about it that I don't think you can change unless I missed something, every time I turn it on it shows me the temperature in Celsius and then if I wanna change it to Fahrenheit, you gotta hold down the two buttons in the front for like a second or two and then it switches over. I don't know, it's not really a big deal but I just thought it was a little weird.
So you may not have heard it, but once it reaches the target temperature that you have it set at, the vape actually vibrates to let you know. So that's kinda cool because this vape and the Crafty are both the two first portable vapes I've reviewed that actually vibrate.
Once it's warmed up, you can basically just start taking draws from it. I get roughly 12 to 15 draws from a full session. It's gonna vary a little bit depending on how big of a draw you take, how long you pull for but I take fairly strong draws and that's my average and again the battery life is about 90 minutes so I'm someone who takes fairly long sessions, I'm about 12 to 15 minutes so I get just about 6 full sessions on a full charge and sure enough, if you take a nice, strong draw for like 10 to 12 seconds, you're gonna get a lot of vapor from it. The quality of the vapor is also very high. It's smooth, it's not hot, tastes good, so I would definitely consider it top shelf.
In my testing, I had it set at about 365 for most of my sessions. A few of them I even put it a little lower and I really liked the experience. I thought it was great on those settings. Afterwards, when I'm done, my material comes out a nice, even color. It's very evenly vaped. So that's a good sign and ya know, the end results are really good. They're comparable to the good/best top units out there which I can't really say about most portables. Now another thing that the Mighty and the Crafty have in common is that they both have a very short shut-off timer, like an automatic shut off after one minute and they designed it this way to conserve battery life and make it last as long as it possibly can on one charge, but one minute is a really short period of time. Now, luckily there are a couple of things you can do to prevent the vape from shutting off. The main thing you can do is just tap the power button on the side once during your session and that'll reset the timer back to a full minute.
And the another thing that this vape is designed to do is detect that you're actually using it by measuring the drop in temperature in the herb chamber when you take a draw. So this sounds really cool and the idea of it is excellent, but it doesn't quite work 100 percent of the time, at least not for me. So what I noticed is that if I had the vape set at like 365, it's not gonna register as a draw to the vape unless my draw is big enough to make the temperature drop to like 360 so it needs like roughly a 5 degree drop or something and not every draw that I take, I noticed, actually makes the temperature drop that much and I'm someone who usually takes pretty strong draws so I'm actually a little surprised by that because I have a feeling that if I'm having that issue, many other people are going to also. But I don't know, I mean at first I was really annoyed about that shut off but I guess I kinda got used to it, ya know, it's not too bad just pressing the button. Another reason that it's not too bad is that the vape does vibrate if it does shut off during your session to let you know and then if it does happen to shut off while you're in the middle of a session, all you need to do is hold the power button again for a second and then it should be back up at the temperature you were just at within a couple of more seconds.
So something else that the Mighty and the Crafty have in common is that they both have pass-through charging, meaning you can use it while it's plugged in. You can actually turn it on and vape from it. An area they differ though is that the Crafty, you have to wait until the battery is like 20 percent charged before it'll actually turn on and you can use it. But the Mighty will let you use it with a fully drained battery. As soon as you plug it in and it starts charging, after like a minute, you could turn it on and it'll work. A small difference between them though as far as the charging system is that the Crafty uses the standard micro USB adapter but the Mighty doesn't. It uses like a different size plug. As far as how long it's gonna take to fully recharge when it's dead, I found that it's just about 2 hours.
Now as far as cleaning and maintenance, there's really not too much you're gonna have to do often. The most important thing is to use the brush that they give you and brush out the herb chamber after each use. You could also use that to brush off the top screen in this top piece and this top piece actually comes apart into like 3 different pieces. And inside this area is where some more build up will occur and you will have to clean it a little bit to get the residue out. But it's not really that difficult, you basically just pop out the mouthpiece and then you kinda like unlock this part and then the bottom piece will pull all the way out and then you can clean in there. If any of the o-rings happen to look bad, they do give you a second set in the box so you can replace those but they're gonna last you quite a while and then it pretty much just snaps together the same way in reverse, and then you're good to go.
Overall I think this is a really good vape. I like it a lot. I think the build quality, performance, vapor quality, all of those things are excellent. Yeah, it's not small enough to fit in your pocket, but it's not too too big and it's not fragile which is nice so it is pretty easy and convenient to store, transport, carry around so that is nice.
If you want to watch some reviews of other vapes, including the Crafty, you can check out my website- vapecritic.com. Thank you very much for taking the time to watch and stay up!